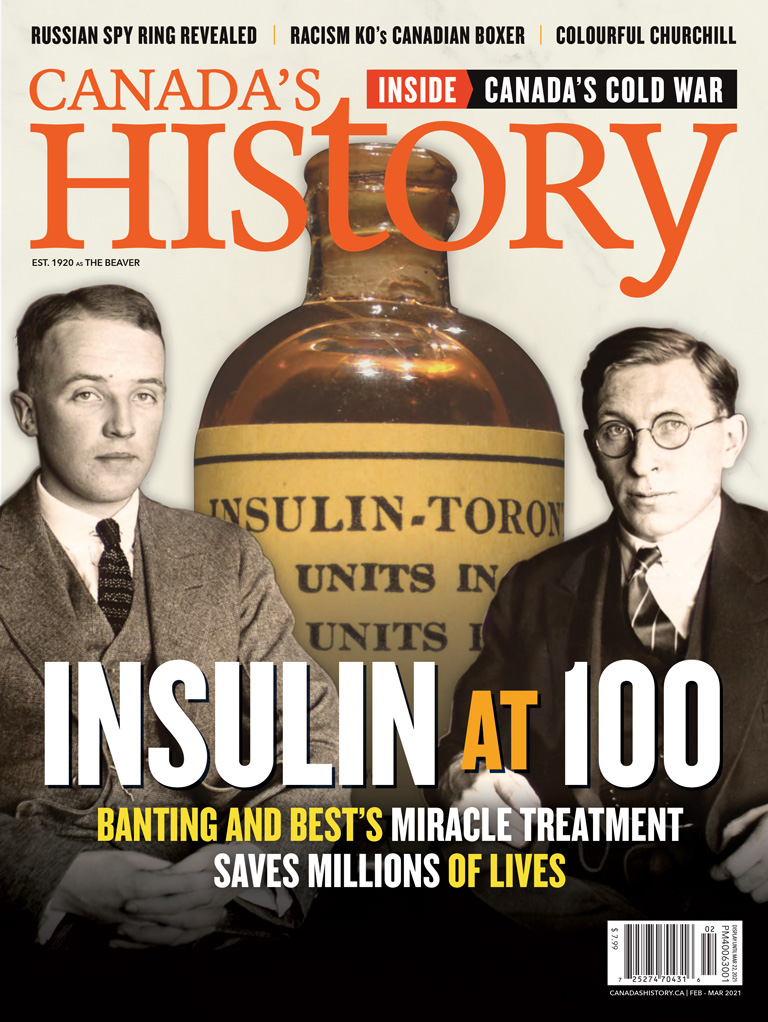 February-March 2021
Features
Life in the Ward
Toronto's original immigrant neighbourhood was alive with the sights and sounds of many cultures. by Lauren Luchenski and Ashley Henrickson
Cold War Crisis
The ashes of the Second World War had barely cooled when the world was faced with a new and terrifying threat. by Tim Cook
"It's war. It's war. It's Russia"
Russian defector Igor Gouzenko's chilling warning of a Soviet spy ring in Ottawa sent shock waves through Canada and the West. by Brendan McShane
Lonely Warrior
How Tommy Burns, the only Canadian-born world heavyweight boxing champion, was knocked flat for his refusal to toe the colour line. by Kerry Banks Watch the video
Manufacturing Hope
The discovery of insulin a century ago extended the lives of millions of diabetics. But the breakthrough was fraught with drama, competition, and conflict. by John Lorinc Read the article
On the cover
Insulin at 100: Charles H. Best, left, and Frederick G. Banting, right.
Departments
Editor's Note
Screening history.
The Packet
Under pressure. A century of history. Judge not.
Currents
Early computer game wows Canadians. Alberta boy's fossil find makes headlines worldwide. Mining town picks new moniker. A quarter century of the toonie.
Trading Post
A vibrant quilt was hand-sewn for a former editor of The Beaver.
Destinations
New murals add to the northern colour in Churchill, Manitoba. Canadian historic sites recognized.
Books
Reviews: Building relationships. Farmer-controlled company. Household manners. Minding the gap. Family empire. More books: Conservation milestone, African Nova Scotian, dogged detective, landscape painter, women's stories. Q&A: Ian Milligan. Read them all
History Matters
Introducing the recipients of the 2020 Governor General's History Awards.
Album
A woman from a family of travelling performers.
Themes associated with this article
Previous issues
Subscribe to Canada's History
Save as much as 52% off the cover price! 6 issues per year as low as $29.95. Available in print and digital.