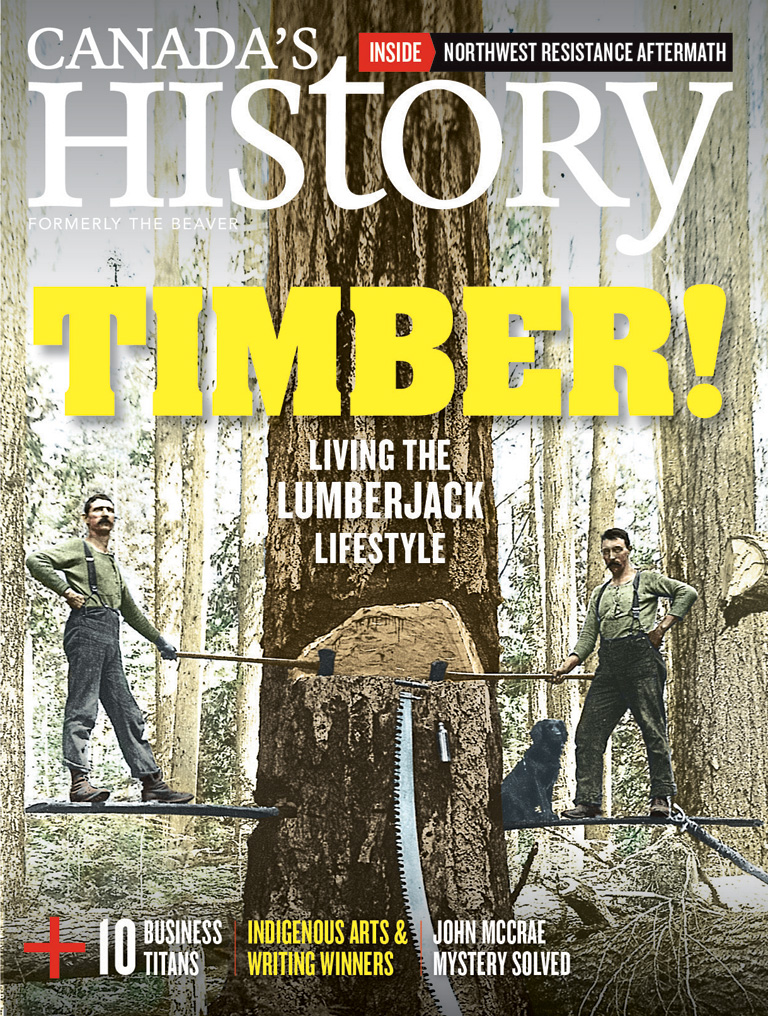 October-November 2017
Features
Timber!
From axes and oxen to the perilous work of guiding logs downriver to market, Canada has a rich forestry history. by David Lee and Mark Collin Reid
Worlds Apart
Visits to Central Canada in 1886 gave some Plains First Nations chiefs a disturbing glimpse into their future. by Donald B. Smith and Doug Cuthand. Read the story
First Bank
The Bank of Montreal, now 200 years old, has had a hand in many of Canada's defining historical moments. by Laurence B. Mussio
Titans
From brewers, to rail barons, to oil-and-gas giants, these are some of the business tycoons who changed Canada. by Joseph E. Martin Read the story
On the cover
This colourized photograph of two men chopping down a large tree in British Columbia was taken about 1885 by an unknown photographer. It was gifted to the McCord Museum by Stanley G. Triggs.
Departments
Editor's Note
Cutting-edge history
The Packet
Dieppe theory challenged. Praise for Dieppe article. American in the picture. A rainy day at Expo. Mental wealth. Uncomfortable truth.
Currents
Lost stories found. The voices of the Kaurs. Eye-popping art. Redesign breathes new life into the Canada Science and Technology Museum. New Inuit Art Centre is a bridge to the North.
Trading Post
A Dene loom bow involves a display of mathematical virtuosity.
Books
Q&A: Marconi biographer Marc Raboy. Reviews: Coming and going. Grounded in culture. Executive animosity. More books: freedom on canvas, prairie dispossession, concrete towers, military manpower. Read them all
Christopher Moore
Solving a mystery surrounding John McCrae's famous poem.
Indigenous Arts & Stories
Celebrating the work of young Indigenous writers and artists.
Album
Portrait shows senior staff of a Canadian company that sold pills throughout Asia.
Themes associated with this article
Previous issues
Subscribe to Canada's History
Save as much as 52% off the cover price! 6 issues per year as low as $29.95. Available in print and digital.