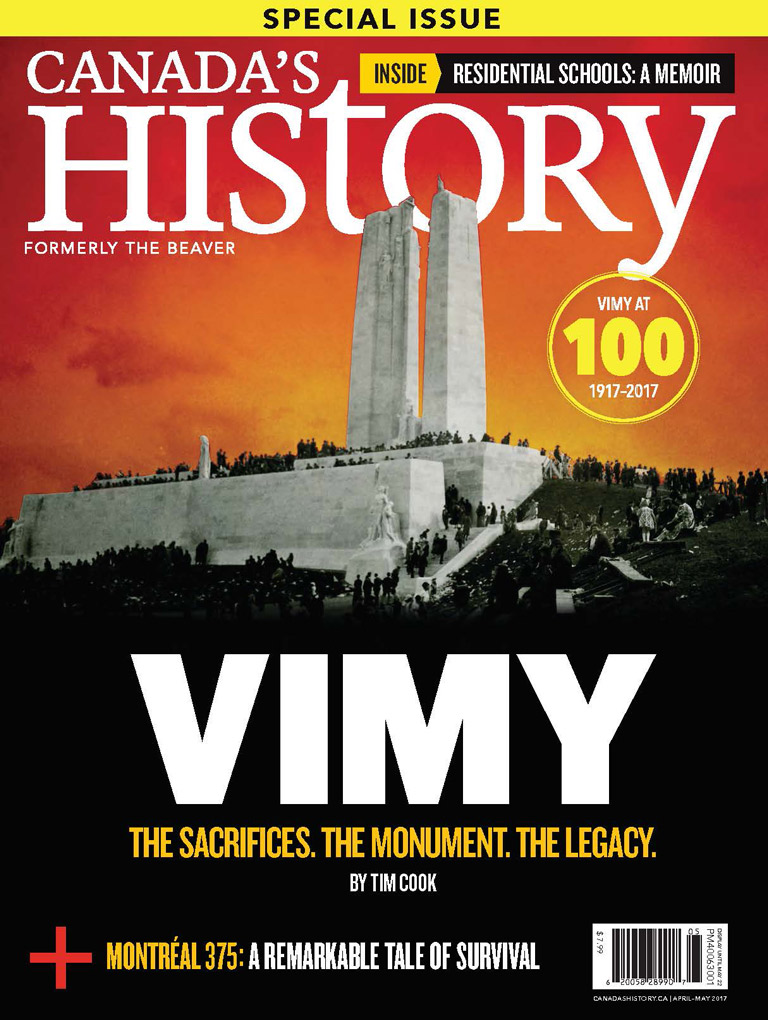 April–May 2017
Features
Ghosts of Vimy
On the hundredth anniversary of the Battle of Vimy Ridge, we reflect on the Canadian National Vimy Memorial in France, a creation so large and so powerful that it seems almost un-Canadian. Plus, the soldiers who served and sacrificed at Vimy, and what the battle means to Canadians today. by Tim Cook and Kate Jaimet Read an excerpt
Lost Generations
An Inuk artist reflects on the dark legacy of residential schools in the Far North. by Mary Carpenter Read the article
Montréal 375
Stories of the colourful history of North America's francophone metropolis as it celebrates a landmark year. by Darren Bonaparte, Mathieu Drouin, John Kalbfeisch, and Jean-Philippe Proulx. Meet some famous Montréalers throughout history
On the cover
A colourized and cropped version of a photograph of the crowd gathered at the unveiling of the Vimy Memorial in France on July 26, 1936. The original photo is from the George Metcalf Archival Collection at the Canadian War Museum.
Departments
Editor's Note
Momentous occasions
The Packet
Safe haven. Sobering bear facts. Grin and bare it. Beyone a nuisance. The Habs and the had nots. Straight shooter.
Currents
Where art is a family affair. Celebrating a half century of the Canada Games. A woman of note. Manitoba town's novel name. Flight of a lifetime at Vimy Ridge.
Christopher Moore
Why do women trail men when it comes to winning awards for academic history writing in Canada?
Trading Post
Bandolier Bag. Plus stories from more than none decades of The Beaver magazine.
Destinations
Griffintown, Montréal's historic Irish Neighbourhood, is enjoying a renaissance. Explore Griffintown
Books
Open Book: Excerpt from An Intimate Wilderness. Reviews: Precarious homesteads. Charismatic pragmatist. Pacific harbour. More books: Inspired memorials, a shocking crime, letters home, surviving orca.
History Matters
Our newly redesigned, mobile-friendly website will deliver Canada's stories in fresh and dynamic ways.
Album
The mayor of Westmount, Quebec, makes a sweet gesture to Queen Elizabeth II and Prince Philip.
Themes associated with this article
Previous issue
Subscribe to Canada's History
Save as much as 52% off the cover price! 6 issues per year as low as $29.95. Available in print and digital.