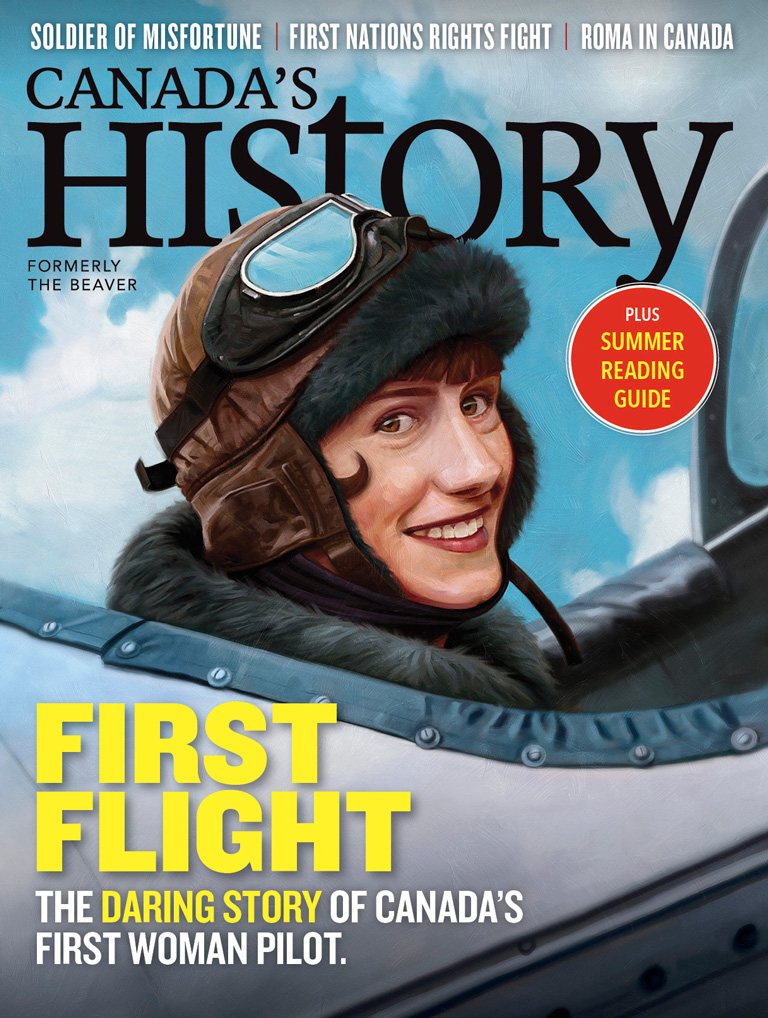 June-July 2018
Features
Unacquainted with Fear
How Eileen Vollick became the first Canadian woman to earn a pilot's license. by Marilyn Dickson
Naming and Claiming
The dream of regaining lost nationhood for his people fired the mind of a Saskatchewan chief. by Ray Argyle
Determined Nation
Despite racism and persecution, the Roma have persevered in Canada. by Cynthia Levine-Rasky
Soldier of Misfortune
W.A.C. Ryan died a legend in Cuba but is virtually unknown in his Canadian homeland. by Peter Blow
On the cover
Pilot Eileen Vollick in the cockpit of the Curtiss JN-4 she flew for the Jack Elliott Air Service in Hamilton. Illustration by Robert Carter.
Departments
Editor's Note
Winging it.
The Packet
Viking relics need thorough review. Vinland lost and found. Nuns' journey: fact or fiction?
Currents
Heartfelt history. Brush Strokes: Emily Carr's Vanquished. Museum revamp makes history. Putting the First World War under a lens. Connecting with Canada.
Trading Post
Dene craftsmanship is shown in an elaborately decorated gun case.
Summer Reading Guide
Our special advertising section offers a variety of books for outdoor reading.
Books
Q&A: Business historian Joe Martin. Reviews: Arctic afresh. Relief workers. Picturing the land. More books: Contentious federation, high-seas adventure, POW horrors, nursing life. Read them all
Christopher Moore
Online data mining offers a motherlode of information for historians.
Destinations
Red Mountain, British Columbia — where mining and skiing meet.
Your Story
Remembering the successes — and sacrifices — of several generations of railway men and women.
History Matters
Historical Thinking Concepts help us develop a deeper understanding of the past.
Album
Norman Bethune to the rescue on Lake Simcoe.
Themes associated with this article
Previous issues
Subscribe to Canada's History
Save as much as 52% off the cover price! 6 issues per year as low as $29.95. Available in print and digital.