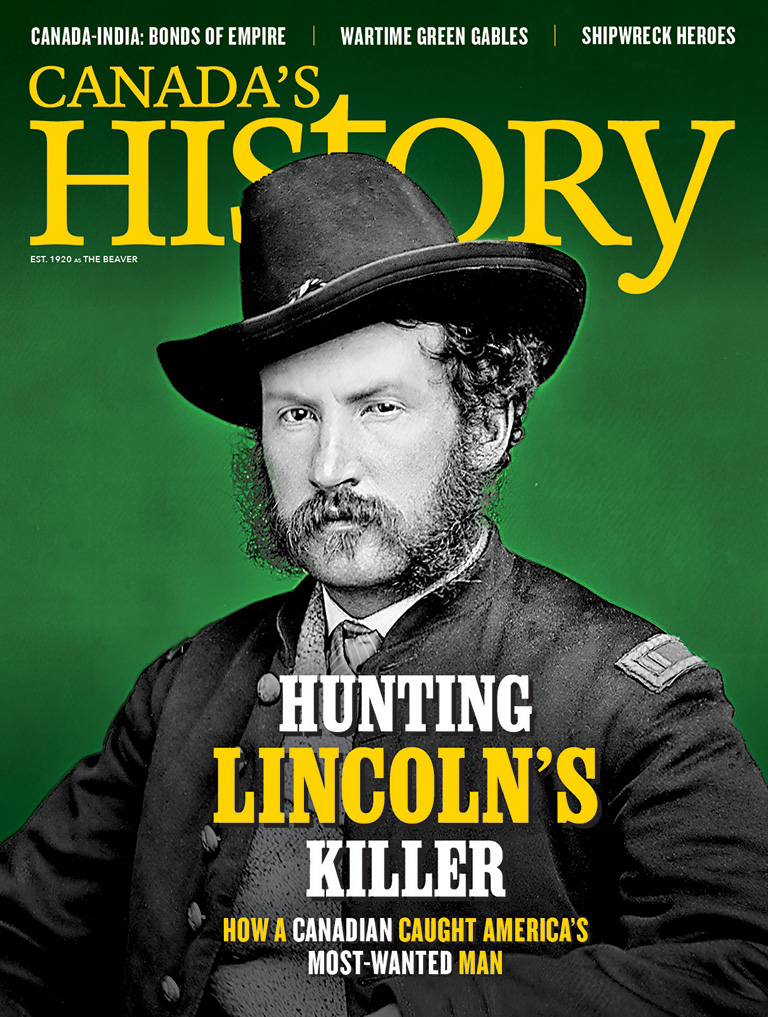 April-May 2023
Features
Hunting Lincoln's Killer
A Canadian officer led the expedition to capture the American president's assassin. by Julian Sher More on Canada and the American Civil War
Bonds of Empire
Canada and India bear the marks of British and French imperial history. by Madhuparna Gupta More on Canada-India connections
Home-Front Green Gables
A daily diary chronicles life on Prince Edward Island during the Second World War. by Alan MacEachern
Wreck & Rescue
Nova Scotia fishermen saved some four hundred people from the doomed SS Atlantic. by Bob Chaulk
On the cover
Born in Canada, Edward P. Doherty joined the Union Army in the U.S. Civil War. At war's end, he was tasked with hunting down the killer of President Abraham Lincoln.
Departments
Editor's Note
Of rescue and regret.
The Packet
Bearing witness. Holiday reading.
Currents
Red serge sesquicentennial. Filles du roi film. History makers: Foster Hewitt. Coin discovery a noble achievement. Object of interest: Saint-Jean de Louisbourg bell.
Roots
From faux nobles to absconding ancestors, family trees can contain plenty of checkered characters.
Destinations
A breakaway Quaker sect built a remarkable temple north of present-day Toronto. At the museums: Canadian modern designs, the art of news.
Books
Conspiracy practised. Force of water. Northern enigma. Irresistible campaigner. More books: Hollywood relics, notorious bandit, Plains of Abraham, Vancouver vice, artistic icon, Haida elder. Read them all
History Matters
Governor General's History Award-winning teacher and her students play key role in new heritage designation for Halifax home.
Album
A teacher and her students pose for a photograph near Perth, Ontario.
Themes associated with this article
Previous issues
Subscribe to Canada's History
Save as much as 52% off the cover price! 6 issues per year as low as $29.95. Available in print and digital.