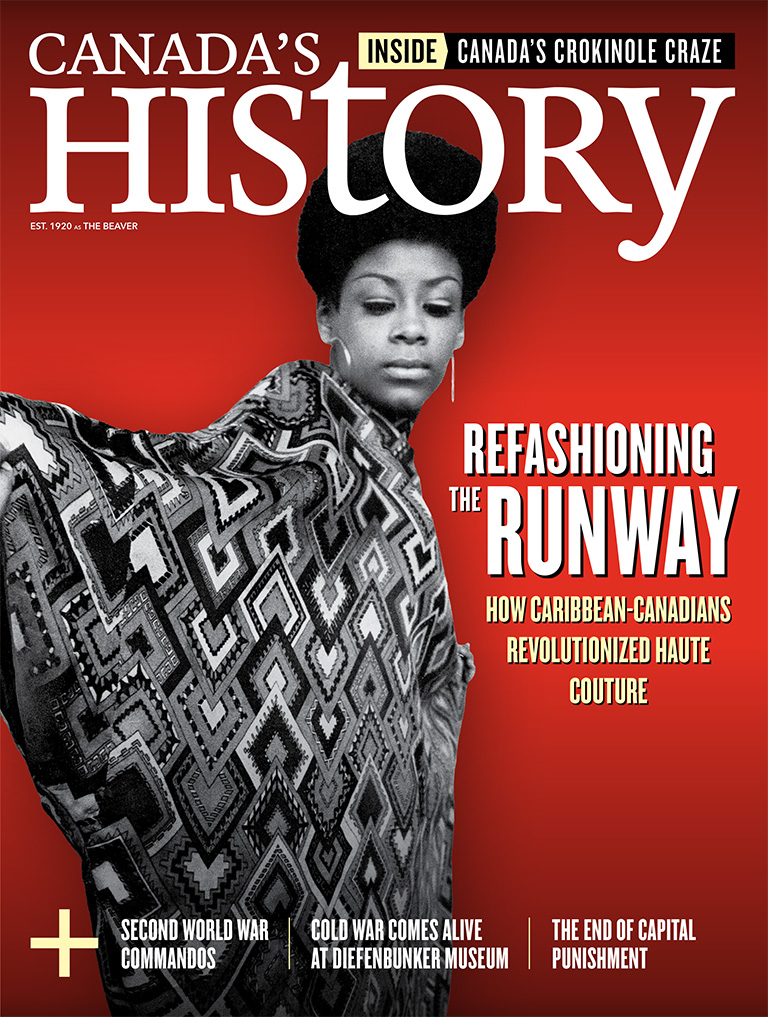 February-March 2023
Features
Rage Against the Noose
How four Canadian journalists helped to kill capital punishment. by Cecil Rosner
The Devil's Brigade
A Second World War commando unit terrorized the enemy with skill and stealth. by David Pugliese
Refashioning Canada
Designers and models of the Caribbean diaspora brought a new aesthetic to haute couture. by Cheryl Thompson
Crokinole
The mysterious origins and enduring popularity of Canada's favourite parlour game. by Nancy Payne Read the article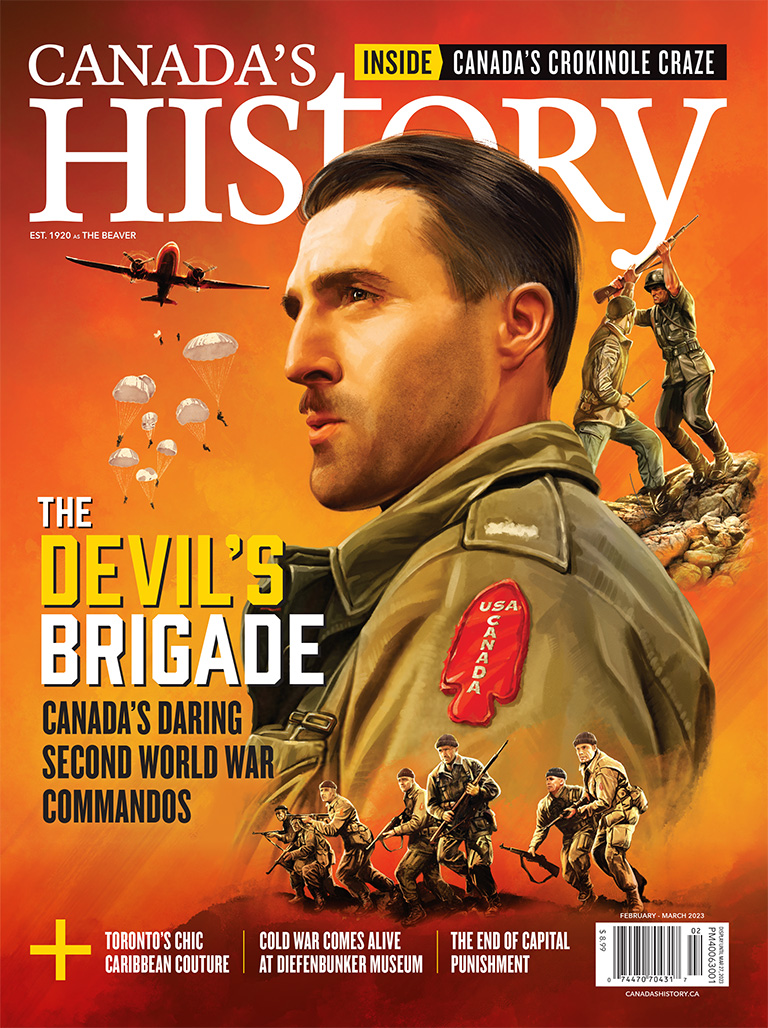 On the covers
Refashioning Canada: Taken in 1969, this photo is of Marianne Skanks, a 16-year-old model whose mother was a fashion designer. Photo: Tom Olsen/Toronto Star Archives.
Devil's Brigade: Artist Axana Zasorina's rendition of First Special Service Force (FSSF) Lieutenant Joseph Kostelec, after a photo taken in Noci, Italy, on January 2, 1944. Surrounding scenes depict the activities of the FSSF.
Departments
Editor's Note
Devils and the details.
The Packet
Hoop dreams. Penny for your thoughts.
Currents
Object of Interest: Prayer shawl. Canada's first lacrosse superstar. Construction effort a towering achievement. From the Archives: Wonderful wetlands. By the Numbers: The 1923 Halibut Treaty. Yukon turns 125.
Trading Post
A 1940s dress blazer was worn by a Hudson's Bay Company post manager.
Destinations
The Diefenbunker museum shows Canada's underground Cold War history. At the museums: Nineteenth-century photographer, Haida artist.
Books
Open Book: Excerpt from Valley of the Birdtail: An Indian Reserve, a White Town, and the Road to Reconciliation. Reviews: Wonderfully eloquent. Reshaping the landscape. Pride and grief. More books: Nakoda stories, mountain guide, murderous doctor, hard drug, Titanic tales. Read them all
History Matters
Celebrating the achievements of the 2021 and 2022 Governor General's History Awards laureates.
Album
Large boats were hauled ashore for winter near Moose Factory, Ontario.
Themes associated with this article
Previous issues
Subscribe to Canada's History
Save as much as 52% off the cover price! 6 issues per year as low as $29.95. Available in print and digital.