Montreal's Designing Women
In the 1960s, Montreal was a Modern architectural showcase. From Place Ville Marie to Place Bonaventure to Expo 67, the city reverberated with the construction of new and remarkable buildings. Remarkable, too, for the time were the number of women architects at the centre of this activity. As this account, adapted from Designing Women by McGill University's Annmarie Adams and Peta Tancred, indicates, Montreal's women architects altered more than a skyline. They altered the profession.
Article continues below
In the heady days of the 1960s, with western economies booming and politics and culture emerging from a conservative postwar stasis, Montreal found itself through circumstance and the force of personalities at the centre of the Modern architectural movement. Expo 67, the world's fair on Ile Ste-Hélène and Ile Notre Dame in the St. Lawrence River, one of the most creative moments in Canadian history, brought international exposure to designs by some of the world's most talented architects — pavilions that were imaginative, audacious, and often breathtaking. Montreal, then Canada's largest city, was a particularly magical place in the country's centennial year, a laboratory for bold expression and experimentation in architecture.
But the groundwork for Montreal's role as architectural cynosure had been laid some years before. Place Ville Marie, aluminum-and-glass-clad office towers in a shining cruciform, was built between 1958 and 1965. One of the finest examples of midcentury Modern design in Canada, it became the veritable symbol of the new Montreal. Place Bonaventure, meanwhile, built between 1964 and 1968, was one of the largest new constructions in the world at the time. Occupying a two-and-a-half hectare site, it included 93,000 square metres of retail space and 9,300 square metres of offices, and connected to both railway and subway. Structurally bold, expensive, massive, and multifunctional, it had enormous implications for Montreal's urban design, giving it the distinction of having the world's largest underground city.
Among those at the centre of Place Bonaventure's design and construction was Eva Hollo Vecsei, who, working intensely on the project under Raymond Affleck, partner-in-charge of the architecture firm ARCOP (Architects in Cooperative Partnership) & Associates, was catapulted into the city's architectural foreground. Born in Vienna in 1930, an émigré to Canada after the 1957 Hungarian revolution, Vecsei brought to Montreal an impressive portfolio of large-scale constructed projects, including miners' housing in Hungary and schools in Budapest. For the time and place— Canada in the early postwar period — she was an exceptional figure. The few Canadian women registered as architects almost invariably found themselves forced into careers in residential design, interiors, and historic preservation-stereotypically ghettos for women architects. Rarely did they have opportunities to design the large commercial and industrial structures that marked cityscapes and built substantial careers.

You could win a free book!
Sign up for any of our newsletters and be eligible to win one of many book prizes available.
But Vecsei was living in an exceptional time in an exceptional place. Though an entire world's fair could without irony designate its theme Man and His World, the 1960s were a time of turbulence and social transformation that challenged the norms of North American society, including the role of women. Quebec, particularly, underwent concentrated change at a remarkable pace. The death of Premier Maurice Duplessis in 1959 and the defeat of his ultra-conservative Union Nationale party in the ensuing elections in 1960 marked the start of the so-called Quiet Revolution in Quebec. Over the next decade and a half, the province passed from a right-wing conservative government to a nationalist/separatist government, the Parti Québécois, which first came to power in 1976. This political upheaval reflected major social and economic changes, not least of which were the massive decrease in the farming population, the waning of the Roman Catholic Church, the rising dominance of the public sector, and increased access to education. It was into this milieu that Vecsei and a number of her female colleagues stepped. While Quebec in 1942 was the last province to accept women as registered architects, the early experience of its pioneers took place in a context much different than that of the rest of Canada. Montreal saw an unprecedented building boom in the 1960s, and women architects, more than their counterparts elsewhere in the country, were able to take highly visible roles in creating the built environment. In doing so, they changed their career trajectories, shattered myths about women in the profession, opened doors to other women, and, in good measure, gave Montreal its contemporary face.
Their accomplishments did not pass without notice, but the attention was of a kind incidental to the work. In the substantial press coverage of Place Bonaventure, Vecsei's gender was called out in high relief. She clearly resented the implications and took every opportunity to distance herself from traditional women's work. She told the Montreal Star in 1965: "Please don't put me in the category of women who add their little pink touches. ... I'm not interested in home-building projects that are uniform and repetitious. ... Huge massive structures that allow for individual expression and require complex solutions to integrated problems excite me."
She was not alone. Blanche Lemco van Ginkel, a graduate of McGill's school of architecture, had done the original master planning for Expo 67 with her husband. In 1980, at the University of Toronto, she became the first woman dean of architecture in North America. Dorice Brown Wal-ford was a project architect for the innovative Telephone Pavilion at Expo and went on to specialize in hospital planning for several of the major medical centres in Montreal, including the Allan Memorial Institute at the Royal Victoria Hospital. Pauline Clarke Barrable. a member of the Place Bonaventure design team, eventually became senior architect for the Royal Bank of Canada. Sarina Altman Katz was senior project architect for Habitat projects in the offices of Moshe Safdie. Janet Leys Shaw Mactavish developed innovative designs for schools on the west island of Montreal, including a circular school with an auditorium in its centre. In Quebec, most of the eighteen women architects who registered with the Ordre des architectes du Québec (OAQ) before 1970 did anything but so-called "women's work." Instead, they gained their early experience in the design of high-profile, nonresidential buildings. Many of these pioneering women cite their experience working on Place Bonaventure as instrumental to their subsequent careers.
In many cases, these women were helped by having had foreign educations. In Eastern Europe, where Vecsei was born, women architects were relatively commonplace. English-born van Ginkel worked in France with Modern master Le Corbusier, and specialized in city planning. Moose Jaw, Saskatchewan-born Walford, too, gained her early experience with Le Corbusier in Paris, where she also worked with Skidmore Owings and Merrill, known today for such buildings as Chicago's Sears Tower. Either being born in, or having trained in, Eastern Europe, where women architects were already a sizable percentage of the profession by the postwar period, gave them the knowledge, skill, and experience to make it in the male-dominated Montreal architectural scene.
In some cases, too, the women were helped by having husbands in the same or related professions, who were well aware of the difficulties involved in architectural practice. However, while marriage to architects in most cases helped women to secure employment, it also ensured that women were paid less. Some managers even queried the necessity for two salaries if a woman worked in the same office as her architect-husband. Nonetheless, there were a few important places of support: In addition to ARCOP, two other Montreal offices — Barott, Marshall, Merrett and Barott (BMMB) and David, Barott, Boulva (DBB) — were notable for hiring women.
But the times, as much as anything, had a felicitous effect on the role of women in architecture. In the 1960s in Montreal, a symbiosis took place between creativity, capital, and challenges to old ways that opened doors hitherto closed. It was a turning point. Despite the barriers to women in the profession, women architects in Quebec found themselves with an unprecedented opportunity to contribute their expertise to the planning and design of enormous public and commercial ventures. The sheer scale of the commissions, in such projects as Expo 67, the speed with which projects were designed and then constructed, new ways of working in teams (such as with Place Bonaventure), and the use of new building technologies provided Quebec women architects with the experience to occupy the centre, rather than the margins, of the profession.
After 1970, the presence of women registered architects grew at breakneck speed in Quebec. By 1992, 55 percent of all Canadian women registered architects were members of the professional association in Quebec. In fact, despite their late start in 1942, Quebec women came to dominate the official female practice of architecture in Canada, most of their entry into the profession having taken place during the 1970s and 1980s. By the early 1970s, when Vecsei began to design the highly controversial project La Cité, a $120 million mixed-use urban development that called for the partial demolition of an old neighbourhood of Victorian triplexes and apartments, her gender was of little notice. Place Bonaventure press clippings had all stressed her perspective as a woman and her "attractiveness."
La Cité clippings did not.
Subscribe to Canada's History
Save as much as 52% off the cover price! 6 issues per year as low as $29.95. Available in print and digital.
One More Profession "Invaded"
A book on English houses inspired Esther Marjorie Hill to become Canada's first registered woman architect. "The thought soon grew, though bidden carefully from the outside world," Hill confessed during a 1921 interview. Following studies at the University of Alberta, Hill transferred to the University of Toronto where she was the first woman admitted to the architectural program. She graduated on June 4, 1920, to a great cheer. "A storm of applause ... nearly shook the building," The Globe reported the next day.
Not everyone, however, was pleased about the first woman to graduate in architecture. C.H.C. Wright, Hill's professor at the University of Toronto, boycotted the ceremony. And the day before the graduation, The Globe reported "The Canadian woman has invaded one more profession."
Never one to follow the crowd, Hill took a job in the interior decorating department at Eaton's in Toronto following her momentous graduation. When she returned to Alberta in 1921, she found her reception as a "lady architect" to be considerably cooler than she might have anticipated from the thunderous ovation at her Toronto convocation. Hill's application for membership in the Alberta Association of Architects was denied. Perhaps anticipating her application, the association had devised a new requirement for a year's work experience. It was not until 1925, following postgraduate studies in town planning at the University of Toronto, a summer course at Columbia University, and a stint in an architectural firm in New York, that Hill was finally accepted by the Alberta association, becoming Canada's first registered woman architect.
Hill, however, was not the only woman to encounter resistance within the profession. The first woman to register with the Ontario Association of Architects (OAA) was Alexandra Biriukova, best known for designing an icon of Canadian Modernism, the Toronto home of Group of Seven artist Lawren Harris. Like many of the women architects who practised in Quebec a generation later (see main story), she was born in Eastern Europe and arrived in Canada already trained as an architect. Unfortunately for the course of Canadian architecture, she resigned from the OAA in 1934 and spent the rest of her life as a tuberculosis nurse in Toronto.
In the pre-World War II era, there were only five women, including Hill, registered as architects. Compared to other countries, the entry of Canadian women to the profession of architecture was quite late. Louise Blanchard Bethune was the first woman to register as a member of the American Institute of Architects, in 1888. Ethel Charles became a registered architect as early as 1898 in England.
After a second stint practising in New York, Hill returned to Alberta in 1928 to work with an Edmonton firm on such projects as the Edmonton Public Library. When work dried up in the Depression, she turned her design skills to weaving, making gloves, producing greeting cards, and teaching. She moved to Victoria in 1936, but her architectural practice didn't really begin until after World War II, when she began designing modern, no-nonsense houses for returning veterans and their families, usually for a fee of $50 per house. Her houses are easy to recognize. They are typically rectangular in form, with long sides framing a central entry. Hill's houses also feature deep eaves, coved ceilings, large windows, raised hearths, dressing rooms, a range of built-in furniture, and generous storage spaces.
Like many early women architects in English Canada, kitchens were an important part of her practice. And since kitchens are often among the first rooms to be modernized in older homes, Hill's kitchens constitute a mostly invisible legacy, hidden within the walls of buildings designed by other (men) architects. Hill's kitchens were efficient and undecorated, and included sensible features such as unusually high counters (ninety-nine centimetres) with rounded corners, Lazy Susans, built-in appliances, and passthroughs between the cooking and eating zones. A Victoria kitchen she designed in 1966, for a home built in 1930, fetched her $60.
Perhaps her own kitchen served as a model for those she designed, as her practice occupied the main floor of her parents' home until long after her father's death in 1960. Working from home was and is more common among women architects. Hill was unmarried, and seems to have had no employees or associates. Her father, Ethelbert Lincoln Hill, who had been chief librarian of the Edmonton Public Library from 1912–36, was a central figure in her life. She even wove the fabric from which his suits and coat were made.
Among the more public, large buildings Hill designed in Victoria is Glenwarren Lodge, Canada's first purpose-built housing for seniors. She was also responsible for the 1955 addition to the Emmanuel Baptist Church, now the Belfry Theatre.
Marjorie Hill died in 1985 at the age of eighty-nine, leaving a legacy of distinctive homes and buildings. Though a pioneer as a woman in the practice of architecture in Canada, she remains little known. That, one hopes, is about to change.
(Her)stories matter
If you believe that stories of women's history should be more widely known, help us do more.
Your donation of $10, $25, or whatever amount you like, will allow Canada's History to share women's stories with readers of all ages, ensuring the widest possible audience can access these stories for free.
Any amount helps, or better yet, start a monthly donation today. Your support makes all the difference. Thank you!
Themes associated with this article
You might also like...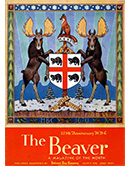 A Century of History in Your Pocket
Canada's History Archive, featuring The Beaver, is now available for your browsing and searching pleasure!