"The girls are coming! The girls are coming! They'll be here any day!" So screamed the headlines of Victoria's British Colonist in September of 1862. The Tynemouth, forever after known as the "bride ship" was on its way. For Colonist publisher Amor De Cosmos — a man with a strong sense of the ridiculous who would eventually go on to become British Columbia's second premier — it was a perfect opportunity to attract male readers, not to mention advertisers.
The situation was this: To the horror of the British government, Queen Victoria, and the Anglican Church, the glittering-with-gold valleys of the mighty Fraser River were home to 30,000 people, of whom very few were women, or British, for that matter. Most were single, young American men drawn in by the gold rush. How to make them British? Thus the gift they were about to receive from London — a cargo of sixty young women from Britain.
Organized by the Columbia Emigration Society under the auspices of the Anglican Church, this was not the first shipment of brides to the nascent colony. At around the same time the Tynemouth was on its way from Britain, The Seaman's Bride, a ship from Australia with about twenty women on board destined for Victoria, docked at San Francisco. "And what did the young Yankees do?" De Cosmos complained in the Colonist. "Alas! They captured the affections of the girls.... The vessel came on to this port (Victoria) without even a petticoat aboard to delight the eyes and cheer the palpitating hearts of the Victorians."
De Cosmos's interest in the bride ship may not have been simply commercial. The Nova-Scotia-born future politician, whose original name was William Alexander Smith, had a keen interest in unifying what were then two British Crown colonies — one on Vancouver Island and one on mainland British Columbia — as well as the other British North American colonies, and joining them into a single nation. At the time, Americans dominated the West Coast colonies, and some saw it as inevitable that the United States would eventually take over the region. De Cosmos, a smart, dapper, if eccentric man, who stood out for always being well-dressed, perhaps perceived the introduction of the British women as one way of turning back that tide.
Vancouver Island's stricken lonely hearts were in an uproar when the California bachelors raided the Seaman's Bride. Undaunted, De Cosmos tried to keep the fires burning until the next bride ship was expected to arrive. To titillate his male readers, the editor ran sentimental love poems and such lurid stories as, "A Mysterious Queen of Fashion," stirring the minds of prospective suitors to the glories awaiting them "Trying on a Hoop Skirt" had a blushing young male clerk outwitted by a beautiful lady desiring to try on a fashionable underskirt. The salacious tale ended with the clerk discovering that instead of retiring to "rearrange her toilette," the lady had made off with the merchandise.
De Cosmos also regaled his male readers with advice on choosing a bride. Beware, he wrote, "the girl with a romantic confidence in her Cinderella-like destiny," who didn't appreciate "steady, good-looking, industrious young men." Shouldn't she instead "anticipate marriage with one in the humbler walk of life?" No doubt his humbler readers agreed.
De Cosmos finally had some good news to report when, on September 11, 1862, the Colonist announced: The Tynemouth's Invoice of Young Ladies The screw steamer Tynemouth, from London, with sixty young ladies aboard, should be here in a few days, and bachelors both young and old must prepare to give fitting reception. A general holiday should be proclaimed; all the bunting waved from flagstaffs; salutes fired from Beacon Hill; clean shirts and suits of good clothes brought into requisition, and every preparation made to give this precious "invoice" a warm welcome. We are sorry to say that the Tynemouth will stop at San Francisco on her way up. ... The Immigration Board should send an agent to San Francisco to prevent "desertions" while the Tynemouth lies at that port.

You could win a free book!
Sign up for any of our newsletters and be eligible to win one of many book prizes available.
The men of the colony were abuzz with anticipation. Was it true? Were they really coming? On September 17, De Cosmos's Colonist passed on more hot news from San Francisco:
The Tynemouth at San Francisco: How many hearts will beat with pleasure as this paragraph reaches their eyes, we do not dare think; but we are sure that pleasurable emotions will pervade every bachelor heart in the "great" metropolis when we state that the good steamer Tynemouth, with sixty select bundles of crinoline, arrived at San Francisco on the 10th... and was to sail in a few days for this port with her precious freight — that is, if the Yankees don't steal their affections. The local editor of the San Francisco Herald must himself have been smitten with the fair damsels, to judge from the following: "Colonization of British Columbia'... their rosy cheeks and embonpoint [full-figured bodies] show that they will be valuable accessions to the Colony."
Next morning's Colonist reported: "The ship had left San Francisco on the 12th... and is now fully due here." And, De Cosmos noted in a column, "She was very fast — steaming at fifteen miles an hour." He added, "It may be consoling to those of our citizens who have expressed a fear that the young women might be stolen by the Californians, that they are under the charge of an agent, whose duty it is to see that they do not leave the vessel."
De Cosmos, however, had been fooled. The ship had in fact arrived the previous night and was anchored a few kilometres away in Esquimalt Harbour.
On September 20, the Colonist made the official announcement:
Arrival of the Tynemouth: This fine, iron steamship... cast anchor in Esquimalt harbour at 8 o'clock [the] night before last. As a matter of course, we went aboard the steamer yesterday morning and had a good look at the lady passengers. They are mostly cleanly, well-built, pretty-looking young women — ages varying from fourteen to an uncertain figure; a few are young widows who have seen better days. Most appear to have been well raised and generally they seem a superior lot to the women usually met with on emigrant vessels. Taken altogether, we are highly pleased with the appearance of the "invoice," and believe that they will give a good account of themselves in whatever station of life they may be called to fill.
Bedlam erupted at the news of the ship's arrival. Anything that floated was hired to get eager young swains out to the ship. Others, said the Colonist "...toiled along primitive roads to the port, hacking miles through the heat and dust… arrayed in their best, down to polished shoes and delicately perfumed handkerchiefs."
For the next few days, De Cosmos gleefully reported on the antics. Hoping to inspect the ship's "lovely freight," some respectable notables "hove in sight." Despite their "protestations of honorable intentions," the newspaper reported, the boatload found the gangplank pulled up against them, and were forced to return to shore "like baffled birds of prey." Chortled De Cosmos in a column: "A large number of citizens visited Esquimalt ... and were generally ordered off and returned from their fruitless errand with heavy hearts."
It had not, however, been fruitless for the newspaper. Eager advertisers bought space to promote products for the lovelorn. A large ad for toiletries suggested, among other delights, "Essence Jockey Club" for men, a product called "Kiss Quick," and de rigueur castor oil pomade for gentlemen's hair. Other advertisers bypassed the courtship stage altogether and went directly to flogging crockery and blankets.
Also in the ads was the announcement of a gala regatta for the girls, to be followed in coming weeks by ads for whale boat races, horse races, and other delights to share with a new sweetie.
Interest was so keen that the Royal Marines were excused from their regular duty of guarding the Pacific Ocean to escort the girls ashore. It was a startling welcome through a noisy, overheated, and not always respectful throng of what De Cosmos called "breeches-wearing bipeds." There were friendly flirtations, lewd comments, and jokes as rough as some of their owners.
The sea-weary women were led in rows toward the legislative building, where tubs of warm water with soap were set up in front of the building for the women to wash their clothes. Many had been deprived of such luxuries for months and a very public scrubbing took place.
Subscribe to Canada's History
Save as much as 52% off the cover price! 6 issues per year as low as $29.95. Available in print and digital.
After the ceremonies, a women's committee divided the bride-ship women into three groups. The very young were placed in homes as servants until they were old enough to marry. Girls fifteen years and up would be available as brides and housed at the military barracks until a suitor was found. The ship's older passengers would also stay in the barracks until employment was found for them. The girls lived under tight twenty-four-hour surveillance in the aging military complex, and no one, except immigration committee members, was admitted.
Still, this high level of security wasn't completely effective. Some days after the women's arrival, the Colonist reported a "SHOCKING DEPRAVITY" — apparently two clergymen and a naval officer had made "a melancholy discovery." They had come across one of the girls in the act ! She was talking through the barracks fence — to a man !
In his newspaper, De Cosmos warned: "What will become of a young lady who exhibits such extreme depravity ... who would allow ... converse with that most dangerous of all animals — a young man. ...To guard against a repetition ... we respectfully recommend a file of marines drawn from among the oldest men ... with especial reference to their ugliness, be stationed around the barracks in future with strict instructions to bayonet every young man who may have the audacity to approach.
Eventually, the women found husbands, or work, or both, and their presence had a significant impact. They helped found communities all over British Columbia, and many families today can trace their ancestry back to the bride ship Tynemouth.
The Tynemouth was not the only bride ship to arrive in Victoria. The Columbia Emigration Society also sent out the Robert Lowe the following spring. After that, ships were no longer chartered, but women were still given assisted passage. The emigration of young women from Britain was taken over by the Salvation Army in the late 1800s and by the YWCA after that. The practice of sponsoring British women to come to the West Coast did not end until before the Second World War.
Whatever became of the bride-ship girls?
Only half of the sixty young women aboard the Tynemouth have been traced by historians, and, as could be expected in the raucous frontier days of British Columbia, their lives varied enormously.
Louisa Townsend spoke for many when she said, years later, that she "happily took to husband, housework, and babies with no regrets." She and her sister brought Victoria its first piano and first sewing machine.
Besides farming with their husbands and children, many of the women became midwives and teachers to the new communities they helped found. It is said of Tynemouth passenger Isabel Robb that she never lost a mother or child in all her years of midwifery in the Comox Valley.
Mary Macdonald, with a widowed mother and three sisters to support, is credited with inspiring Victoria's love of music. She was much in demand to sing at parties and weddings, and, at one time or another, she played the Sunday organ for most of Victoria's hastily erected churches. Years later she married Peter Leech, a one-time gold miner who was by then Victoria's respectable city engineer.
Jane Saunders fulfilled her dream of riches, parlaying her late husbands biscuit company into a business empire with the help of her seven children. This led local wags to call their home the Cracker Castle.
The beautiful Isabel Curtis was married at fifteen and whisked away to a cabin on the dark forested shores of what is now the town of Chemainus on Vancouver Island. Her arranged marriage eventually left her a young widow with several children and at the mercy of those who wanted her land. Eventually, she settled happily near Jane Nesbitt, a fellow bride-ship girl, in Victoria. Like many of the girls, she was helped over the years by the Royal Navy and the citizens of Victoria, who always took care of the bride-ship girls who had won their hearts.
(Her)stories matter
If you believe that stories of women's history should be more widely known, help us do more.
Your donation of $10, $25, or whatever amount you like, will allow Canada's History to share women's stories with readers of all ages, ensuring the widest possible audience can access these stories for free.
Any amount helps, or better yet, start a monthly donation today. Your support makes all the difference. Thank you!
Themes associated with this article
You might also like...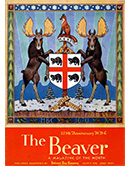 A Century of History in Your Pocket
Canada's History Archive, featuring The Beaver, is now available for your browsing and searching pleasure!