It was 1945 and hostilities were already winding down when Second Lieutenant Molly Lamb received her appointment to the Canadian Army Historical Section. In June she sailed for Europe, crossing paths with the troopships that were bringing soldiers home from the fighting. But Molly was happy. For a time it had seemed that the only Canadian woman to be officially appointed as a war artist during World War II might not make it overseas at all. Looking hack across the decades. Molly is today convinced that it was Group of Seven artist A.Y. Jackson who tipped the balance in her favour. "I was in the army three years before they made me a war artist," she recalls. "I didn't know how much those old colonels were against women war artists at the time."
Born on February 25, 1920, on Lulu Island near Vancouver, Molly now lives on the other side of the country with her husband and fellow war artist Bruno Bobak. The couple moved to Fredericton in 1960 to work as artists-in-residence at the University of New Brunswick. She still visits her daughter on Vancouver Island several times each year, catching up on family news and gathering inspiration for the large beach paintings that many art lovers associate with the name Molly Lamb Bobak.
"I grew up in an environment of art, but it was unselfconscious," she says. "I was just a little girl with an inferiority complex." Molly wasn't very interested in school, but loved drawing and painting, so when she turned sixteen her mother enrolled her in the Vancouver School of Art. The training was very academic, and Molly wanted to quit, but her mother insisted that it was important to finish whatever she started. Molly returned for a second year and met Jack Shadbolt.
"Taking a class from Jack hit me at just the right time. I really felt I learned a lot from him. Jack taught form and structure, hut he didn't insist you do it his way. He'd tell you how the bones and muscles worked in a foot, and you'd draw them. Jack was the biggest influence I had."
It's typical of Molly that her conversation evokes names such as Jack Shadbolt and A.Y. Jackson. She doesn't speak as a simple admirer of these icons of Canadian art, but remembers them with great fondness as mentors and friends. Her friendship with Jackson, for instance, had deep roots. When she was a little girl in Vancouver, Jackson would visit her father, a mining engineer by profession who liked to write magazine articles on art.

You could win a free book!
Sign up for any of our newsletters and be eligible to win one of many book prizes available.
Molly joined the army in 1942, caught up in the emotional climate of the times, but as far as the army was concerned, twenty-two-year-old Private Lamb didn't have any of the skills expected of a working woman of that era. "They didn't know what to do with me," she says. "I didn't even type."
It was natural that with her background and training, she'd aspire to be a war artist. In the meantime, she found joy in her assignment as a canteen worker, spending her off hours observing, writing, and sketching. Private Roy, one of the portraits Molly painted during that period, has remained one of her favourites for more than half a century. "We worked together in the canteen," she says. "I don't know what happened to her. It's just one of those little mysteries of life."
While waiting for the army to recognize her talents as an artist, Molly began a sketch diary entitled WI10278 (her regimental number). Describing the document many years later, fellow war artist Charles Comfort wrote, "I first saw this unique diary in its original form and was much impressed by its unorthodox format. The essence of the diary and the events, the humour and the reality it conveys bring us Molly's zest for life and her special way of looking at things."
In February 1943, Molly was sent to NCO school at Macdonald College in Ste. Anne de Bellevue, near Montreal. After graduation, Lance Corporal Lamb was transferred to Toronto for an army drafting course. It was a far cry from what she'd been expecting, but there were compensations. Remembering that A.Y. Jackson lived in Toronto, Molly sent him a note asking il she could come lor a visit.
"It was love at first sight," she says. "At the time be would be sixty something, and I would be twenty something. There was no romance. Everybody loved him, you know. He was a smart man. He was my best friend."
Jackson was a better friend than she even knew. Soon after that first visit he wrote to H. O. (Harry) McCurry, director of the National Gallery. He described Molly's sketches as "very real stuff. The army from the inside as only a girl could see it. I know of no woman artist in Canada who could do such still I under such conditions. If she had half a chance she could go places."
Jackson introduced Molly to Charles Comfort, and her determination to join the ranks of official war artists was renewed. She hitchhiked to Ottawa to plead her case, and was rewarded with an assignment working on technical drawings of engines in the Trades Training Office. Her disappointment was compounded when she was put on charge for being AWOL, after returning late from a visit to her parents on the West Coast. Molly paid for her transgression with a loss of rank and a transfer to Hamilton, where she was put to work illustrating meat-cutting charts for the army's cooking school.
In early 1944, Molly hitchhiked back to Ottawa with two paintings she planned to enter in the Canadian Army art show. Soon after returning to base, she received notice that her entries bad been rejected. Then came word that it was all a mistake. Molly was awarded second prize, though required to share it with another artist. First prize went to an artist already serving overseas, a young man by the name of Bruno Bobak. It was a pivotal moment in Molly's career.
That spring her name was accepted by the committee for War Records Artists, and she was transferred to the officers' training school at Macdonald College. She graduated with the rank of second lieutenant, and in June embarked for England. Nine Canadian artists were already stationed in London when she arrived. Among them was Bruno Bobak. Molly was assigned to share a studio with Bruno, and one thing led to another. She describes their relationship and romance without embellishment. "We had a good time in London, then came back to Toronto and got married."
Subscribe to Canada's History
Save as much as 52% off the cover price! 6 issues per year as low as $29.95. Available in print and digital.
But in the meantime there was a great deal of work to be done at the front. "It was a matter of documentation," Molly says. "That was our mandate. To record what you saw. I was the one that did it for the women."
She travelled through Holland, Belgium, France, Germany, and England, creating art that depicted the role of women in the armed forces. And she did it her way. "They gave the war artists cameras, but I didn't take one," she recalls. "They gave me a truck, and a driver whose name was Lucky. The truck was big in the back, and I sketched from there.
Lucky had gone though the entire war without a scratch. But teaming up with Molly nearly proved his undoing. "We had a terrible accident in Holland," she remembers. "It was my fault. I gave Lucky some brandy, and he drank it. We went into some trees, and I was thrown out and the truck went on fire. We never got a court-martial; there was never even an investigation."
After the war, the young couple moved to Ottawa, where Bruno started a job with the federal government. But the West was calling, and they went out to Vancouver. Bruno taught at the Vancouver School of Art, while Molly looked after their two children and painted at home. In their spare time, they built a house in Lynn Valley right next door to Ron Thom, the architect who would later build Massey College in Toronto.
One of the few surviving artists of her generation, Molly looks back on her early work and notes that her style hasn't really changed. "My art has always been rather simple and rather direct. No secret ideas behind it."
These days, she takes pleasure in painting large, outdoor scenes. The pieces are straightforward, often depicting a broad beach and big, wet sky, with very few people. "It's a theme I suppose I'll continue for the rest of my life," Molly says.
"I think I lived in a terribly interesting era in this country. It's been very good to me. In the time that I lived, it was a growing period. It was a very good time to be alive. If there is one word to sum it up, it would be optimism."
(Her)stories matter
If you believe that stories of women's history should be more widely known, help us do more.
Your donation of $10, $25, or whatever amount you like, will allow Canada's History to share women's stories with readers of all ages, ensuring the widest possible audience can access these stories for free.
Any amount helps, or better yet, start a monthly donation today. Your support makes all the difference. Thank you!
Themes associated with this article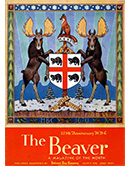 A Century of History in Your Pocket
Canada's History Archive, featuring The Beaver, is now available for your browsing and searching pleasure!