Shifting Riel-ity: The 1885 North-West Rebellion
"The Government have put down a formidable rebellion without a mistake, in a manner which sheds [honour] on Canada and her young chivalry, [honour] on the Government, and especially on [Minister of Militia and Defence Adolphe-Philippe] Caron."
So declared the Regina Leader shortly after the North-West Rebellion of 1885 came to an end. Yet this cheerful assessment was not shared by all the victors. At least one of the participants in the campaign had a much more jaundiced view. The title of Lewis Redman Ord's 1887 book says it all: Reminiscences of a Bungle, by One of the Bunglers.
Then, as now, the North-West Rebellion of 1885 was a subject of contention within Canada. Aside from the interpretation of events, which is an endless task in itself, is the problem of simply trying to determine the facts.
The conflict remains shrouded in confusion, contradiction, and controversy.
Even the name stirs strong emotions. Variously known as the Second Riel Rebellion, the North-West Rebellion, the North-West Uprising, and the North-West Resistance, its names convey various interpretations and levels of intensity. Since the term "rebellion" was used most often in contemporary accounts and since this article focuses primarily on the military campaign rather than on the rights and resistance of the Metis, that term seems appropriate here.
Accounts of the time tended to regard the expedition to suppress the uprising as an efficient and even glorious little campaign. Reports also lavished praise on the commander of the expedition, fifty-nine-year-old British-born General Frederick Middleton. Again the Leader commented: "The Government and the country were specially fortunate in their General who is not only a brave man and good commander but one who understands the temper of Canadians. We hope he will be rewarded by Knighthood."
Contrast that with what Ord, the self-described "bungler," had to say about Middleton after serving under him as a member of the Dominion Land Surveyors Intelligence Corps: "Blinded with a sense of his own importance, he was above advice of any kind and from the day he left Qu'Appelle until his return to Winnipeg his course was one continued series of gross blunders, the result of conceit and stupidity."
Outside observers weighed in as well. The Minneapolis Tribune, for instance, stated that the Canadian government had sent out an expedition "totally unfitted for the work it has on hand."
Meanwhile, Deputy Minister of Militia and Defence Charles-Eugene Panet probably made the understatement of the year when he reported to Parliament that the department "was very severely tried" and that the campaign to suppress the uprising became "a very arduous and trying one."
Unresolved grievances in parts of the vast region then known as the North-West Territories had simmered for years before boiling over. Just as in the Red River settlement in 1869–1870, Metis in the territory of what is now Saskatchewan feared losing their land as government surveyors ignored the boundaries of their familiar river lot farms, chopping them into squares.
The new railway brought an influx of settlers who took out homesteads, and many Metis no doubt resented the ability of the newcomers to obtain land while their own was in doubt. Meanwhile, the Indigenous were facing hunger due to the disappearance of the bison, and whites on the frontier felt Ottawa was ignoring them.
Hoping to unite all in a common cause, Metis leader Louis Riel sent a petition to Ottawa outlining their grievances. Ensuring Metis property rights and increasing food rations to the indigenous population would have alleviated many of the problems before they reached the boiling point. But government inertia proved disastrous. When Ottawa disregarded Riel's petition, he formed a provisional government on March 19, 1885, and established an armed force at Batoche under Gabriel Dumont.
Prime Minister John A. Macdonald's federal government lost little time in responding to what it saw as a threat to the new dominion, which was barely eighteen years old. On March 23, Macdonald ordered Middleton to the troubled region and called troops into active service. A government that had long procrastinated over Metis rights was now acting to suppress an uprising that had not yet broken out.

You could win a free book!
Sign up for any of our newsletters and be eligible to win one of many book prizes available.
The young nation was ill-prepared to deal with the logistics of crushing an uprising. The conflict was 3,200 kilometres from Canada's chief population centres. The only full-time soldiers were 750 men of the permanent corps, and they were scattered in various schools as instructors.
Other than that, only the officers were professional soldiers — the rest were volunteers — and the army had neither a hospital branch nor a transport service. Food for up to five thousand troops had to be provided. The teamsters and surgeons who waited on the troops also had to be supplied. But there was no government supply depot. Nor was there,according to the 1886 Sessional Papers of Parliament that reviewed the matter, even a round of hardtack in store.
In addition, the outbreak came at the worst possible time of year. It was late winter, the snow was too soft to bear heavy teams, and there was little grass for horses and cattle to eat. Also, there was no shelter along wide stretches of open prairie. Under these conditions, supply convoys — one was five kilometres long — had somehow to make their way.
Few people in eastern Canada understood the enormity of the task. Even settlers in the affected region laboured under misguided optimism. The editor of the Regina Leader stated, "We are satisfied that if there is any disturbance, the police are quite equal to the occasion, and we in Regina are not likely to find it necessary to call out our reserves."
It was a bold declaration, considering that Regina did not have any reserves at this time. Nor were the North-West Mounted Police equal to the occasion when fighting broke out at Duck Lake on March 26.
Superintendent Leif Crozier, with a combined force of a hundred police and Prince Albert volunteers, was on his way to pick up supplies when a band of armed Metis led by Gabriel Dumont confronted him. Accounts vary about what happened next.
Dumont related that his brother Isidore and a nearly blind Cree man named Assiyiwin advanced to speak with Crozier, who was accompanied by Joseph McKay — a.k.a. Gentleman Joe McKay — a Metis interpreter for the police. Dumont said Assiyiwin tried to grab a rifle from McKay: "This English Metis fired and I think it was this rifle shot which killed my brother Isidore. . . . "
Crozier claimed that while he was trying to talk to Assiyiwin, the Metis were moving to outflank him. Fearing that he would be surrounded and cut off, and hearing what he thought was McKay's shot, he gave the fateful order: "Fire away, boys." McKay, however, said he waited for Crozier to give the order before shooting.
The first battle of the rebellion was on. Although the police at first outnumbered the Metis and were armed with better rifles and a cannon, they were virtually surrounded, exposed to deadly crossfire, and without cover except for the sleighs they had brought with them. They were also confused and disorganized as Metis reinforcements poured in.
When Crozier gave the order to fire, he was in the line of his own cannon, so the gunners refused to shoot. He later said they should have fired anyway The cannon got off only a few rounds before one of the nervous gunners put the shot in before the powder, making the cannon useless.
Gabriel Dumont described falling as a bullet grazed his scalp: "I wanted to get up, but the blow had been so violent, I couldn't. When Joseph Delorme saw me fall again, he cried out that I was killed. I said to him, "Courage, as long as you haven't lost your head you're not dead."
The battle lasted little more than half an hour. Crozier saw the hopelessness of his situation and ordered a retreat, leaving some of his dead on the field. The bodies of nine volunteers and three police littered the snow, and another eleven were wounded.
Gabriel's other brother, Edouard, who had taken over command when Gabriel fell, wanted to follow the police as they withdrew. Riel would not allow it, however, saying there had been too much bloodshed already. If the Metis had pursued the police, there is little doubt that the retreat would have become a rout. Volunteer Alexander Stewart recalled, "If we had not retreated when we did, we would all in less than five minutes have been massacred."
The troops had a carefree, almost nonchalant attitude toward the prospect of fighting.
Middleton was on his way to Winnipeg by train when he received word of the clash at Duck Lake. He telegraphed for more troops. The response was immediate and immense. Almost five thousand militiamen volunteered their services. Two-thirds were from eastern Canada. One observer noted that they responded to the call "like guests to a wedding breakfast. " The Leader suggested sending some of them back, saying not all would be needed.
The task of outfitting the soldiers was a challenge that enthusiasm alone could not overcome. Major Charles A. Boulton — who had been held prisoner by Riel in the1870 Red River uprising — raised a corps of mounted riflemen from western Manitoba at his own expense.
Boulton's Scouts did not have uniforms. They rounded up their own horses from farms and ranches. Saddles, cartridge belts, and rifles were supplied without any regard to uniformity of pattern. One observer, George J. Kinnaird, recorded, "Both drill and discipline were very defective, in fact almost a negligible quantity, but they could ride and they could shoot and there weren't any cold feet in the outfit."
The troops had a carefree, almost nonchalant attitude toward the prospect of fighting. Kinnaird reported that Boulton's Scouts behaved "like a bunch of school boys let out to play; their worries must have all been locked up in their old kit bags and the keys dropped into the river."
As the campaign progressed, the problems became more apparent. Rifleman John Andrew Forin of the Queen's Own Rifles recorded in his diary: "Our food mostly consisted of hardtack biscuit and tea — pork and beans for a change.... Never appreciated letters like I do now — this is real warfare."
Until troops arrived, many settlements were almost defenceless. In Moose Jaw, a resident noted that the Canadian Pacific Railway "kept an engine ready for quick removal of women and children should the town be raided."
In Regina, citizens organized a home defence unit called the Regina Blazers, but promised federal assistance in outfitting them was long in coming. After much delay and negotiation, the rifles and belts arrived, but no uniforms or ammunition. The Blazers began to see why Riel had become so exasperated in dealing with Ottawa.
Ammunition finally arrived just before Riel's surrender. After drilling faithfully for eight hours a week during the entire campaign, the only service the Blazers saw was when they turned out, still without proper uniforms, to present arms to General Middleton during Riel's trial.
Thanks to the nearly completed transcontinental railway, the first troops from eastern Canada arrived in Qu'Appelle within a week. William Van Horne, the Canadian Pacific Railway general manager, had experience dispatching troops during the American Civil War and put this experience to good use.
Middleton's strategy was simple, at least on paper. He proposed a three-pronged assault and assembled three columns of troops along the CPR line. He chose to lead the first column himself. These troops detrained at Qu'Appelle and were to move north to the Metis stronghold at Batoche and then on to Prince Albert. Their departure was delayed, however, as Middleton wanted to give them additional training, since "many of the men had never pulled a trigger."
The second column, under Colonel William Otter, set out from Swift Current to relieve Fort Battleford, where terrified settlers, huddling inside, watched their homes being ransacked and burned as a large band of starving Cree established a camp nearby. Chief Poundmaker tried, but failed, to stop rogue warriors from looting the town.
The third column, under General Thomas Bland Strange, moved north from Calgary to Edmonton and then down the North Saskatchewan River in the direction of Big Bear's Cree encampment near Fort Pitt. This third thrust was a response to the Frog Lake "massacre," as it was called at the time. Over Big Bear's objections, a faction of warriors, emboldened by the Metis victory at Duck Lake, attacked the settlement at Frog Lake on April 2 and killed nine men, including two priests and the local Indian agent.
The incident outraged many Canadians of the time. More recently, however, historians have cast it in a different light — as a desperate act by people who had survived a particularly severe winter and suffered food shortages and harsh treatment at the hands of Indian agent Thomas Quinn.
The Metis were scattered throughout the North-West Territories, but Middleton directed his main thrust at Batoche, where Riel had established his headquarters. As the column moved north, Dumont prepared an ambush at Fish Creek on April 24. The plan failed because, by chance, the infantry stopped to examine a house that had recently been ransacked. This delay enabled Boulton's Scouts to get far in advance of the main body. The Metis opened fire prematurely on the scouts, who were advancing in skirmish formation, and revealed the trap.
Although outnumbered, the Metis and their First Nations allies fought the troops to a standstill and forced them to withdraw. Dumont's troops might have withdrawn if they had been able, but they were pinned down by heavy rifle and artillery fire. Despite the torrent of bullets, Dumont urged on his troops by shouting, "Don't be afraid of the bullets. They won't hurt you."
But some of the bullets did find their mark. Dumont's forces lost at least four men, while Middleton's side suffered ten deaths. The general himself was almost killed at Fish Creek.
Too dignified to seek cover, he made himself a conspicuous target: "I received a bullet through my fur cap from one of the men in the rifle-pits, who had made several attempts to hit me before, and whom I have reason to believe was Gabriel Dumont himself."
Dumont later disputed this: "Middleton might, as a matter of fact, have had a shot pierce his fur cap, as he said in his report, but he can congratulate himself that I didn't recognize him." Dumont was an excellent shot and seldom missed.
After an all-day battle, Middleton's troops withdrew from Fish Creek. They halted for a couple of weeks to care for their wounded and to await the steamer Northcote. Although it had a draft of less than a metre, it repeatedly got stuck on the mud banks of the South Saskatchewan River; Middleton sarcastically noted that it came "mostly by land."
Ironically, the Northcote was fortified with wood taken from Dumont's own stables; Middleton's troops had overrun his homestead on May 7, removing timber to reinforce Canada's first and only prairie warship.
Middleton proposed a simultaneous assault on Batoche by his troops, supported by the Northcote. On May 9, the "simultaneous" attack got off to a bad start when the steamer arrived at Batoche an hour ahead of schedule.
To add to the difficulties, the Metis stretched a cable across the river, knocking over the Northcote's two smokestacks and starting a fire that the troops had to extinguish while the Metis took potshots at them from shore.
The Northcote's captain, in the unprotected wheel-house on the top deck, was unable to steer the vessel as Metis bullets whistled overhead, so he sought cover and allowed it to drift downstream, effectively knocking it out of the battle.
At Batoche, the Metis faced a deadly weapon they had never encountered before — the Gatling gun. First used during the American Civil War, the rapid-fire weapon had been brought up from the United States by Captain Arthur Howard of the Connecticut Home Guard to demonstrate its effectiveness in battle.
Besieged and outnumbered by Middleton's troops, Dumont's forces desperately held on. By the fourth day they were so low on ammunition that they were reduced to using nails and stones instead of bullets. Some fired their ramrods as a final gesture of defiance. But since this revealed their desperation, Middleton's troops advanced with greater boldness.
The final assault was a muddled affair. While Middleton was having lunch, some troops in forward positions could see no reason to wait for orders, so they decided to charge. Other troops, seeing their initial success, joined in to complete the capture of the village.
Middleton's side suffered eight deaths; the Metis lost fourteen. Of the latter, five were killed in their rifle pits in the final bayonet charge. Two of them were in their sixties, two were seventy-five, and one, Joseph Ouellette, was an astonishing ninety-three years old.
Riel gave himself up to Middleton on May 15. Dumont escaped and planned to spend the summer harassing the troops, but instead fled to the United States, where he later joined Buffalo Bill's Wild West Show. His parting words to his wife Madeleine were, "If the enemy captures you and blames you for my actions, you tell them that since the government couldn't manage me, it wasn't easy for you to do so."
In the meantime, Colonel Otter, commanding the second column of troops from Swift Current, had reached Battlefront. He then proceeded to attack Chief Poundmaker on his reserve fifty-five kilometres west of town. The Battle of Cut Knife Hill took place May 2. Although Otter intended to surprise the Cree force, the Cree soon gained the upper hand and forced the troops to withdraw.
Several warriors wanted to pursue them, but Poundmaker would not allow it, saying, "They have come here to fight us and we have fought them; now let them go." He later surrendered after learning of Riel's defeat.
General Strange led the third column from Calgary to Edmonton and then to Fort Pitt to confront Big Bear's warriors. Many whites held Big Bear personally responsible for the killings at Frog Lake, even though he had tried to stop the slaughter. The clash occurred on May 28 near Frenchman's Butte, about twenty kilometres east of Fort Pitt. Although taken completely by surprise, the Cree quickly recovered and took up defensive positions in the brush. The troops could make no headway and Strange ordered a retreat.
They withdrew just as the warriors began to flee the battlefield. But Strange was reluctant to pursue them without reinforcements. Demoralized and hungry, Big Bear gave himself up in early July. The uprising was over.
The campaign from March to July 1885 had been short, but it was expensive, running into the millions of dollars for military expenditures alone and several more millions in compensation for war losses.
Yet the greatest cost was in human terms. For instance, the twelve dead and eleven wounded among the hundred police and volunteers engaged in the skirmish at Duck Lake amounted to a casualty rate of twenty-three per cent.
Saskatchewan historian Norman Fergus Black stated that Crozier's force had twenty-five wounded; if true, this would boost the casualty rate to an astounding thirty-seven per cent. If Riel, Poundmaker, and Big Bear had not displayed the restraint they did, casualties would have been even higher.
Fortunately for Macdonald, support for Riel's provisional government was weak, as almost all white settlers rallied to the side of the government, and many Metis communities remained neutral. The Indigenous people were divided but essentially loyal. Otherwise, the conflict would have been longer, costlier, and deadlier.
In spite of being grossly ill-prepared, the young dominion struggled through and survived. George Kinnaird perhaps best summed up the conduct of the campaign when he said, "In that war as in every other, we blundered through somehow and came out all right in the end."
Whether one views the campaign as being efficiently run or a blunder-filled mess, the troops were able to suppress an uprising in a relatively short time.
Yet had the government attended to the concerns of the region in the first place, there would have been no need for a military campaign.
How time has changed our ideas about the 1885 North-West Uprising
Louis Riel and the Metis were justified in starting an armed uprising.
This was not the prevailing view among English speaking white people in eastern Canada in 1885. Clergyman C. P. Mulvaney, writing shortly after the event, saw Louis riel and the "halfbreeds" — as he called the Metis — as trying to establish "an island of mediaevalism," thus impeding the spread of civilization.
This view started to change in the 1930s with historian George F. G. Stanley, who saw the events of 1885 as inevitable as a complex culture came into contact with a more "primitive" one. After the Second World War, historians started seeing Riel as a heroic resistance figure.
More recently, controversial historian Thomas Flanagan has challenged that view, arguing that the grievances of the Metis were partly of their own making.
Indigenous people were driven to rebel out of desperation because of the disappearance of their main food source, the bison.
Actually, most of the Indigenous people were loyal to the Crown. Only a few warriors, acting against the wishes of their leaders, took part. The actions of these few warriors incensed white Canadians of the time, who saw all Indigenous people as being ungrateful for the relief — including food, clothing, and farm machinery — they were receiving from the federal government. "Five years of pampering and petting have failed," said the Saskatchewan Herald of May 25, 1885.
Yet they were hardly pampered, as writer Maggie Siggins points out in Riel: A Life of Revolution (1994). An economic depression in the early 1880s led the government to drastically cut back funding to the Indian Department, leading to widespread starvation. Pleas to John A. Macdonald's government to increase rations went unheeded.
Fort Battleford was held under "siege."
Hundreds of terrified residents of the town of Battleford sought refuge in the nearby NWMP fort as a large Cree-Assiniboine force under Chief Poundmaker arrived in the area.
After Poundmaker was refused a meeting with the Indian agent, a number of warriors looted and burned some homes and emptied a Hudson's Bay Company depot. Citizens of Battleford later described a scene of wholesale destruction, but there is evidence that much of the looting was done by Canadian soldiers looking for supplies and souvenirs.
Until 2010, Parks Canada had described the event at Fort Battleford as a "siege." But Indigenous oral histories point out that the fort was never attacked or surrounded, nor was its surrender demanded. Poundmaker was there to ask for supplies and to assure authorities that his people would not join Riel's revolt.
Parks Canada now describes the people inside the fort as having a "siege mentality." Fearing an attack that never came, they stayed inside the fort for almost a month.
Louis Riel was unjustly hanged and should be pardoned.
In 1875, Parliament granted Riel amnesty for the Red River Rebellion, including his role in the execution of surveyor Thomas Scott. Ten years later, on November 16, 1885, Riel was hanged for treason in connection with the1885 North-West Rebellion.
Riel has since been lauded as the founder of Manitoba, a Father of Confederation, and a Metis hero. He has also been decried as a madman with a messiah complex.
Since 1979, the House of Commons has received numerous private members' bills and resolutions to pardon Riel and/or to revoke his conviction. The last attempt was made by Winnipeg Centre MP Pat Martin in 2010, the 125th anniversary of the rebellion. It was unsuccessful. — Nelle Oosterom
Themes associated with this article
You might also like...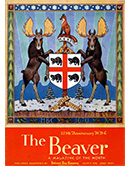 A Century of History in Your Pocket
Canada's History Archive, featuring The Beaver, is now available for your browsing and searching pleasure!
Related to First Nations, Inuit & Metis