The Inuit knife known as an ulu was traditionally a woman's cutting tool.
This example was made in the early twentieth century in the area of Port Harrison, Quebec. It has a crescent-shaped metal blade and an ivory handle decorated with fish and lines.
A smaller ulu with a five-centimetre blade was used for slitting animal sinew to make thread and cord, and to cut patterns. Larger ulus were used to scrape animal hides, fillet fish, or slice meat.
Themes associated with this article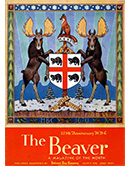 A Century of History in Your Pocket
Canada's History Archive, featuring The Beaver, is now available for your browsing and searching pleasure!
Related to First Nations, Inuit & Metis