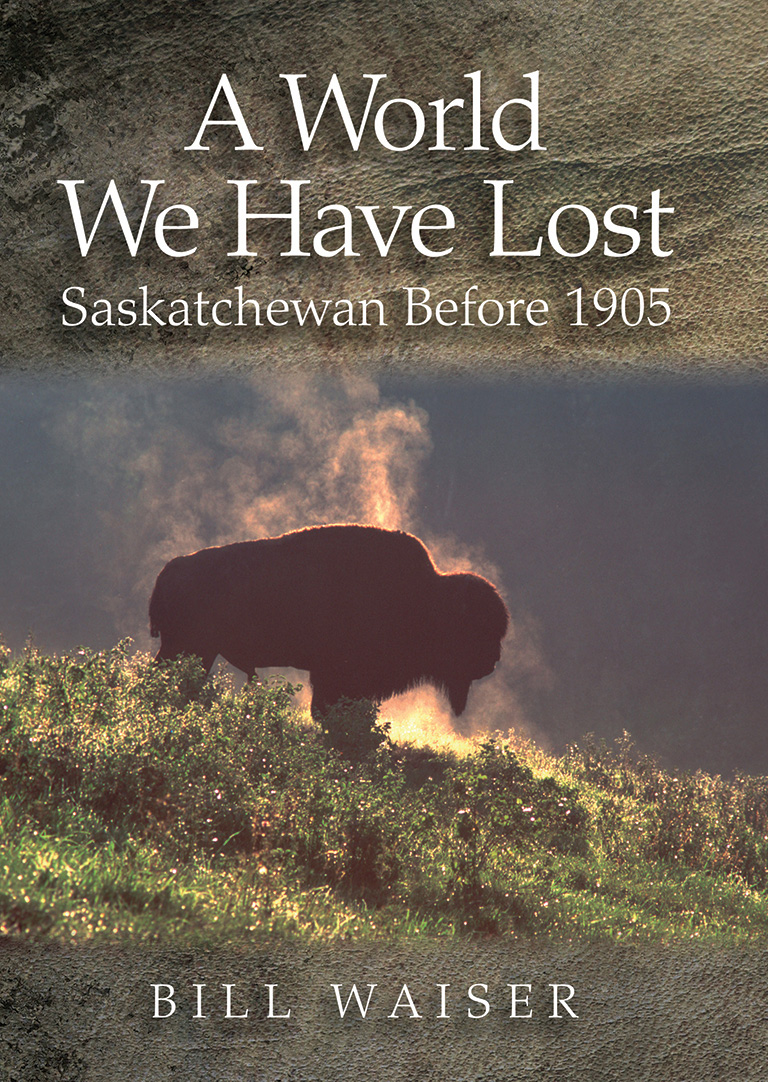 A World We Have Lost: Saskatchewan Before 1905
by Bill Waiser
Fifth House
733 pages, $70
A double review with
The Banker and the Blackfoot: A Memoir of My Grandfather in Chinook Country
by J. Edward Chamberlin
Alfred A. Knopf Canada
398 pages, $34.95
The cycle of life on the Canadian prairies has always revolved around the land. From Aboriginal reliance on the bison, to the pursuit by fur traders of the beaver, the dependence of European settlers on their harvests of grain, and the critical role of oil, natural gas, and potash in the modern economy, it always goes back to the land.
Two books explore this reality from different perspectives. In A World We Have Lost: Saskatchewan Before 1905, noted historian Bill Waiser reveals a sweeping panorama of the archaeology and Indigenous life of the region and the factors that played into its development. J. Edward Chamberlin takes a more personal approach in The Banker and the Blackfoot, a memoir of his grandfather John Cowdry's pioneering adventures in the years before Saskatchewan and Alberta attained provincehood in 1905.
Waiser sets the stage with the arrival of Hudson's Bay Company trader Henry Kelsey in 1691. He has "entered a landscape never encountered before by a European … a new world, at least to him, featuring gently undulating grasslands, small isolated groves of aspen poplar, chains of wetlands, and occasional dense brush-filled ravines." Kelsey was "allowed to enter an Aboriginal world that had its own distinct territories, nations, traditions, and legends." How the Europeans betrayed the goodwill shown them, forcing prairie First Nations into sickness, submission, and starvation, is a recurring theme of A World We Have Lost.
Almost half of this hefty, handsome book, replete with double-page colour spreads of the land, is devoted to the Hudson's Bay Company. Waiser credits it with having had a more humane attitude toward the original inhabitants than did Canadian politicians and bureaucrats after the purchase of Rupert's Land by the new Dominion of Canada in 1869.
Canadians had little interest in the Northwest but feared American expansionism after the United States bought Alaska. "If Englishmen will not go there, Yankees will," declared Sir John A. Macdonald. Waiser defends Macdonald against charges of racism, saying that if he "believed Indians were a hopelessly doomed people … he would not have wasted time dealing with them." Instead, Macdonald believed, "They had to be educated, Christianized, and enfranchised." Such thinking led to the horror of the residential schools. Waiser charts the course of the Riel Rebellion, the faltering efforts to bring settlers to the West's fertile belt, and the eventual creation of the provinces of Alberta and Saskatchewan. "If Saskatchewan was going to secure its destiny, then Indians [and the Metis] were expected to ride off into oblivion and never be heard from again."
J. Edward Chamberlin's memoir of his grandfather's life in southern Alberta, where the Blackfoot held sway, offers a more optimistic tone. The point of view is that of the white settlers, but Chamberlin insists that they "tried to fashion a Commonwealth in Chinook country that would accommodate Blackfoot sovereignty and new settlement."
In Fort Macleod, John Cowdry found a town consisting of a "wide muddy lane with a row of dirty, half-finished wooden shanties." Riding down that street, Cowdry spotted a rider coming toward him. They eyed each other warily, communicating by sign language. Cowdry had met Crop Eared Wolf, adopted son of the chief of the Blood tribe of Blackfoot. Cowdry became known as Sorreltop Jack, for the burnt chestnut colour of both his hair and his horse. The two men would become lifelong friends and allies.
The white traders and settlers, according to Chamberlin, came with but one intention: to make money. Their entrepreneurial spirit led them to open stores and saloons, livery stables, hotels, and law offices and to build churches and schools. Most arrived with money in their saddlebags: government cash if they were North West Mounted Police (NWMP) or veterans of the Canadian militia; pay handed out by trail bosses if they were cowboys; or capital advanced by old country investors if they were ranchers. Even the Blackfoot had cash: Chiefs received twenty-five dollars per year and band members five dollars by the terms of Treaty Seven.
Although cowboys had a few coins in their pockets, their bosses needed access to credit while they awaited the proceeds of cattle sales. When Ned Maunsell, an exwhisky trader, former NWMP member, and would-be cattle rancher, wrote home to Ireland for start-up money, he found no takers for the letter of credit he received. (Maunsell tried to ride to Fort Benton, in Montana, but he fell through the ice while crossing a river and froze his feet.)
John Cowdry told his brother Nathaniel, "That's what banks are for." The two launched the Cowdry Brothers Bank in Fort Macleod in 1886. It would thrive in the service of a growing population, allowing them to sell out to the Canadian Bank of Commerce in 1905 for a comfortable $105,904 — the equivalent of $2.5 million today. John invested part of his windfall in a twelve-thousand-head cattle ranch with Maunsell. He persevered, despite losing two wives and two children to various illnesses.
These books offer compelling accounts of how European society collided with Indigenous peoples in the West and how those on each side of the divide contended with the consequences.
Themes associated with this article