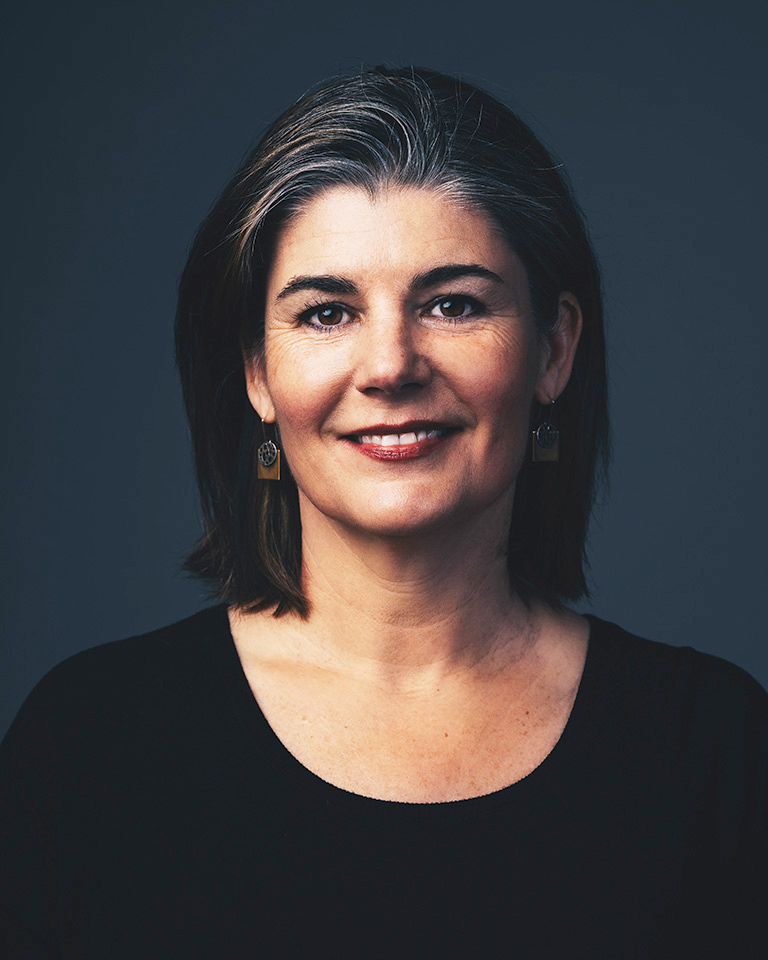 I am pleased to report that Canada's National History Society has had a strong year of growth and consolidation. With Canadians still challenged by pandemic restrictions and limitations on both travel and in-person gatherings, we embraced a hybrid work environment to deliver some of our best work in publishing and programming.
We met the needs of remote learners with direct-to-classroom distribution of special issues of Kayak magazine; we created a new History Bits animated video series for youth, along with companion educational resources for teachers; we increased participation in online Historical Thinking Institutes; and we published a special French-language magazine titled Cinquante merveilles de nos musées that showcased historic objects from French- Canadian culture.
Realizing that historical awareness is an important tool for community building, I am very proud to be able to say that the Board led an initiative to develop an intentional and active program of equity, diversity, and inclusion. We supported related programs for education and awareness within the organization and promoted the exploration of stories and events that illustrate the diversity of Canada. Working with our community partners, and after lengthy consultation, we adopted new intentional language, with a new equity, diversity, and inclusion statement and a formalized and expanded land acknowledgement. And we recruited new talent for our Board leadership team. We were very pleased to welcome Magda Fahrni from Université du Québec à Montréal and Sandra Martin of the Globe and Mail to our Board. Buoyed by this talent expansion, we are on the cusp of launching an ambitious fundraising campaign, supported by full participation of our Board.
After serving on the Board for seven years, this is my last term as a Board Member and my last message as the Chair. It has been a pleasure and an honour to serve this community of talented staff, committed Board leaders, and engaged supporters of Canada's History. Entering the third decade of the twenty-first century, we find that history becomes an increasingly important space for debates about Canada's present and future. Our Society is very well placed to shape and to lead these discussions moving forward.
Creating Opportunities and Supports for Learning
The educational programs at Canada's History continue to support and enrich learners of all ages. Whether through print publications, digital content, or virtual initiatives, we aim to support students and teachers alike in their journeys of researching and sharing the stories of the past.
Kayak issues in high demand
Kayak: Canada's History Magazine for Kids is trusted by teachers and welcomed by students. We tested a new distribution method to reach kids in their classrooms, which was a resounding success. '
We printed sixty thousand copies of a newly expanded edition of the special issue "Black History in Canada / L'Histoire des Noirs au Canada." All copies were reserved within three hours. This special print edition was funded by TD Bank and the Department of Canadian Heritage.
'We also increased the press run to one hundred thousand copies for the Kayak special issue "Who Do We Remember...And How? / Se souvenir de qui ... et comment?" It was quickly reserved by teachers.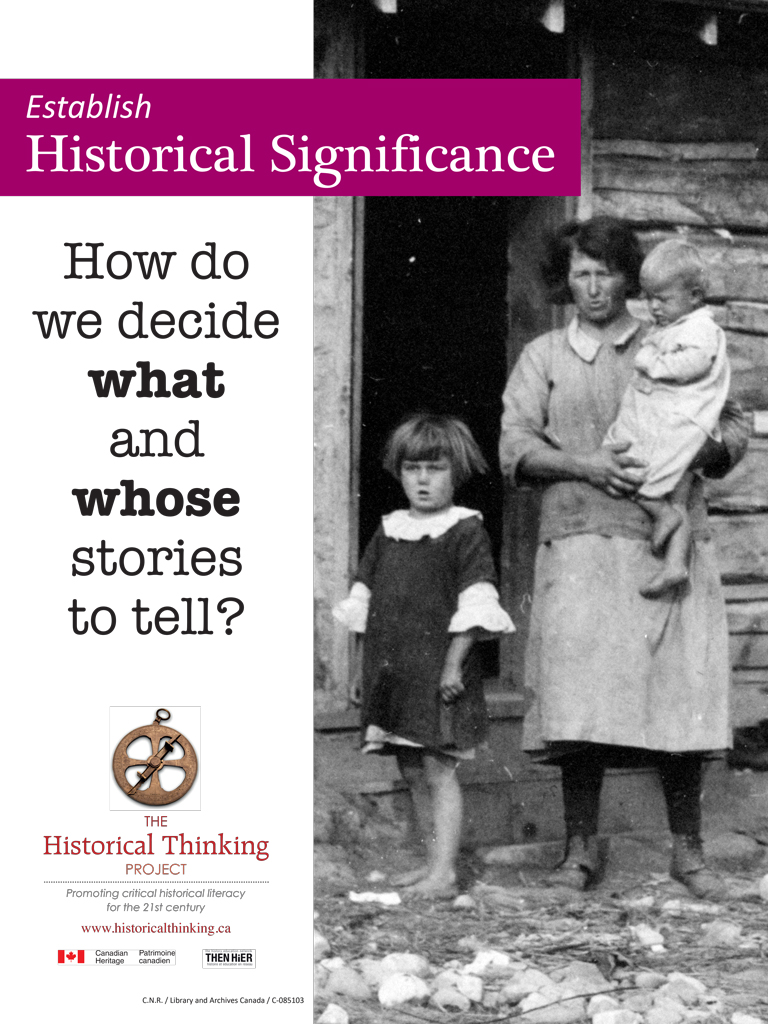 Connecting online
Canada's History expanded its support to teachers through the Virtual Historical Thinking Institute, held in partnership with the Historical Thinking Project. In 2021-22, for the first time, the institute was held online, with monthly workshops taking place over a period of eight months.
This format provided participants with accessible and ongoing professional-development training, along with opportunities to test new ideas and approaches in their classrooms as they engaged with the material. More than two hundred teachers participated in the program. Facilitators Lindsay Gibson (University of British Columbia) and James Miles (Teachers College, Columbia University) led the English sessions, while Catherine Duquette (Université du Québec à Chicoutimi) and Laurie Pageau (Ph.D. candidate, Université Laval) led sessions in French.
Giving youth a voice
This year saw another stage of the national youth program, #OurStoriesOurVoices. Canada's History challenged youth to share a part of history that mattered to them.
We received more than one hundred submissions — including artwork, poetry, essays, and videos — that shared community history from across Canada.
The contest winners will participate in a series of workshops this summer, and their work will be featured in a special publication for youth in the fall of 2022.
Animated History a Hit with Kids
History that's fascinating — and fun! That's the goal of History Bits, a new animated Web series for kids that launched in the fall of 2021.
With stories drawn from the pages of Kayak, our children's magazine, History Bits features six episodes that showcase the diverse stories of our country. Topics covered include the fight for women's right to vote; the destruction and revival of the Black Nova Scotia community of Africville; and the inspiring tale of Indigenous runner Tom Longboat.
Created during the COVID-19 pandemic, the animated videos feature professional and community voice actors from Winnipeg, with care taken to ensure the authenticity of the casting.
Each video is accompanied by special lesson plans distributed to thousands of teachers across Canada via e-newsletters. The goal of History Bits is twofold: to create exciting and engaging history videos in a cartoon format for classroom use, while also sharing the videos widely to all Canadians — young and old — via social media platforms such as Facebook, YouTube and Twitter.
The video series was made possible thanks to the generous support of The Northpine Foundation. To watch the videos, go to CanadasHistory.ca/HistoryBits.
Connecting French and English Canada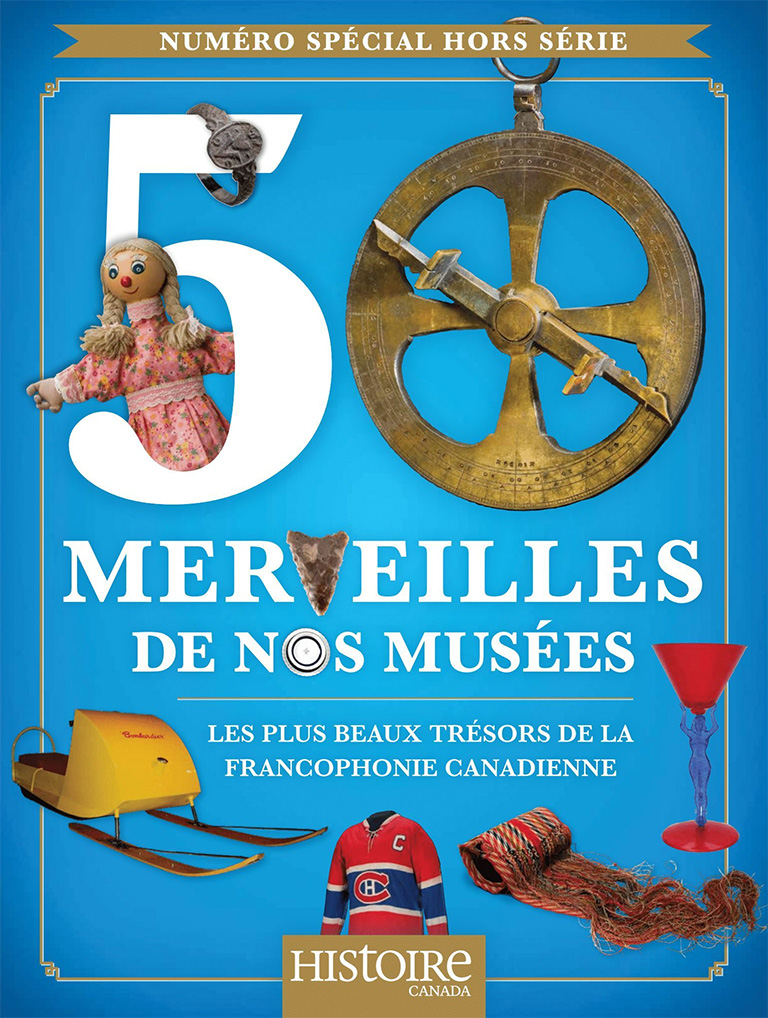 More than a year in the making, Cinquante merveilles de nos musées: les plus beaux trésors de la francophonie canadienne was published in the spring of 2022.
This special French-language print magazine will have a tremendous impact in terms of forging new and stronger connections between historians, museums, and everyday citizens in communities across French and English Canada.
Created in collaboration with leading francophone museums and archives both in Quebec and across Canada, the special French-language publication showcases fifty incredible museum artifacts, as well as the stories behind the objects.
The magazine was produced with the help of guest editor Magda Fahrni and in consultation with Joanne Burgess. Both historians teach and research at Université du Québec à Montréal.
The special print project was the culmination of a five-year initiative titled Projet Portage. Supported by The Molson Foundation, Projet Portage sought to connect history communities in French and English Canada while sharing the unique stories of French Canadians with the rest of the country.
Many of the stories in Cinquante merveilles will also be translated into English and shared via Canada's History and CanadasHistory.ca.
Our Audience by the Numbers
At Canada's History Society, we believe that our audience should see itself reflected in our publications and in our programming. But who is that audience? The answer might surprise you.
31.4
The percentage of readers who were born outside of Canada.
2 MILLION +
Canada's History Society's total audience across all media platforms, including print, online, and social media.
37.9
The average age of a Canada's History reader.
768,000
The number of readers who are millennials (people born between 1981 and 1996).
47.3
Percentage of readers with children under the age of eighteen.
Rideau Hall Commemorative Box
The ongoing COVID-19 pandemic prevented us from traveling to Ottawa in 2021 for the annual presentation of the Governor General's History Awards.
However, Canada's History honoured each of the 2020 laureates with a unique commemorative box, which included a personalized award medal, an official citation, and a lapel pin.
We hope these items remind the recipients of their exceptional leadership and achievements in the field of history. Canada's History is grateful for the support of The Wilson Foundation for this initiative.
Canada's History looks forward to resuming the annual awards celebration in the fall of 2022, when we will recognize both the 2021 and the 2022 recipients.
The Governor General's History Awards recognize excellence in five categories: Community Programming, Museums, Popular Media, Scholarly Research, and Teaching.
The awards, administered by Canada's History Society, are Canada's top history honours and involve the leading agencies of Canada's history and heritage community. Each award category is administered by the presenting organization and has its own jury, selection process, and prize structure.
Editor's Circle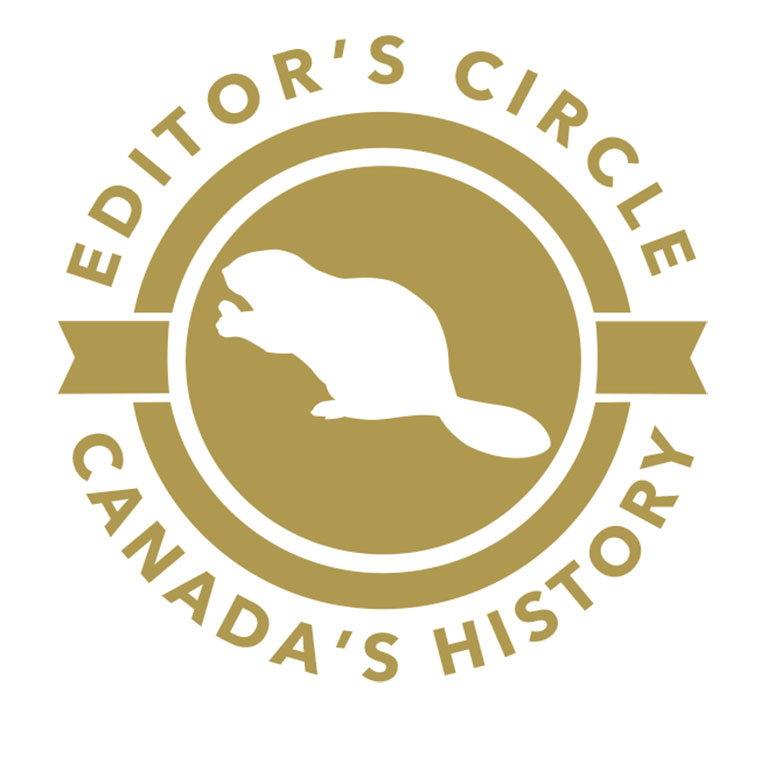 The Editor's Circle is an annual giving program that was established in 2020 to recognize the one hundredth anniversary of Canada's History magazine, founded in 1920 as The Beaver.
The program brings together readers, who make special gifts, with gifted creators, who make the stories of Canada come alive. Participants in the 2021 Editor's Circle were invited to join virtual soirées hosted by Canada's History Editor-in-Chief Mark Reid.
Three distinguished winners of Governor General's History Awards — Charlotte Gray, Sylvia Hamilton, and Tim Cook — joined Mark in May to discuss the art of storytelling, while in November, Nancy Payne and James Gillespie discussed our new animated series, History Bits.
Themes associated with this article
In case you missed them...
Help share the stories that make Canada strong
At Canada's History, we highlight our nation's past by telling stories that illuminate the people, places, and events that unite us as Canadians, while understanding that diverse past experiences can shape multiple perceptions of our history.
Canada's History is a registered charity. Generous contributions from readers like you help us explore and celebrate Canada's diverse stories and make them accessible to all through our free online content.
Please donate to Canada's History today. Thank you!
Related to Arts, Culture & Society