A bartender reaches for a glass made of ice and pours out a shot of sweet-tasting caribou.
"All at once," he says. I chug back the mixture of fortified wine, brandy, and maple syrup, and slam my ice glass on the bar. "Aaaahhh, like a true voyageur!" he proclaims.
Caribou — so named for the fiery drink enjoyed by voyageurs on caribou hunts in Quebec — is just one of many attractions at Winnipeg's annual Festival du Voyageur.
Walking through Fort Gibraltar — a reconstruction of an original North West Company post — I pass a large bearded man in voyageur garb, wearing a toque, a red sash, and a beaver pelt over one shoulder. Alluring smells of maple syrup, fresh bannock, and pemmican drying over burning firewood fill the air, along with the roaring fiddles of a Celtic band. Inside a tent, a jigger cracks his boots against wood chips and bits of smashed ice glasses from rounds of caribou as he claps along to the music.
For two weeks in mid-February, Winnipeg's French quarter, St. Boniface, shares its joie de vivre through Festival du Voyageur, which revisits the fur-trade era as it was lived along the shores of the Red River in the early part of the nineteenth century.
Voyageurs made long voyages — from Montreal through to the Pacific Northwest and Athabaska regions — under severe conditions. During the long, cold winter months they took a break from their gruelling work on the fur brigades.
"The festival is the metaphor for when they would rendezvous, break free from the winter cycle, and have fun," says Emili Bellefleur, director of marketing and communications for the Festival du Voyageur.
Fur traders arrived at Red River long before it became a settlement. Fort Gibraltar, originally built by the North West Company in 1809 at the junction of the Red and Assiniboine rivers, was in constant conflict with its competitor, the Hudson's Bay Company trading post just downriver at Fort Douglas.
The battle of the two great companies brought out ugliness in the men, according to Marion Bryce (1839–1920), a Manitoba College lecturer who was the Manitoba Historical Society's first female member:
"In the petty kind of warfare that was waged, men of honour were led to do things in the interests of their companies that in private life they would have held in utter contempt."
Hudson's Bay men destroyed Fort Gibraltar in 1816. But the British government deemed the act illegal and the fort was rebuilt the following year. By 1821, with losses mounting on both sides, the warring companies made peace and struck a deal. They united to form a mightier Hudson's Bay Company.
The Festival du Voyageur harkens back to early voyageur days through its displays of arts and culture. An assortment of aboriginal crafts, including fur and leather handiworks, are sold.
Craftsmen along merchant row show off their talents by weaving the traditional Métis sash. The colours within the design are said to represent the diverse backgrounds and languages of the Métis people.
The International Snow Sculpting Symposium is one of the festival's biggest draws, according to Bellefleur. Teams representing countries from all over the world come to carve masterpieces out of giant snow blocks.
As I look beyond the lights reflecting off the glimmering snow sculptures, I imagine the voyageurs of long ago. Their never-waning spirit, their joie de vivre, lives on in the Festival du Voyageur. In 2010, Festival du Voyageur will be part of Saison Voyageur, a new celebration that began on the winter solstice and includes activities on Winnipeg's river skating trails. The events are all part of Manitoba Homecoming 2010, a year-long program aimed at encouraging former Manitobans to return to their home province for a visit.
Themes associated with this article
You might also like...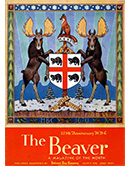 A Century of History in Your Pocket
Canada's History Archive, featuring The Beaver, is now available for your browsing and searching pleasure!

A Tie for All Seasons
Beautiful woven all-silk necktie — burgundy with small silver beaver images throughout. Made exclusively for Canada's History.