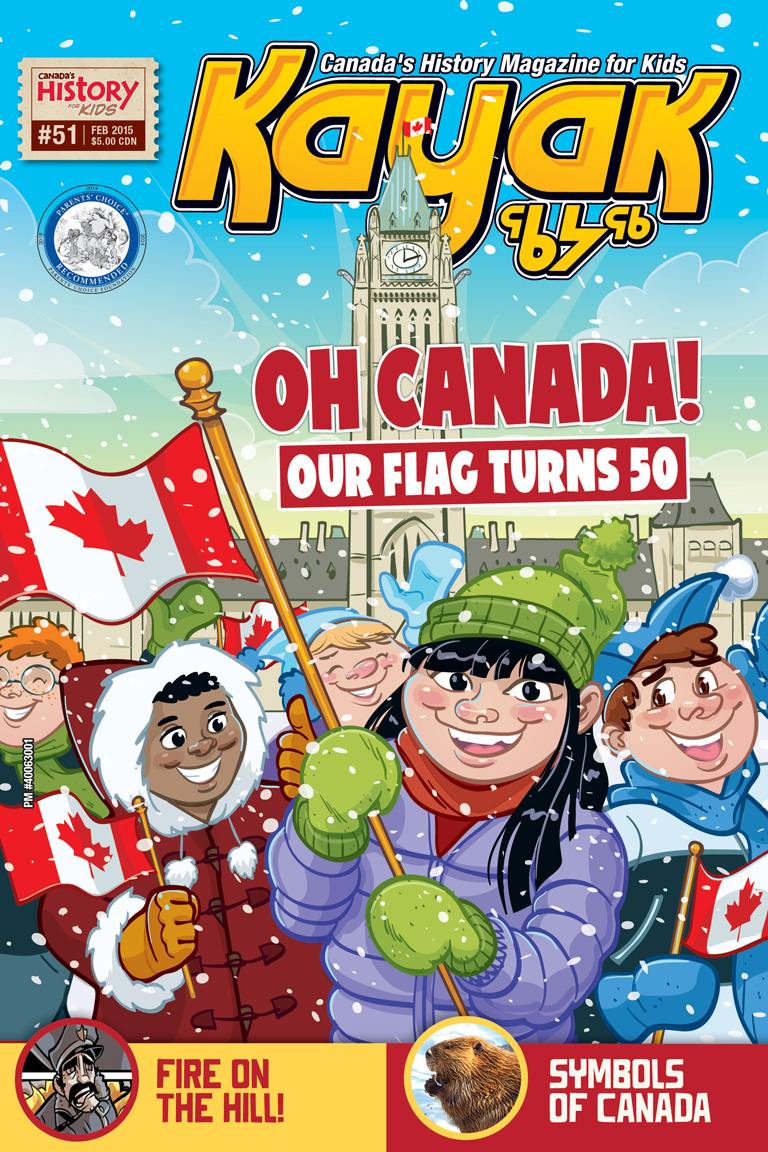 Everybody knows that a red maple leaf on a white background means Canada. Our flag is one of the easiest to recognize in the entire world. It first flew February 15, 1965, so the February 2015 issue of Kayak is celebrating by shining a light on all of our national symbols.
Some are easy to think of, like the Parliament buildings in Ottawa or our anthem, "O Canada" But we also have a national animal, a national sport (actually, two of them!) and much more.
Extra articles that accompany this issue
You Otter Know
FLAG-FLYING DOS AND DON'TS
Our flag is beautiful and unique and an important symbol of our country. Here's how to treat it with respect.
FLY THE FLAG!
Each Canadian province and territory has its own flag with symbols that make it special.
Backyard History
SYMBOLS TO VISIT
From our flag to our anthem, there are symbols of Canada everywhere you go!
Fiction Feature
WE STAND ON GUARD
The story of our national anthem.
History Gets Graphic
DEFEND THE FORT!
French settlers and the Iroquois nation have been fighting each other for years. Can young Madeleine de Verchères protect her brothers and the other families during an attack while her parents are away?
Watch It!
SYMBOLS OF CANADA
From our anthem to our animals, there are many things that represent Canada. Discover more about them here!
Give the Greatest Gift in History!
Kayak: Canada's History Magazine for Kids — 4 issues per year for as low as $14.95.
Themes associated with this article