French-Canadian voyageurs often had this type of carrying box in tow when travelling. They called these boxes "cassettes" to differentiate them from "pieces," the name for packs of trade goods.
Carpenters crafted these travellers' cassettes at fur-trading posts with mobility in mind — the boxes varied in size and had a number of compartments to hold tins, cups, cutlery, tools, and spices. Hudson's Bay Company traders and clerks also used wooden trunks like this to carry personal belongings.
The cassette seen here was once owned by George Simpson McTavish Jr., who was born at Fort Albany on the west coast of James Bay. In 1878, at age fifteen, McTavish joined the HBC ship Prince of Wales, which had sailed from England to the Moose Factory post to collect furs. McTavish also served as an apprentice clerk at York Factory, beginning in 1879, and as a clerk at Fort Churchill, beginning in 1882.
He held the latter position until his retirement from the company in 1892.
Themes associated with this article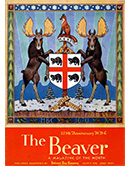 A Century of History in Your Pocket
Canada's History Archive, featuring The Beaver, is now available for your browsing and searching pleasure!