Treaties and the Treaty Relationship Educational Package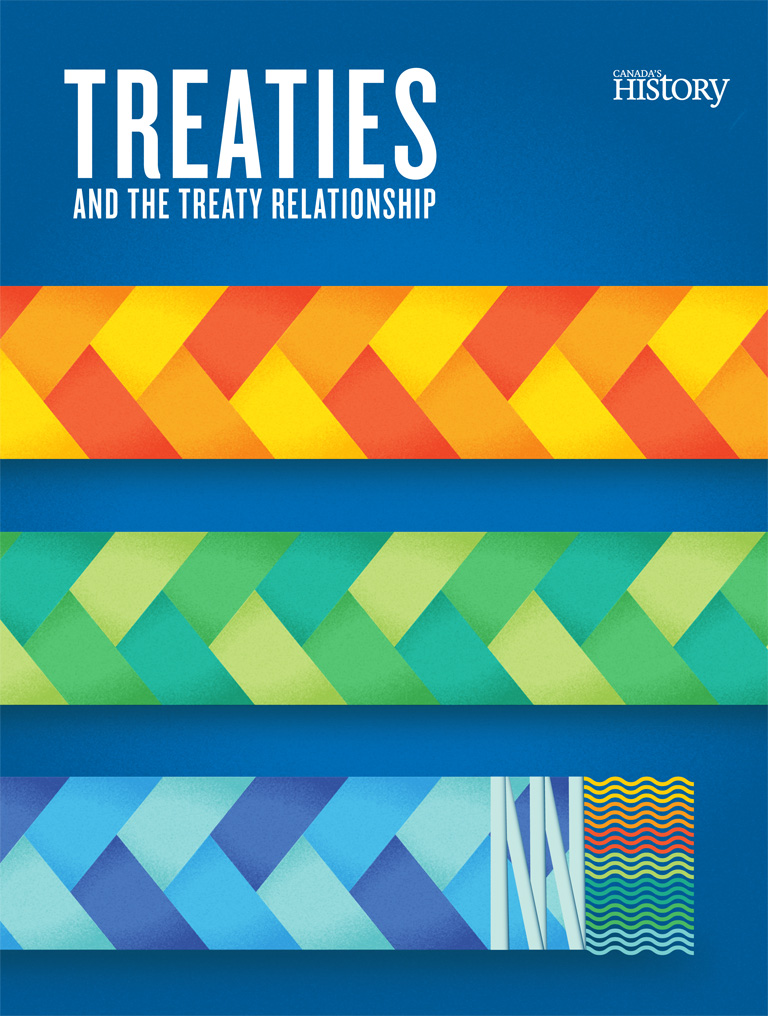 Treaties and the Treaty Relationship
The Canada's History Treaties issue features guest editor Treaty Commissioner Loretta Ross from the Treaty Relations Commission of Manitoba.
Contributing writers, from throughout Canada, have shared their insights and knowledge on a wide variety of aspects of Treaty history and the Treaty Relationship.
As Commissioner Ross states in her Forward: "For too long, Canadians have learned about Treaties with First Nations from a singular, non-First Nations perspective. The goal of this special issue is to try to provide a more balanced understanding of Treaties and the Treaty relationship."
In addition to this special edition of Canada's History that you can download as a PDF, you can also access the Educator's Guide.
Available in French
This issue, as well as the corresponding educational resource package, can be found on the French side of our site.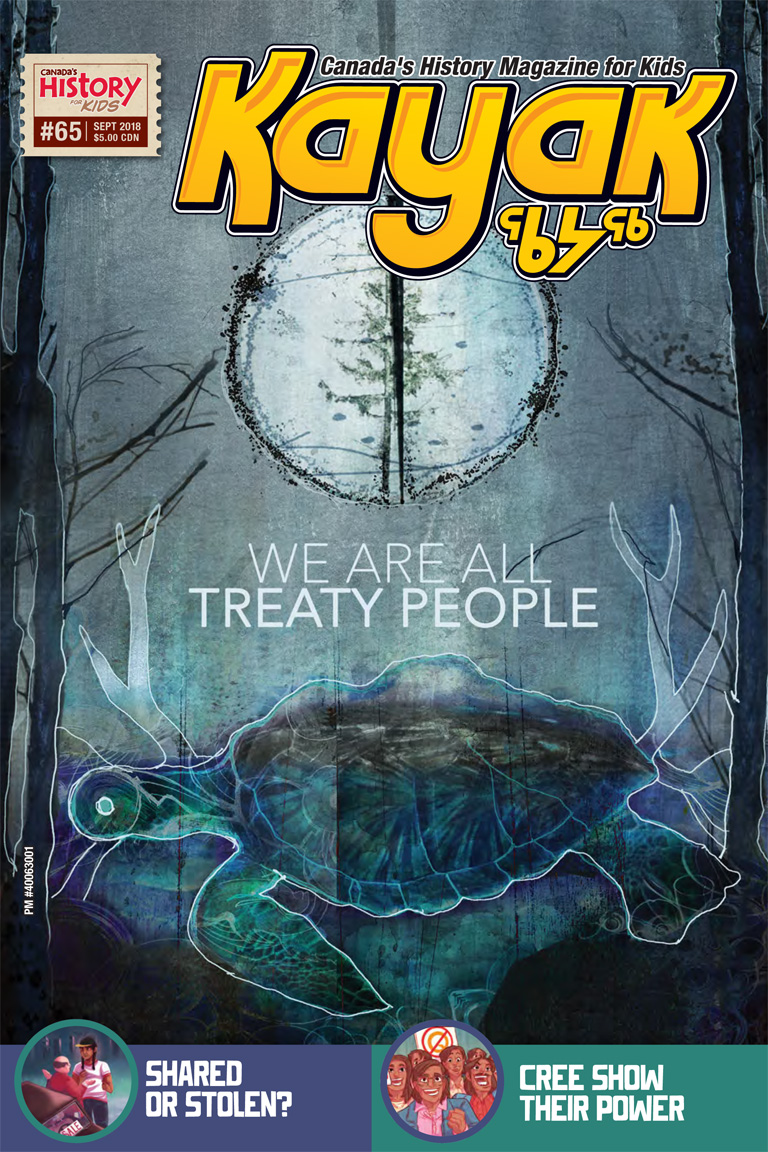 We Are All Treaty People
This edition of Kayak features guest editor Cynthia Bird! Cynthia (Wabi Benais Mistatim Equay) of Peguis First Nation is an educator who lives in Calgary in Treaty 7 territory and works with the Treaty Relations Commission of Manitoba.
This issue is about Treaties and the historic Treaty relationship between First Nations peoples and the British Crown, now represented by the government of Canada.
Many people might say Treaties are about the past. Yes, they are about the past, but they are also about the present and the future. They are central to what it means to be Canadian. They remain as important today as they were in the past.
Learning about Treaties gives us a chance to reflect on our shared history and to learn why "We Are All Treaty People." Understanding this is important for us as Canadians. We need to know how we have each benefited from our Treaty story. It is who we are.
Download the PDF of this issue

Proud Partner
Encouraging a deeper knowledge of history and Indigenous Peoples in Canada.
The Government of Canada creates opportunities to explore and share Canadian history.

For Good. Forever.
The Winnipeg Foundation — supporting our shared truth and reconciliation journey.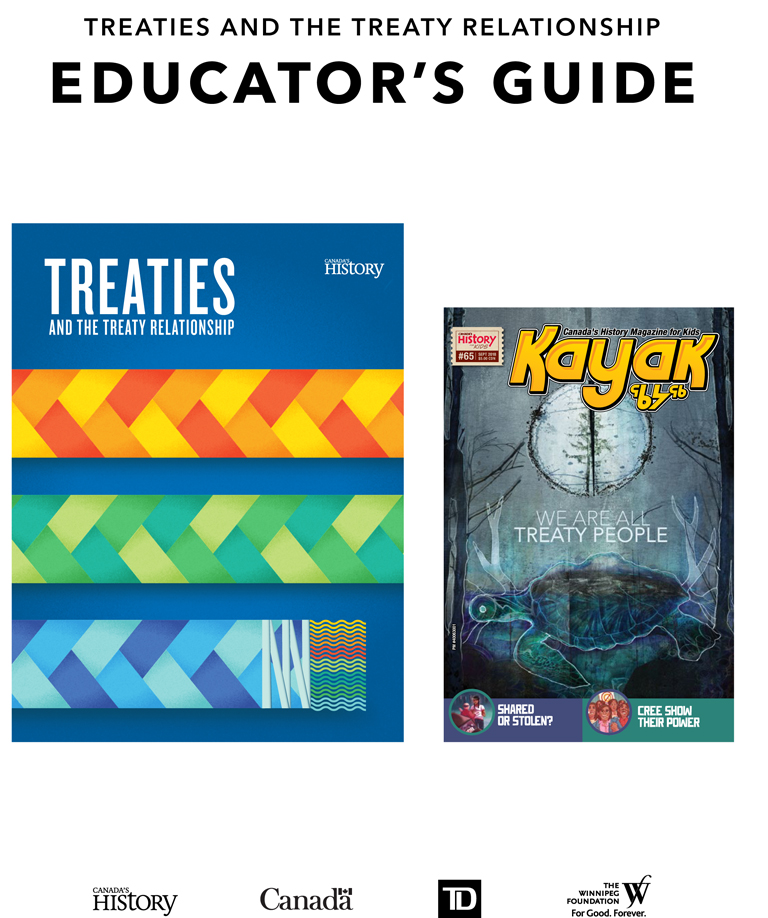 Educator's Guide
Applicable for Grades 3–6 and Grades 7–12.
The lesson plans in Treaties and the Treaty Relationship: Educator's Guide are framed on the Historical Thinking Concepts and offer teachers interactive instructional approaches that foster engaged student inquiry. They are fortified with maps, weblinks, and supporting Blackline Masters.
Lesson plan themes explore Treaties across Canada from time immemorial to the present, making a concerted link between the past and the future.
As well, each learning activity offers adaptions and/or activities based on the lesson theme for exploring Treaties in grades three to six.
It is with the greatest appreciation that we thank the many contributors and supporters of the Treaties and Treaty Relationship: Educator's Guide.

Education Sponsor
We contribute to the well-being of the communities we serve through grants, scholarships, sponsorships, fundraising, volunteering and collaborative relationships with community partners.
Lesson Plans (Grades 7-12)
Classroom Activities (Grades 3-6)