Hugh Conn: Legendary Arctic Traveller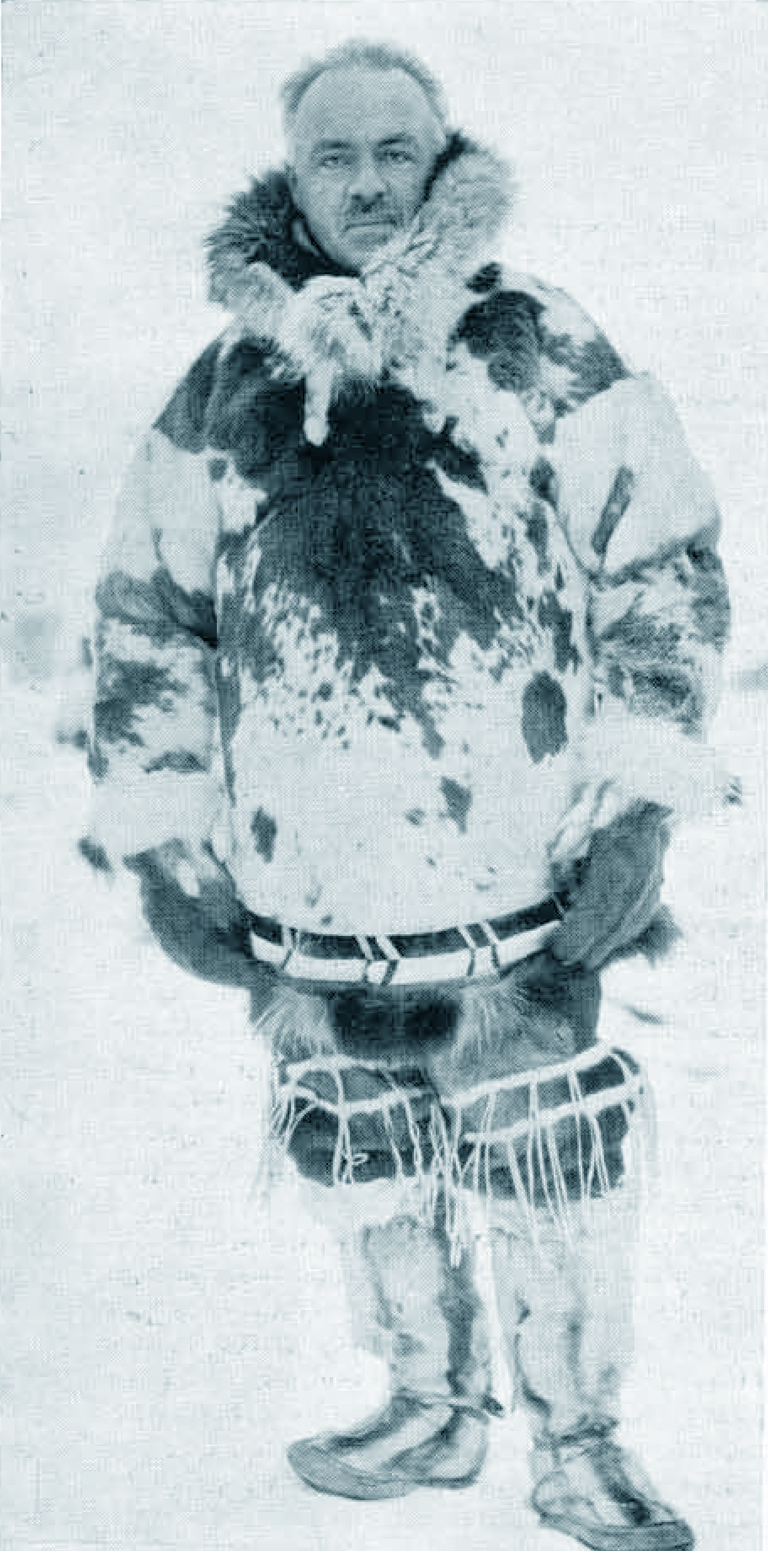 On 31st May this year Factor Hugh Conn retired after twenty-three years of conscientious, loyal and efficient service in the Fur Trade Department. For the past few years Mr. Conn's health had made it increasingly difficult for him to carry on his arduous duties, which involved several months of travel each year in the wilds of the North Country, and he finally yielded to the advice of his doctor to retire from the Service.
It is over twenty-three years since Hugh Conn came out (in 1911) to join the staff of the Winnipeg "saleshop," but in August of the same year he transferred to the Fur Trade Department, in which he had served ever since. Stationed at Elk Lake and Cochrane, Ontario, in the early years and then at The Pas, Manitoba, as post manager and later district inspector, Mr. Conn did a great deal of travelling in Northern Ontario, Manitoba and Saskatchewan by canoe and dog team.
In 1923 he was appointed general inspector of the Fur Trade, responsible to the Fur Trade Commissioner, and since then has travelled an incredible mileage in the wilderness of Northern Canada from Quebec to the Alaskan boundary and northwards to the Arctic Islands. His journeys have been so constant and extensive as to place him in the front rank of famous HBC travellers of the older days, and it is doubtful if any of these have outdistanced him, since his travels by northern rivers and lakes, over the barren lands and the Arctic Ocean and Hudson Bay on foot, by canoe, dog team, steamship, schooner and aeroplane exceed 60,000 miles.
Detailed accounts of his trips would fill volumes of the most entertaining reading, and it is to be hoped Hugh Conn will consider committing them to paper as he finds time. He was an absolutely indefatigable traveller, always making light of hardship — of which he had plenty and disdaining those so-called luxuries and comforts on the trail which one would consider due to a man in his position. Thus he scorned being driven in a cariole and always drove his own dog team. He always kept good dogs, looking after them personally and reaping the benefit in their faithful service.
Hugh Conn kept the same teams of dogs for years and some of these made unique trips. In 1927 his team was shipped by rail from The Pas to Vancouver, thence by the Company's steamer Baychimo through Bering Straits to Bernard Harbour in the Western Arctic. The following winter these dogs were driven across the Arctic to Hudson Bay, down to Churchill and York Factory and finally back to The Pas.
Again in 1928 they had another train ride, this time to Edmonton and Waterways, Alberta, thence by steamboat down the Mackenzie river to the Arctic Circle at Fort Good Hope. After freeze-up Mr. Conn drove them the 1,300 odd miles back to the steel, whence they returned by train to The Pas for future use. What dogs have encompassed practically the whole of Canada in more amazing fashion — over 13,000 miles in two years?
The following is the briefest outline of Hugh Conn's travels, mentioning merely the country visited and indicating little of the arduous difficulties and hardships met and overcome:
1911 to 1915
Journeys by canoe on Upper Ottawa river, Lake Temiskaming and Montreal river. Also by canoe, dog team and snowshoe on the Abitibi, Matagama, Missanabie and Nottaway rivers, besides many other smaller streams.
1915 to 1923
Extensive travels through Northern Manitoba and Saskatchewan, winter and summer, from the shores of Hudson Bay to the Alberta boundary and north to the 60th parallel.
1923 to 1924
By canoe, on foot and by dog team completely around the coast of James Bay, extending as far north as Nastapoka river on the east coast of Hudson Bay. Mr. Conn then made a long trip with dogs from Rupert's House on James Bay through the interior, reaching, by a circuitous route, the headwaters of the rivers flowing into the St. Lawrence, finally coming out at the headwaters of the Ottawa river. There was much privation and hardship on this trip, and at one time there was a chance that men and dogs would not return.
1924 to 1923
All over the district of Patricia in Northern Ontario.
1923 to 1926
From Winnipeg to Edmonton and through the Mackenzie basin to the Western Arctic, traversing the northern coastline from the Alaskan boundary in the west to King William Land in the east, touching Victoria Land and Banks Land. This trip was made entirely by water.
1927 to 1928
Back again to the Western Arctic in the summer of 1927, and during the following winter Hugh Conn made his most famous trip by driving his dogs 3,000 miles to make the Northwest Passage from west to east and reach civilization before the thaw.
Leaving Bernard Harbour in the Western Arctic in November, he proceeded via Coronation Gulf and Bathurst Inlet to Cambridge Bay, and through Queen Maud Sea to King William Land, thence portaging overland to the shores of Hudson Bay at Wager Inlet and by way of Baker Lake, Chesterfield, Churchill and York Factory to The Pas before break-up.
In its early stages this trip nearly had finis written to it at Cambridge Bay, Victoria Land. Accompanied by an untried guide during the period of Arctic darkness, Mr. Conn was overtaken by a raging blizzard in Dease Strait, which separates Victoria Land from the mainland. The guide became separated from Mr. Conn and the dogs, and with the impossibility of facing the storm or seeing a thing, there was nothing to do but to halt in the blinding drift and wait for the gale to subside and some visibility to return.
The dogs curled up and were soon drifted over, while Mr. Conn, with no shelter of any kind, fought off sleep for sixty-one hours by walking up and down the distance of a few feet alongside the sled, from which he dared not stray for fear of losing it. When the storm finally subsided his hands were badly frostbitten, while the guide, who had sat down a short distance off, was also severely frozen and would not have lived much longer had the storm continued.
1928 to 1929
All Western Arctic posts were again visited in the summer of 1928 and, returning, Fort Good Hope on the Mackenzie river at the Arctic Circle was reached before freeze-up. Here the well tried dog team of the previous year was waiting, having travelled from The Pas by rail to Waterways, Alberta, and thence by steamer to Fort Good Hope. On November 15th, three days after the ice set in the Mackenzie, Mr. Conn set off up the Mackenzie, Slave and Athabasca rivers inspecting all posts en route and reaching the rail head at the beginning of April.
1929 to 1930
Setting out from Winnipeg once more, this time on the reorganization of Nelson River district following the coming of the railway to Churchill, all the posts on the west shore of Hudson Bay were visited from Fort Severn in Northern Ontario to Repulse Bay in the extreme north: while another trying journey undertaken by dog team was from Churchill to Baker Lake via Padley, far in the Barren Lands, and return.
1930 to 1931
In 1930 Hugh Conn covered the entire country from Trout Lake in Ontario to Repulse Bay by schooner and canoe. From Trout Lake he travelled by canoe one hundred miles down the Trout river, thence by portages, small creeks and lakes to the Upper Severn river, thence up the Beaver river to the height of land, which was crossed at the headwaters of Sturgeon river, down the Sturgeon, Shamattawa and Hayes Rivers to York Factory. This constituted another wonderful itinerary, of which we can merely indicate the general route followed.
Since 1931 Hugh Conn has made many more inspection trips throughout Nelson River district in the capacity of district manager. There were arduous trips by dog team up Hudson Bay and across the Barren Lands, trips by schooner, with periods when these small vessels were helplessly ice bound, and long canoe trips up the rivers and lakes to Trout Lake with numberless portages and rapids to negotiate.
Hugh Conn has also seen the advent of the aeroplane as a factor in fur trade transportation, has travelled many miles by this means and even had post outfits flown in where previously slow and difficult canoe transport had been necessary.
It is an experience long to be remembered to spend an evening in Hugh Conn's company and listen to his stories of adventure and of old Company officers and servants, and, while modest to a degree, he is as interesting a raconteur as one can meet. Always popular wherever he went, he has a host of friends throughout the North, and there are few today with so wide a range of acquaintances.
In the summer of 1933 the writer met an elderly American at Great Bear Lake. It was a hobby with him to visit out-of-the-way Canadian haunts each summer. Ascertaining that I was a Company man, he asked me if I knew Hugh Conn who, he said, had outfitted him in 1915 at Cochrane for a canoe trip down the Abitibi. Thus did Hugh Conn impress the people with whom he came in contact.
One can imagine that Hugh Conn will have many rich experiences to ponder in his quiet moments at home in Ireland and that rare yarns will be swapped when some other Company man on furlough in the old land seeks him out. Everyone with whom he came in contact will long remember Hugh Conn, and all wish him the utmost in health and happiness during his well-earned rest.
Themes associated with this article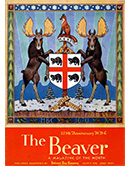 A Century of History in Your Pocket
Canada's History Archive, featuring The Beaver, is now available for your browsing and searching pleasure!