Prime Ministerial Power in Canada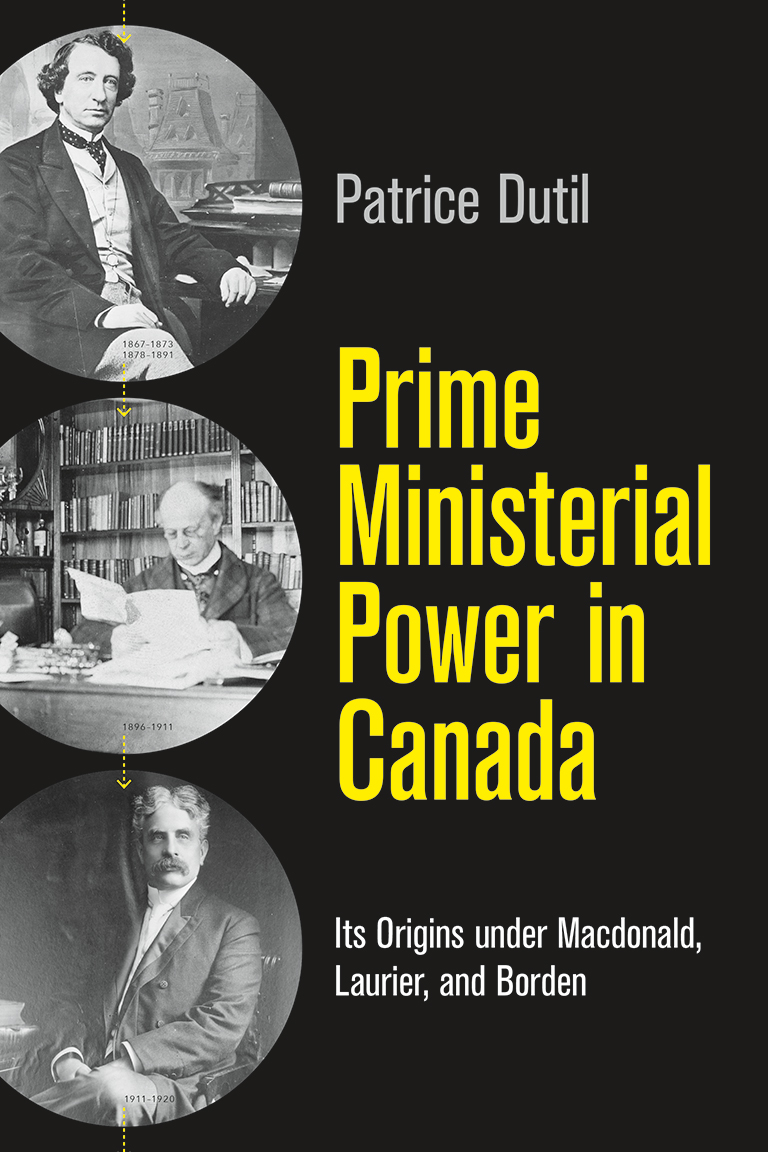 Prime Ministerial Power in Canada: Its Origins under Macdonald, Laurier, and Borden
by Patrice Dutil
UBC Press, 412 pages, $34.95
This is a remarkable book by a distinguished author. Unlike any other book I have read, it describes the managerial — as distinct from the political — role of the prime minister and makes it clear that in the long run the managerial role is more important. It goes further and also makes it clear that the centralization of power in the Prime Minister's Office is not unique to the twenty-first century but has its roots firmly planted in the nineteenth century.
The author, Patrice Dutil, is a remarkable individual who is well suited to writing this book. He is bilingual and, with degrees from both York University and Université de Montréal, has served as director of research for the Institute of Public Administration of Canada and is currently a professor of politics and public administration at Ryerson University. Dutil also founded the Literary Review of Canada, was volunteer president of the Champlain Society, and is a prolific author of both books and articles.
Prime Ministerial Power in Canada provides an analysis of the managerial capabilities of three of our most important early prime ministers — John A. Macdonald, Wilfrid Laurier, and Robert Borden — who between them were prime minister for fortythree of the first fifty-three years of the life of Canada.
The book is divided into three parts, regarding structure, substance, and style — Dutil's three Ss. In the first part, on structure, he examines the three early prime ministers separately. Then, in the following sections, he uses a thematic approach.
For example, within the section on substance there is a chapter called "Priority Setting and the Budget." In Macdonald's first term, the increase to expenditures for Indian Affairs was second only to that for Public Works, but by his third term Marine and Fisheries saw greater increases. For Laurier, who governed during the wheat boom, Agriculture was of significant importance, whereas for Borden, who governed during the First World War, the "War Account" was of course of major significance.
In another chapter Dutil examines how these prime ministers responded to crises in both peace and war. His book is full of not only thoughtful observations but also data, with fortythree charts and tables showing readers the bases for Dutil's conclusions. You will not find any "fake news" here.
One thing a modern-day reader may find of interest is just how hard these three prime ministers worked without taking much time for vacations — at least compared to American presidents of the same era, or more recent Canadian prime ministers.
Dutil skilfully weaves into the analysis the dramatic technological changes that altered the way the prime ministers worked, including the telephone, electricity and the automobile. And his book covers all of the managerial and administrative essentials: administrative reform, the civil service, and patronage; budgets, salaries and pensions, and orders-in-council; cabinet ministers and deputy ministers; Great Britain and the United States. A wide cast of characters includes other politicians and, of course, bureaucrats — individuals like Joseph Pope, who was private secretary to Macdonald for a number of years before serving as an assistant clerk to the Privy Council, undersecretary of state for Canada, and for other prime ministers up to and including William Lyon Mackenzie King.
Prime Ministerial Power in Canada is both unique and comprehensive, while adding greatly to our knowledge of the history of our country.
Help keep Canada's stories strong (and free)
We hope you will help us continue to share fascinating stories about Canada's past.
We highlight our nation's diverse past by telling stories that illuminate the people, places, and events that unite us as Canadians, and by making those stories accessible to everyone through our free online content.
Canada's History is a registered charity that depends on contributions from readers like you to share inspiring and informative stories with students and citizens of all ages — award-winning stories written by Canada's top historians, authors, journalists, and history enthusiasts.
Any amount helps, or better yet, start a monthly donation today. Your support makes all the difference. Thank you!
Themes associated with this article