In the Company of Sisters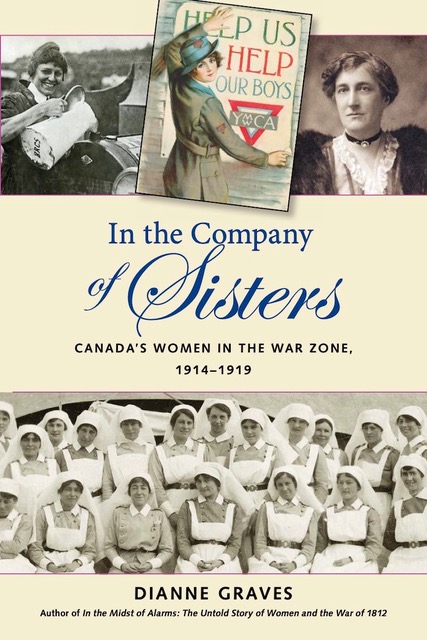 In the Company of Sisters: Canada's Women in the War Zone, 1914–1919
by Dianne Graves
Robin Brass Studio,
384 pages, $27.95
The Great War was a titanic event in Canadian history. The total war effort from 1914 to 1918 involved more than 620,000 men serving in uniform, as well as almost three thousand nurses. However, a new book by historian Dianne Graves — author of the seminal biography of John McCrae and a fine work on women in the War of 1812 — goes beyond the nurses to explore the role of women volunteers overseas (known as VADs), patriotic work by women in England, entertainers behind the front lines, peace activists, journalists, and artists.
Drawing upon a wealth of literature and archival material, In the Company of Sisters lets the women's voices guide the narrative. The war was "no paltry struggle in an out-of-the-way corner," recounted author Lucy Maud Montgomery, "but a death grapple." Most women sought to do their part in this fight to the finish between empires, but Graves focuses on Canadian women in the war zone.
Several chapters are devoted to the Canadian women who served as nursing sisters, offering insight into the terrible strain of treating and caring for wounded soldiers who arrived day and night at medical units. One nurse wrote of the mangled men, "I can never see anything worse and I hope I'll never have to." The nursing experience is explored along the Western Front and in Britain but also in far-flung theatres of war like the Eastern Mediterranean, Greece, and Russia. While the book's interpretive framework draws on the existing rich scholarship about nursing, Graves draws out powerful stories from what one Canadian nursing sister called the "ward of horrors!"
Some of the book's best chapters look at the contribution of other Canadian women overseas. Lady Julia Drummond, a wealthy socialite from Montreal, lost her son in the early part of the war. Like so many mothers, she was determined to aid her son's comrades. In London, England, she organized Red Cross work to ensure that letters and goods were sent to soldiers at the front and to prisoners held in camps, and she occasionally offered comfort to desperate families in Canada who sought information about fallen or missing soldiers.
Some of Drummond's work was reported by Mary MacLeod Moore, one of several Canadian journalists who worked in England. Moore wrote for Saturday Night magazine, and her insights into the war have been shared in this book.
There are other fascinating stories, including many related to the thirty thousand women who crossed the Atlantic to be close to their husbands who were serving as soldiers. Most of these women came from the middle or upper class in Canada, with working-class women generally unable to afford a voyage. It was a dangerous trip, with enemy submarines prowling the Atlantic, and Canadian women were among those killed when RMS Lusitania was sunk in May 1915 by a German U-boat.
The peace activism of Julia Grace Wales provides insight into women who were seeking an end to the war, while the art of Mary Riter Hamilton, the subject of recent two biographies, rounds out Graves' book. Hamilton suffered tremendous hardship as she painted from the ruins of the Western Front following the armistice, and she left a legacy of art.
In the Company of Sisters offers a focused study of the First World War's impact on women as well as their contributions to the Canadian war effort. The book is illustrated with many fine images, including some that have never before been published. Sadly, author Dianne Graves died in 2021. This book, like her others, will live on as a significant contribution to our understanding of Canadian experiences during times of war.
Themes associated with this article