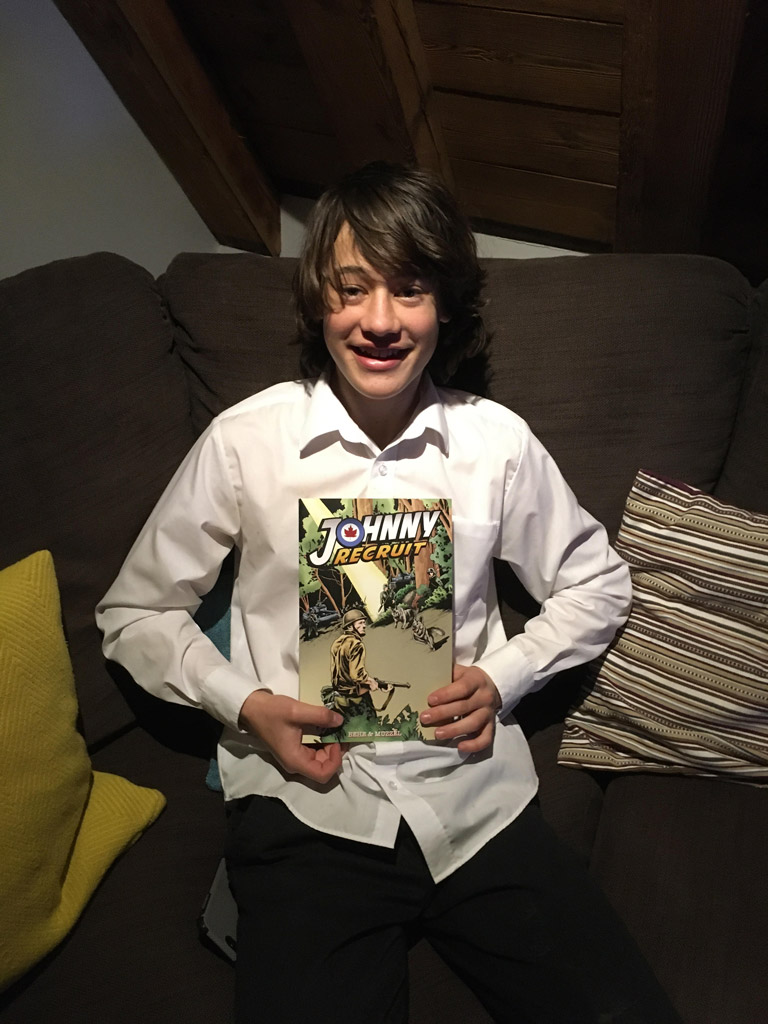 Inspired by a relative's Second World War experience, a fourteen-year-old Canadian living in London, England, has turned the tale into a recently published graphic novel. Theo Behe based Johnny Recruit on the story of his great-great-uncle, Albert Houle, an air force ace from Massey, Ontario, near North Bay. Behe is the youngest comic creator ever signed by the independent British publishing house Markosia.
Behe's family returns to Ontario every summer. That's where he heard stories from his grandfather, Donald Houle, about his great-great-uncle Albert, who flew with the Royal Air Force and the Royal Canadian Air Force during the war. "I'm pretty proud of his heroics," said Behe. "Bert" Houle, as he was known, was awarded the Distinguished Flying Cross in 1942 and a subsequent bar in 1944 for acts of valour.
Behe gathered more inspiration for the graphic novel during a family trip to Dieppe in northern France in 2020 that brought the war to vivid life. "You could see where the gunners were and how the beach sloped up. You could see the path they'd have to take." Dieppe was the site of a major Allied raid in August 1942 that left nearly one thousand Canadians dead and nearly two thousand as prisoners of war.
Gradually, the story took shape. Behe came up with a protagonist — Big Johnny, a fictional fourteen-year-old Canadian bush pilot. In the story, Big Johnny lies about his age to serve in the air force, so he can find and rescue his uncle, who has been captured by Nazi forces in Germany. The title, Johnny Recruit, was inspired by a nickname veteran soldiers often gave to newcomers during the war.
Using his father as a sounding board, Behe developed his narrative during drives to soccer practice. The young creator came up with a storyline, researched photo references, and sketched out some ideas for what he wanted the pages to look like.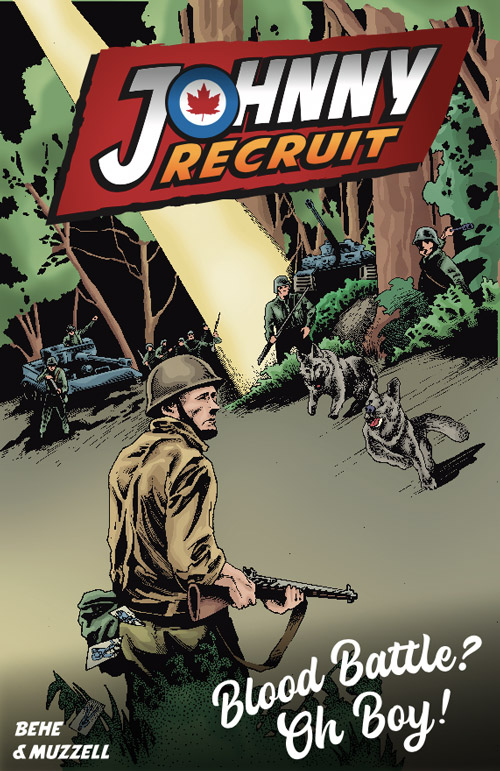 Meanwhile, Behe and his father reviewed the websites of several illustrators in order to find an artistic collaborator who could bring the story to life on the page. They decided to contact Ontario illustrator Thomas Muzzell. In a coincidence, it turned out that Muzzell also had an ancestor named Bert (no relation to Bert Houle) who had been a captive of the Germans.
"As they were explaining the story to me, I kind of gasped. I said, 'Hold on a second — I've got to tell you this. My great uncle Bert was a prisoner of war in the Second World War,'" said Muzzell.
Johnny Recruit features a distinctive art format. Rather than being broken up into panels, the comic consists of a series of two-page black-and-white illustrations that echo the look of wartime recruitment posters. In addition, other than the title and a brief blurb on the back page, the story is told without any dialogue or narration. "You really have to pay attention to what's going on in the picture," Muzzell said. "Every page leads on to the next scene."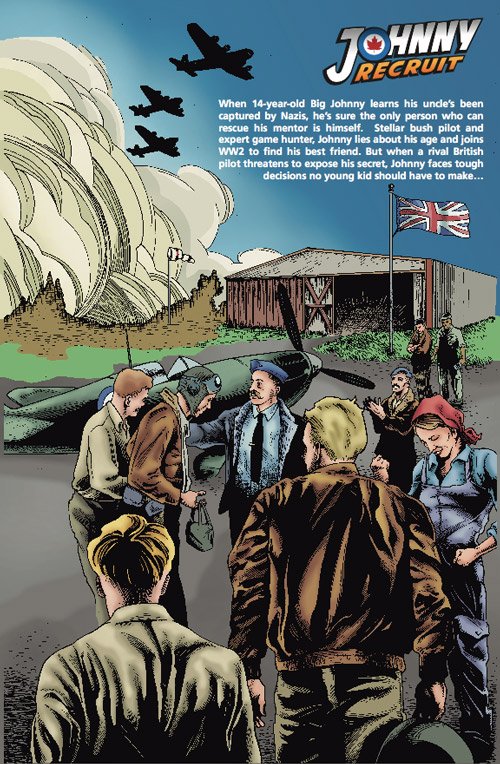 Behe and Muzzell worked closely to ensure that the scenes depicted within the sixty-four-page comic book were as accurate as possible. The teen storyteller said he is thrilled with the results.
"It's definitely exceeded my expectations," Behe said. "The illustrations fit perfectly."
Behe's first foray into historical storytelling isn't necessarily his last, or his last adventure with Big Johnny. "He's in Switzerland on the final page, and it kind of ends on a cliffhanger," Behe said with a grin. The publication is available digitally or in print from Markosia.

You could win a free book!
Sign up for any of our newsletters and be eligible to win one of many book prizes available.
Themes associated with this article