Young Citizens Return to Ottawa in 2017
For the fourth year in a row, Canadian students have taken part in an inspiring and engaging journey to the nation's capital. The twenty-six winners of the 2017 Young Citizens Program participated in the fourth Canada's History Youth Forum, which took place from October 29 to November 1 in Ottawa and in Gatineau, Quebec.
Representing each province and territory, these young people visited Parliament, Rideau Hall (the residence of the Governor General), the Canadian War Museum, the Canadian Museum of History, and the Bytown Museum — and they also experienced Halloween in Ottawa. They also buckled down to create a video marking the 150th anniversary of Canadian Confederation.
It was a long day of travel, especially for our participants travelling from the Yukon communities of Teslin and Pelly Crossing. As participants arrived, they dropped their bags at the Four Points Sheraton Hotel in Gatineau, our home away from home during the Forum.
Many had time to explore Canada's capital and to visit Parliament Hill, where they learned about the role of Parliament in Canada's democracy. It was an incredibly busy first day, and was followed by our first dinner together and by evening ice-breaking activities, during which many new friendships were made.
The next morning, we awoke to rainy weather and had to re-think our morning plans. Thankfully, our friends at The Bytown Museum opened their doors early for us, and greeted us all with a warm welcome. Once inside, the students set to work creating a video that explored their visions and aspirations for the next 150 years of Confederation. During breaks in filming, the students also explored the museum's displays on the early history of Ottawa.
As we enjoyed a delicious pizza lunch at the museum, the skies began to clear, and we were able to conclude filming outside. We followed that up with a short walking tour of the exterior of Parliament
In the afternoon, we visited the Canadian War Museum, where participants had the freedom to explore at their own pace. Many took part in the hands-on Remembrance activities in the Vimy – Beyond the Battle temporary exhibit. Military vehicles in the LeBreton Galley also proved to be very popular stops.
After a full day of hard work and learning, our bus driver Giles drove us to Fun Junction, where Mico and his team greeted us with a gargantuan buffet and unlimited mini-golf, arcade games, and laser tag. Chaperones and participants relaxed, and challenged each other to games of skill and fun. It was the perfect way to end our busy day.
The third day of the Youth Forum was largely devoted to visiting the new Canadian History Hall at the Canadian Museum of History. In addition to exploring this new permanent exhibit, Young Citizens participated in research led by Dr. Cynthia Wallace-Casey, who is studying how young people learn and understand in museums, compared to classroom learning.
Over lunch, we watched a highlight reel of the Young Citizens' video projects, and then recognized everyone's hard work with a small awards ceremony.
Following our visit with the Canadian Museum of History, we hurried back to the hotel — because it happened to be October 31, and everyone had costumes to change into for Halloween!
Dressed as everything from Hermione Granger to Popcorn, we travelled to Rideau Hall for a tour. We aren't sure how many people have toured the official residences of the Governor General in Halloween costumes, but it sure felt special to us. After learning the history of the building and those who served in the role of Governor General, we headed to the Ottawa's Byward Market.
After purchasing a few souvenirs, including magnets and postcards to hockey skates, we were ready to eat. Le Moulin de Provence was our next stop. This bakery/café was made famous in 2009 by a visit from then-United States President Barack Obama.
The evening ended in style with a return to Rideau Hall to participate in their Halloween festivities and very fruitful trick-or-treating in the embassy district of Ottawa.
With some of our members' flights departing at 7:00 a.m., our return to the hotel meant it was time to say goodbye. It was time for everyone to pack their bags and say farewell. However, the lifelong friendships forged during the Youth Forum will be easily kept up in this digital age. And the Young Citizens will never forget the hands-on and in-person experiences meeting fellow students from all regions of Canada, and from many cultures and linguistic groups.
Canada's History Society would like to thank First Air, Great-West Life, London Life and Canada Life, the Department of Canadian Heritage and the Federal-Provincial-Territorial Working Group on Cultural Engagement. Your support of the Young Citizens program and Youth Forum has a huge impact on all participants, their families, schools, and communities.
A huge thank-you must also go out to the chaperones — many of whom are deeply involved in Regional and Provincial/Territorial Heritage Fairs programs. We are grateful for your commitment and positive attitude throughout the Youth Forum.
Finally, we cannot thank the Young Citizens enough. You all made this trip and program possible through your hard work and dedication to sharing history with your schools and communities, as well as with people across the country. You have been, are, and will continue to be great ambassadors for Canadian youth and examples to follow in your schools and communities. We are excited to see where the future takes you. Hats off to you all!
Themes associated with this article
You might also like...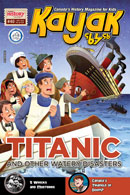 Kayak in the Archive
Canada's History Archive features both English and French versions of Kayak: Canada's History Magazine for Kids.