Canadian Youth Take on Role of Historians
The discovery of insulin. The inspiring journey of Roberta Bondar. The first female doctors in Canada. The evolution of the postage stamp. Immigration over time. The importance of Truth and Reconciliation. The legacy left by artist Emily Carr.
These are just a few of the topics explored by students participating in the 2019 Young Citizens Program — a national competition that allows young Canadians to create compelling and inspiring videos relating to the history of Canada, while having the opportunity to win a trip to Ottawa to attend the Canada's History Forum.
Participants are selected from the thousands of students who each year take part in Heritage Fairs across the country. They are invited to create a short video on an aspect of Canada's past that interests them, be it in the field of arts, sports, politics, remembrance, science, immigration, community heritage and more.
Visitors to YoungCitizens.ca will be able to vote for their favorite videos from those submitted for the contest.
The voting period is from June 11 to July 1, 2019. This online vote will make up part of a student's final score. Following the vote, a panel of judges will review the videos and select six recipients who will travel to Ottawa this fall to attend the Canada's History Forum.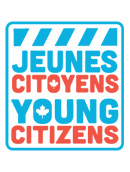 Visit and vote!
Watch these Young Citizens' videos and vote for your favourites.
Themes associated with this article