Made in Canada: We Are What We Eat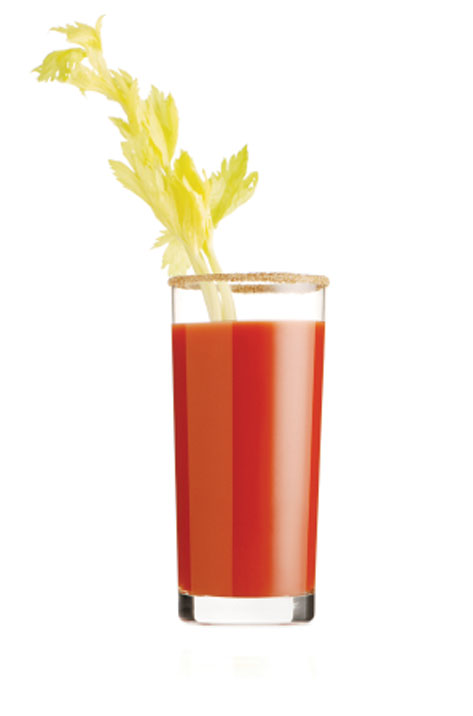 Caesar
When bartender Walter Chell was hired to create an exciting new cocktail for the 1969 opening of Marco's Italian restaurant at the Calgary Inn, he came up with a drink fit for the Roman Empire — the Bloody Caesar.
Chell knew that Marco's menu, filled with tomato and seafood sauces, demanded a special ingredient in the new drink. After a few months of experimenting, he decided to imitate the flavours of the dish Spaghetti Vongole (spaghetti with clams) and added the nectar of clams to tomato juice. From there he added vodka, then threw in a dash of Worcestershire sauce and some oregano.
In 1969, a clam-tomato juice did not yet exist. However, U.S.-based Duffy-Mott Company was just starting to develop its Clamato juice.
Chell worked with Mott's to further development of the juice blend and even helped the company promote the new beverage. Chell's official version of the cocktail — still served at what is now the Westin Calgary — begins by rimming the glass with lime and celery salt, includes salt, pepper, and Tabasco sauce, and is topped off with a stalk of celery. According to Mott's, the Caesar is today the most popular cocktail in Canada.
— Julijana Capone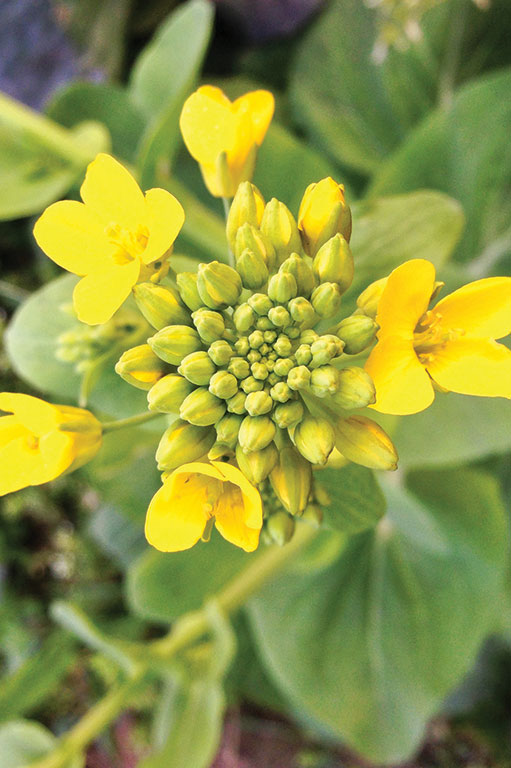 Canola
Before rapeseed was modified to produce one of the healthiest vegetable oils, its oil was used to fuel lamps and as a lubricant that was in demand during the Second World War.
After the war, industrial demand for rapeseed oil dropped, and in the 1950s it was produced as a food product. But it was green from chlorophyll, bitter from glucosinolates, and high in erucic acid, which has been linked to health concerns. The taste was so bitter that even animals wouldn't eat feed meal from rapeseed.
Plant breeder Baldur Stefansson of the University of Manitoba, with colleague Keith Downey of Agriculture Canada, set about removing these non-nutritional components and eventually created a new plant variety. It was dubbed canola, a combination of the word Canada and the Latin ola (oil).
The first canola variety — Tower, which was low in both glucosinolates and erucic acid — was released in 1974. The Western Canadian Oilseed Crushers Association, forerunner to today's Canadian Oilseed Processors Association, trademarked the term canola to differentiate it from rapeseed, and by 1979 Japanese canola seed imports reached over one million tonnes.
Canola is now among the world's largest oilseed crops and contributes $19.3 billion annually to the Canadian economy.
— Danelle Cloutier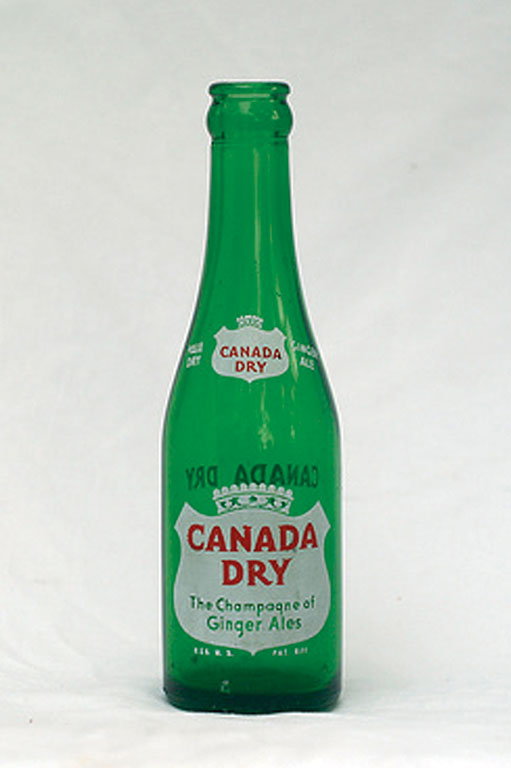 Canada Dry
Canada Dry Ginger Ale, the bubbly, golden drink known and enjoyed around the world, had its beginnings in Toronto. John J. McLaughlin was an ambitious young man when he opened a small soda manufacturing plant in the city in 1890. A graduate of the University of Toronto with a gold medal in pharmacy, he began testing his own soda drink recipes.
In 1890, he created McLaughlin Belfast Style Ginger Ale after Irish ginger ales that originated a few decades earlier. He then developed a method to mass-bottle his gingery product, labelling it with a map of Canada and, yes, a beaver! Unhappy with the drink's dark colour and sharp taste, McLaughlin conducted further experiments until he had the perfect elixir, Canada Dry Pale Ginger Ale, which he patented in 1907.
The Canadian market wasn't big enough for McLaughlin, so he approached U.S. interests, and in 1919 a Canada Dry plant was opened in New York. During the prohibition era of the 1930s, at the then-high price of thirty-five cents a bottle, the liquid was used as a mixer to mask the taste of homebrew.
With the same crisp, clean taste made famous by John McLaughlin, the "Champagne of Ginger Ales" is even said to cure stomach aches.
— Beverley Tallon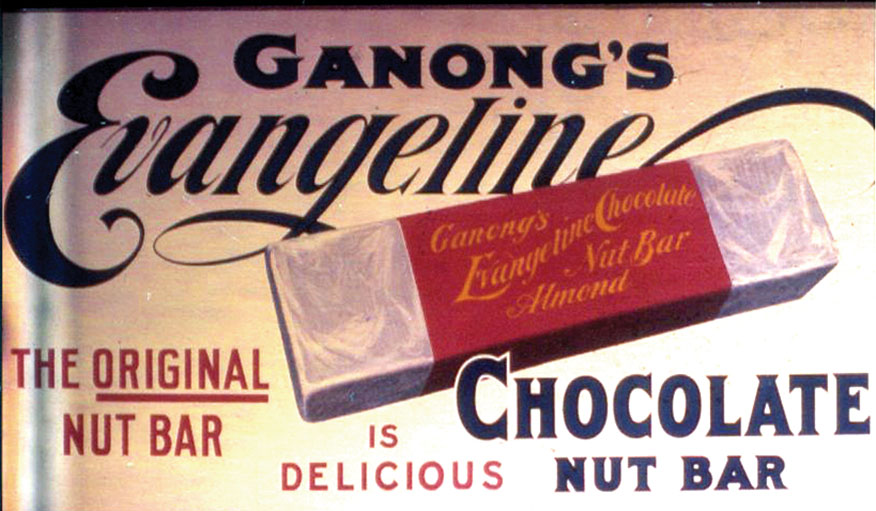 Chocolate Nut Bar
As Plato said, "necessity is the mother of invention." And what could be more necessary — and satisfying — on a fishing outing than a chocolate bar?
Gilbert and James Ganong started the Ganong Brothers Ltd. candy factory in St. Stephen, New Brunswick, in 1873.
The story goes that James' son Arthur Ganong and his friend George Ensor, a Ganong candy maker, wanted a way to take chocolates with them on their fishing trips without the "sticky fingers and pockets mess." In 1910, they concocted a mixture of yellow fudge and coconut, which was covered with Ganong's best chocolate and peanuts.
Little did they realize that this tasty indulgence, which was humbly wrapped in Cellophane and bore a five-cent price tag, would become so popular. The Five-Cent Chocolate Nut Bar became a convenient treat, not only for fisherman but also for soldiers at the front during the First World War. In 1920 it was repackaged and named Pal-o-Mine, a name that was thought to imply loyalty and faithfulness.
Although American candy maker Milton S. Hershey produced a chocolate bar around the same time, it was a Canadian manufacturer that produced the first chocolate nut bar confection. This comfort food endures today.
— Beverley Tallon

You could win a free book!
Sign up for any of our newsletters and be eligible to win one of many book prizes available.
McIntosh Apple
If John McIntosh had not quarreled with his parents in upper New York State and moved to Canada in 1796, would there be a McIntosh apple? Twenty apple trees he discovered by chance in 1811 on his property at Dundela, Ontario, 50 kilometres southeast of Ottawa, produced a crisp, sweet-fleshed apple that was excellent fresh or cooked. But reproducing the tree that produced this admirable apple remained a mystery until McIntosh's son Allan learned the art of grafting from a Yankee farmhand.
An itinerant Methodist preacher, Allan packed homegrown apples with his religious tracts, and so the apple's fame grew. By Confederation, 1867, some eastern Ontario farmers had quit mixed farming to develop "McIntosh Red" orchards. By 1910, with the effort of several generations of the McIntosh family, the hardy trees had reached British Columbia. Today, some 3 million McIntosh apple trees flourish in North America, each descended directly from John McIntosh's orchard.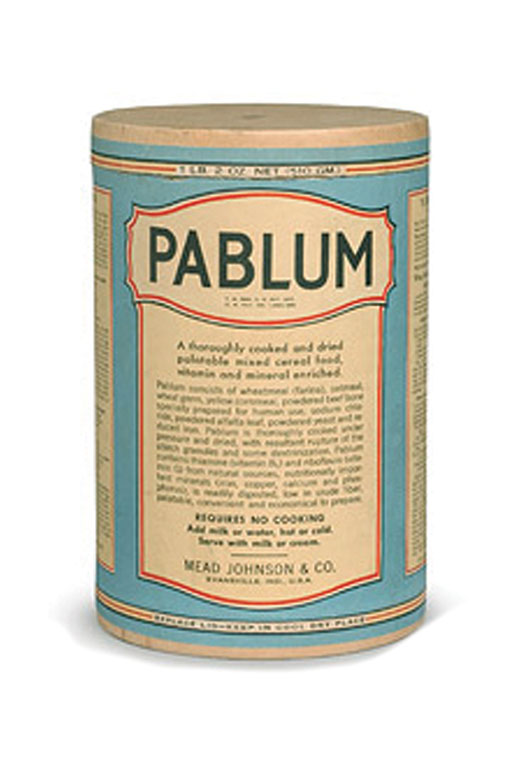 Pablum
The original breakfast of champions, Pablum was invented in 1930 by doctors Alan Brown, Theodore Drake, and Frederick Tisdall at The Hospital for Sick Children in Toronto. The three pediatricians were concerned by the rate of infant mortality and set about producing the perfect food.
Combining cornmeal, oats, and wheat, plus wheat germ, brewer's yeast, bone meal, and alfalfa, the doctors made a nutritionally palatable blend for growing children. It contained vitamins A, B1, B2, D, and E, and was rich in essential minerals.
One challenge was to produce a cereal that did not require lengthy cooking. By drying the mixture on a red-hot revolving drum, they were able to produce a flaky powder.
Pablum, from the Latin pabulum (foodstuff), was found to be easily digestible and produced few allergies. With most of the test children exhibiting improved health, Tisdall sold the rights to manufacture the precooked cereal product to the Mead Johnson Company in Chicago, with the hospital receiving a royalty from each box sold. The brand name was later acquired by the H.J. Heinz Company.
Pablum was heralded as a major nutritional breakthrough, helping to prevent childhood conditions such as rickets and malnutrition.
— Beverley Tallon
Poutine
Poutine is gooey, artery-clogging, and delicious, and if you're Canadian you've probably scarfed down a serving or three at some point. The Québécois delicacy — french fries topped with cheese curds and drenched in gravy — has become part of Canada's cultural identity.
While the comfort food's popularity is clear-cut, its origins are anything but, with several Quebec-based chefs and restaurateurs claiming to be its inventor.
Fernand Lachance of Warwick, Quebec, has often been credited as the definitive poutine creator. As the story goes, in 1957 a trucker came into his restaurant, Lutin Qui Rit, and ordered fries. But when the trucker saw cheese curds sitting on the counter, he asked Lachance to add them to the fries, in a bag.
Lachance did as the customer ordered but is reported to have called the concoction "une maudite poutine" (a hell of a mess). Lachance began adding gravy to the mixture in 1964.
Among others vying for the title of poutine's originator is Jean-Paul Roy, who says his Drummondville restaurant, Le Roy Jucep, was serving poutine, with gravy, by 1956 but under another name.
It was first called "fromage-patate-sauce" (cheese-potato-sauce), as customers were asking that cheese curd be added to the regular patatesauce. In 1964, Roy says, the name was changed to poutine, from pouding, a slang word used around the restaurant to describe any sort of mixture.
Whoever invented this delicious concoction, poutine is a distinctly Canadian treat.
— Sandy Klowak
Help keep Canada's stories strong (and free)
We hope you will help us continue to share fascinating stories about Canada's past.
We highlight our nation's diverse past by telling stories that illuminate the people, places, and events that unite us as Canadians, and by making those stories accessible to everyone through our free online content.
Canada's History is a registered charity that depends on contributions from readers like you to share inspiring and informative stories with students and citizens of all ages — award-winning stories written by Canada's top historians, authors, journalists, and history enthusiasts.
Any amount helps, or better yet, start a monthly donation today. Your support makes all the difference. Thank you!
Themes associated with this article
You might also like...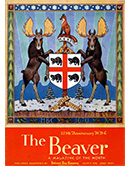 A Century of History in Your Pocket
Canada's History Archive, featuring The Beaver, is now available for your browsing and searching pleasure!
Related to Arts, Culture & Society