Getting from Fort Simpson in the Northwest Territories to Crow Wing, Minnesota, is a forty-one-hour, 3,329-kilometre trip. And that's if you drive. Now imagine making the journey on snowshoes.
That's exactly what Hudson's Bay Company clerk Robert Campbell did in the winter of 1852. He was fuelled by revenge. Campbell was determined to convince his HBC bosses to allow him to return to Fort Selkirk to rebuild his Yukon trading post after it had been pillaged by Chilkat natives, who had forced his departure by sending him away in a canoe on the Yukon River. Two days later, surveying the damage the coastal natives had inflicted on Fort Selkirk, Campbell quickly set his mind on revenge. Now, if only he could persuade the powers that be to see things his way.
But Campbell's request was turned down — first by the chief trader at Fort Simpson, then at the HBC hub in Fort Garry, Manitoba, and finally by HBC Governor Sir George Simpson himself, to whom Campbell paid a personal visit at Simpson's headquarters in Lachine, Quebec, not far from Montreal. Travelling from Minnesota to Lachine, Campbell decided to abandon his snowshoes and opted for less demanding modes of transportation, namely stagecoaches and steamers.
The tenacious clerk recorded his efforts. He wrote of his appeal to Governor Simpson and his desire for revenge on the Chilkats in his personal diaries as well as company journals kept by himself and assistant clerk James Green Stewart. Campbell dismissed the suggestion that he take a short hiatus when Simpson, in an attempt to distract his focus, reminded him of his repeated requests to visit his native Scotland. But Campbell was a man with a one-track mind. "I told him I had no desire to see home, not any desire to realise, but the one all absorbing passion to have revenge on the Chilkats," he wrote in his personal journals.
In time, Campbell did take Simpson up on his offer to holiday in Scotland. He never saw Fort Selkirk again, and it was eighty-six years until the HBC opened another trading post at the site.
Established by Robert Campbell in 1848 and named for Hudson's Bay Company stockholder and fifth Earl of Selkirk, Thomas Douglas, Fort Selkirk has been at the centre of exceptional drama, the stories of which are often eclipsed by tales of the Klondike gold rush. Fort Selkirk is also distinctive in its repeated revival. Every time it seems to have been abandoned for good, Fort Selkirk rises again — and again.
Even its geography is dramatic. For generations, native elders have told stories of a volcanic eruption some seven thousand years ago that carved the striking basalt lava bluffs situated directly across the river from the fort. Indeed, geologists have confirmed that there are several volcanic centres in the vicinity. Archaeologists date human occupation in the Fort Selkirk area back at least three thousand years, and evidence of a camp at nearby Victoria Rock is more than five thousand years old.
For thousands of years, the Northern Tutchone people — a tribe now known as the Selkirk First Nation — hunted, fished, and lived in the region, which today marks the approximate halfway point between Whitehorse and Dawson City, about sixty kilometres west of the Klondike Highway.
Standing on the bank of the Pelly River at the original Fort Selkirk site, it is difficult to imagine selecting this particular spot to set up a trading post. The land is low, marshy, and subject to spring flooding. Robert Campbell's original Fort Selkirk was built here, at the confluence of the Pelly and Yukon Rivers. Campbell and Stewart called it "The Forks," and it stood in this location for four years before Campbell ordered the post moved to the more advantageous site where it remains, more than three kilometres down the Yukon River, on flat, high banks.
In correspondence with his superiors, Robert Campbell wrote that the second, and current, location of the fort was, in fact, his first choice, but that he was unsure of how the local natives would react to the HBC presence. As a result, he chose a more secluded spot; heavily treed, it would have been partially hidden from the view of river travellers. Though well shielded, perhaps the first Fort Selkirk location was too low-key. After all, engaging in trade may be difficult when no one knows how to find you. This hindrance, however, was the least ofCampbell's problems. More pressing was the fact that his outfit was woefully lacking (he once went for eighteen months without receiving any new goods for trade). Above all, there was the constant threat of the Chilkats.
A Tlingit people based in and around the northwest coast of the Alaska panhandle, the Chilkats had become susceptible to Western vices and ways. Seeing a worthwhile opportunity, they were the first to introduce European goods, such as tea and sugar, tobacco and guns, wool blankets and beads, to the natives of the Yukon interior. They acquired these goods regularly from the HBC steamer, Beaver, and were not very pleased when Campbell and his men started trading at Fort Selkirk with the Northern Tutchone. In retaliation, the Chilkats taunted, intimidated, and stole from the HBC traders repeatedly. In July 1851, while Campbell was away, the Chilkats paid a week-long visit to the fort. Four days into their stay, assistant clerk James Stewart wrote in the company journals: "This day has been nothing but a scene of quarreling, disputing & fighting, but God be praised no lives have yet been lost. But I am afraid the night will not pass without something or other."
Stewart made it through that night, but the Chilkats continually returned and harassed the traders. Then, in late August 1852, this time while Stewart was away, the Chilkats threatened Campbell with guns and knives, ultimately forcing him into a boat and pillaging the fort.
Northern Tutchone Chief Thlingit Thling and his successor, Hanan, frequently played peacemakers between the HBC traders and the Chilkats. According to native oral history, it was Hanan who rescued Campbell after he had been cast down the Yukon River by the Chilkats, and, as a gesture of his gratitude, Campbell gave him his name.
By the late 1800s, all that remained of Campbell's Fort Selkirk were the crumbling basalt chimneys, but that changed with the arrival of American entrepreneur Arthur Harper, Anglican missionaries, and, of course, with prospector George Carmack's discovery of gold near Dawson City in 1896.
Arthur Harper, who moved to Fort Selkirk with his native wife and their children, set up a trading post not far from Campbell's short-lived HBC site in 1889, hoping, undoubtedly, to take advantage of the steamboat traffic that commenced the same year (it was along the trade route used for transporting goods to posts along the Yukon River). In 1892, Reverend T.H. Canham came to Fort Selkirk and erected St. Andrew's Anglican Mission, beginning what would become a long-standing Anglican presence.
But it was the gold rush that would turn Fort Selkirk into a thriving town, a crucial stop along the way to Dawson City; it was a place to stock up on supplies and take advantage of other local amenities. The Catholic Church arrived in 1898, as did 202 Yukon Field Force men, who put up twelve buildings (and blasted two giant holes in the basalt cliffs across the river that they used for target practice). That year, the Yukon became a territory of Canada and there was serious talk of Fort Selkirk being named its capital. By 1899, there were hotels and saloons, post and telegraph offices, a sawmill, and the Catholic Church had set up a mission.
It was around this time as well that the historic native fish camp known as Victoria Rock was so designated by steamboat crews for Queen Victoria. (This was not intended as a compliment; rising from the Yukon River just downstream from Fort Selkirk, Victoria Rock is squat and wide, and for those reasons it is said that steamboat crews designated the fish camp Victoria Rock for Queen Victoria.)
Just as quickly as the town boomed, it went bust.
The Yukon Field Force left after only a year when they were called on to help the North-West Mounted Police retain order and protect Canadian interests from gold-crazed Americans in Dawson City. The Catholic Church closed. While Fort Selkirk remained a common stop for steamboat travellers en route to finding their fortunes in Dawson City, the town's revival had peaked. The drama, however, had not.
On Christmas Day, 1899, three vacationers went missing in the area and Fort Selkirk's lone NWMP officer, Constable Alex Pennycuick, was called on to help in what would be become one of the territory's most notorious murder cases. A ruthless, long-time con named George O'Brien had killed the vacationers as well as his partner in crime, Tommy Graves. Along with Philip McGuire, an American private investigator, Pennycuick cracked the case and found the remains of those missing. His perseverance paid off; the evidence he provided at O'Brien's trial was vital. O'Brien was tried, found guilty, and executed — thanks in large part to the intrepid constable.
Pennycuick was posted at Fort Selkirk until 1911, when the NWMP closed the detachment. Still, a smattering of European-Canadian settlers and native people remained at the fort throughout the first half of the twentieth century, including Big Jonathan Campbell. The son of Hanan, Big Jonathan was made chief in 1916, a position he held until his death in 1958. It was at Big Jonathan's house that much of Fort Selkirk's social life revolved. The town had been traditionally divided in two, with the native members living in the east end and the settlers on the west side of the one-kilometre-long townsite. But at Big Jonathan's, the community came together at frequent dance hall parties and potlatches (ceremonial and social custom of giving away of property and exchanging of gifts).
The same year Big Jonathan became chief, another of Fort Selkirk's most celebrated citizens arrived. Anglican missionary Kathleen Martin moved to Fort Selkirk in 1916, where she taught local children at the mission school and was admired by the white newcomers and the Northern Tutchone alike. She learned to speak the Northern Tutchone language and tried her best to curb the locals' gambling habits. In 1929, she married widower Alex Coward, although she disliked the implications of his last name and refused to take it, preferring to go by Kathleen Cowaret. She was one of the town's most dedicated champions and maintained the Yukon's longest-running church mission until 1953.
By the late 1920s, the quiet town started bustling again thanks to increased river traffic. At the time, the rivers served as highways, and Fort Selkirk had an ideal "roadside" location. Speaking to interviewers as part of the "Fort Selkirk Oral History Project — 1984" former Selkirk resident George Dawson described the scene on the river in the 1920s, when the boats came in.
We used to call this city Dog City because there [were] a lot of dogs in this village and when they'd hear the steamboat coming upstream, all the dogs go down [to] meet the boat and follow the boat up to the landing here and when the boat tie up for a few minutes and the cooks are always throw out lots of leftovers like meat and everything and you should see the dogs when they're out there fighting in the water just to get a little bit of something to eat.
Individuals routinely had ten or more dogs, and photographs taken at the time confirm that dogs did certainly abound — and within a few years, so did business. In 1931, a new Anglican Church was built using materials from the long-abandoned Yukon Field Force buildings. In 1932, the RCMP came back and in 1938 — eighty-six years after Robert Campbell was forced out by the Chilkats — the Hudson's Bay Company returned. Then, in 1942, the Catholic Church returned after a forty-three-year absence, during which, the story goes, a local trader used the church to store dynamite.
With churches, stores, a school, and steady steamboat traffic, the outlook for Fort Selkirk was good — until the late 1940s when construction began on new roads to Mayo and Dawson City. The highways meant the end of steamboat travel and, subsequently, the end of Fort Selkirk -again. Most of the fort's residents moved to Minto, an hour-long boat ride up the Yukon River, and later, many settled in Pelly Crossing.
But one family stayed: Danny Roberts, his wife, Abby, and their daughter, Lois. Danny Roberts was known, until his death in 2000, as the "Mayor of Selkirk." He'd greet canoeists and kayakers who happened upon the site. He was also instrumental in piecing together and protecting Fort Selkirk's history.
Today, piecing together and protecting that history means restoring the fort's buildings, collecting stories from Selkirk elders, and digging, quite literally, into the past. In July 2006, University of Alberta Ph.D. candidate Victoria Castillo led her second archaeological dig in the Yukon. Her first, at the current Fort Selkirk in 2005, proved disappointing, yielding only a few trade beads. This latest dig, however, has turned out to be a great success. At the original site, Castillo and her crew of eight found the foundation of what they believe to be Robert Campbell's house, as well as artifacts such as pipe stems, a butter knife, and pieces of blue-and-white transfer print pottery.
All of the finds of this exploratory dig are surely to have come from Campbell's era, as the site has remained virtually untouched since he abandoned it for the second Fort Selkirk in 1852. "It's a terrible spot [to build]," concedes Castillo, who adds that there's no site plan or drawings to work from, just Campbell's journals and fifty pages of account records. She hopes to be back next summer to continue her work.
Castillo's 2006 crew included four Selkirk native students. "By doing this work, the students are learning part of their heritage," says Castillo. They're part of Fort Selkirk's next generation, who come to Fort Selkirk to explore their ancestry, whether by working summers in the area or simply making day visits.
Preserving Fort Selkirk's history for future generations is a priority of Government of Yukon's Heritage Resources Unit, and a passion of the department's Historic Sites Project Officer, Bruce Barrett. He first discovered Fort Selkirk on a canoe trip vacation in 1981, and even then he was impressed. "I first saw Fort Selkirk as a typical canoeist who didn't even really know it was there. I was on a canoe trip down the Yukon River and suddenly I discovered this oasis in the wilderness," he says. "Most of the buildings were somewhat derelict, but there was still a lot in them and they were definitely in much better shape than most of the cabins we had seen up to that point."
Barrett took a job with the Government of Yukon in 1985, the same year that marked his first summer working on the Fort Selkirk restoration project, which was still in its infancy.
Just a year earlier, the Selkirk First Nation and the Government of Yukon took the first steps toward formalizing a unique co-management and co-ownership arrangement. Twenty-two years later, the buildings that remained at the fort after its abandonment have been stabilized, restored, or rebuilt. The oldest standing building in the territory — the Anglican schoolhouse, built in 1892 — is at Fort Selkirk, the original desks still lined up in rows facing the chalkboard. A native-staffed work camp spends the summers maintaining and improving the site, and elders often act as interpreters for the two thousand visitors Fort Selkirk welcomes from June through August. Elders are also working toward transferring traditional knowledge to a younger generation of interpreters who will keep the stories of Fort Selkirk alive.
Time and again, those stories have survived and Fort Selkirk has risen from near-extinction. The site inspires an unwavering determination in its champions — both past and present — that may be best illustrated by a short poem Robert Campbell entered in the HBC company journal on December 31, 1850:
Campbell & Stewart will ne'er despair
As long as our health will stay
All danger brave & all perils dare
Till the Forks are in a fair way.
Childhood recollections
In 1935, RCMP officer Gordon Irwin Cameron arrived at Fort Selkirk with his wife, Martha, and their one-and-a-half-year-old daughter, Ione. Seventy-one years later, lone Christensen (ne lone Cameron) has served as the Yukon's only representative in the Canadian senate since 1999. She retired at the end of 2006.
Christensen lived in Fort Selkirk until 1949, when the family moved to Whitehorse. She recalls her years at Fort Selkirk fondly. She remembers the purple carpet of crocuses that covered the ground each spring, the bitterly cold winters, and how, in 1947, the thermometers at Fort Selkirk registered -66 degrees Celsius, three degrees colder than the record-breaking cold recorded that year at the weather station in Snag (near Dawson City). Keeping Senator Christensen warm are the cherished memories of her Fort Selkirk childhood, and the sense of community it instilled.
Anybody who ever lived in Fort Selkirk always loved it. It was a very happy place. It has a wonderful ambience about it. It was always considered a very good luck place by the First Nations people — they used to make contracts there and have their annual meetings and gatherings there way back when. They always said it had "good medicine." Some places on earth, there are certain longitudes and latitudes that [are] supposed to be good and Selkirk seems to be — whether it's the magnetic forces of the basalt, I don't know.
In her youth, Christensen was often the only white child living in Fort Selkirk. She spent much of her time playing alone (due to frequent outbreaks of tuberculosis among the native children, her public health nurse mother wouldn't allow her to play indoors with them), exercising her imagination, and even running her own trap line. "I usually [trapped] rabbits and squirrels, but sometimes I'd get ermine and the odd fox, and I'd skin them and dry them and take them and sell them to the Hudson's Bay store. I'd get my pocket money that way," she says.
These days, the senator tries to make it back to her hometown at least every second summer and has been impressed with the restoration work. "It's really the only truly historic site that is not being lived in," she says. "Dawson City has a lot of historic buildings, but while the outside is authentic, the inside has certainly been modernized, whereas Fort Selkirk is really as it was. It's a steamboat community as it was during that era. It's the only one that's left, there's nothing like it."
Themes associated with this article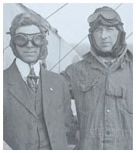 Got Aeroplan miles you're not using?
Canada's History needs them!
Your Aeroplan miles will be used to fly our Governor General's History Award winners to Ottawa, where they will receive official recognition for their achievements.