The magazine you're reading was founded by the Hudson's Bay Company (HBC) ninety-seven years ago as The Beaver and is now titled Canada's History. It's the country's second-oldest continuously published magazine, and you can now browse through most of that history thanks to our new online archive of past issues.
For instance, in Canada's centennial year The Beaver — then still published by HBC as a "Magazine of the North" — paid relatively little attention to the fact that Canada was turning one hundred years old. (Perhaps the country seemed a relative newcomer compared to the company's own 297-year history?)
One article in the Summer 1967 issue told of the launch of a "Centennial Canoe Pageant," in which teams representing ten of the provinces and territories planned to paddle and portage some 5,283 kilometres from Rocky Mountain House, Alberta, to the Expo 67 site in Montreal. Each canoe bore the name of a significant Canadian explorer, such as David Thompson, Henry Kelsey, and Pierre La Vérendrye.
The Beaver
regularly told about the lives of the Indigenous peoples of Canada, including their material arts. In the same issue, RCMP Corporal Robert W. Hobson wrote about the
intricate argillite carvings
made in Haida communities of British Columbia's Queen Charlotte Islands. Meanwhile, the cover story by HBC archivist Alice M. Johnson was about "
James Bay Artist William Richards
."
"Knights of the Waterways" told of voyageurs who for centuries paddled their canoes starting in the direction opposite to the centennial paddlers: "from Quebec, Montreal, and Three Rivers into what they called le pays d'en haut, singing as they went their incomparable ballads and other chansons, laughing down whitewater for the sheer delight of its danger and exhilaration." Without their efforts, author Grace Lee Nute said, "the fur trade could hardly have been carried on."
Themes associated with this article
You might also like...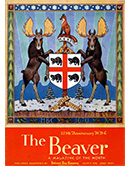 A Century of History in Your Pocket
Canada's History Archive, featuring The Beaver, is now available for your browsing and searching pleasure!
Related to Museums, Galleries & Archives