Juno Beach Centre Launches Tribute Campaign
To mark this important moment the Juno Beach Centre has launched a new campaign to remember the Canadian soldiers that landed in Normandy. The Tribute Campaign will create a temporary marker for each of the 359 soldiers killed on D-Day on the Canadian landing beaches.
"We really wanted to create not just a memorial but something that visually helps people understand the magnitude of the battle and the price paid by Canada," explains Jenna Misener, Executive Director of the Juno Beach Centre. "We want students and visitors to have that ok I get it now moment."
Each marker will be constructed of solid maple and embossed with a maple leaf. A plaque will also contain information about the soldier. Canadians can sponsor a marker for $500 each.
"What's most interesting is when you start to delve into the history of these men," describes Misener. "Their individual stories are fascinating and moving. They were essentially boys from towns and communities all across Canada."
John and William Simpson were two such soldiers who hit the beaches on D-Day with the Queens Own Rifles of Canada near the French town of Bernières-sur-Mer. John was killed storming an enemy position. He had just enough time to tell his brother to "keep going" before he died.
"The memorials will tell their stories. Each marker will contain a QR code that will allow visitors to pull up the soldier's story through the Lest We Forget project, an online database of Canadian soldiers created by high school students from across Canada."
Funding raised through the campaign will help continue important education and commemoration work by the Center, including their annual tour for teachers which to date has brought more than 300 educators from across Canada to Europe.
The Centre will also be launching a new bursary program in 2014 to provide post-secondary students $5,000 in support for their education and a trip to Europe to visit First and Second World War Canadian battlefields.

Neil Orford, a recipient of the 2013 Governor General's History Award for Excellence in Teaching, is a strong supporter and contributor to the work of the Juno Beach Centre. His students have raised more than $30,000 to support the institution over the past eight years.
"This is really a powerful moment for us over the next few years and we have to embrace it," Orford explains. "The dedication of those veterans to build, open and commemorate the museum for all Canadians is a story that every Canadian teacher should be bringing to the kids in their class."
"They have dedicated themselves to telling the story of Canada to the people of France in a Canadian institution."
The importance of the campaign is significant. Next year Walmart Canada will step down as the national corporate sponsor of the Juno Beach Centre after more than 10 years.
"Walmart has been an exceptional sponsor and supporter of the Centre," maintains Misener, "and now we are reaching out to other Canadians to continue this great work."
The campaign will help continue programing that is vital to telling Canada's wartime story both at home and abroad. You can find out more about the campaign by visiting their website JunoBeach.org.
Themes associated with this article
You might also like...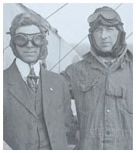 Got Aeroplan miles you're not using?
Canada's History needs them!
Your Aeroplan miles will be used to fly our Governor General's History Award winners to Ottawa, where they will receive official recognition for their achievements.
Related to Museums, Galleries & Archives