The Great War Video Series
When the First World War began in 1914, Canada had no choice — as part of the British Empire, the country was automatically at war.
More than 650,000 Canadians served over the course of the four-year conflict, an impressive number for a population of around eight million. And, through its successes on the battlefield, Canada proved itself many times. But the fighting took its toll; by the end of the war, more than 66,000 Canadians had been killed, and another 172,000 had been wounded.
November 11, 2018, marks the hundredth anniversary of the end of the First World War. Here are just a few key Canadian battles along the road to armistice in 1918.

Canada's Great War Album
The war that changed Canada forever is reflected here in words and pictures.

You could win a free book!
Sign up for any of our newsletters and be eligible to win one of many book prizes available.
Themes associated with this article
You might also like...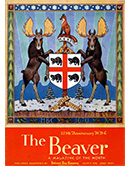 A Century of History in Your Pocket
Canada's History Archive, featuring The Beaver, is now available for your browsing and searching pleasure!
Related to Military & War