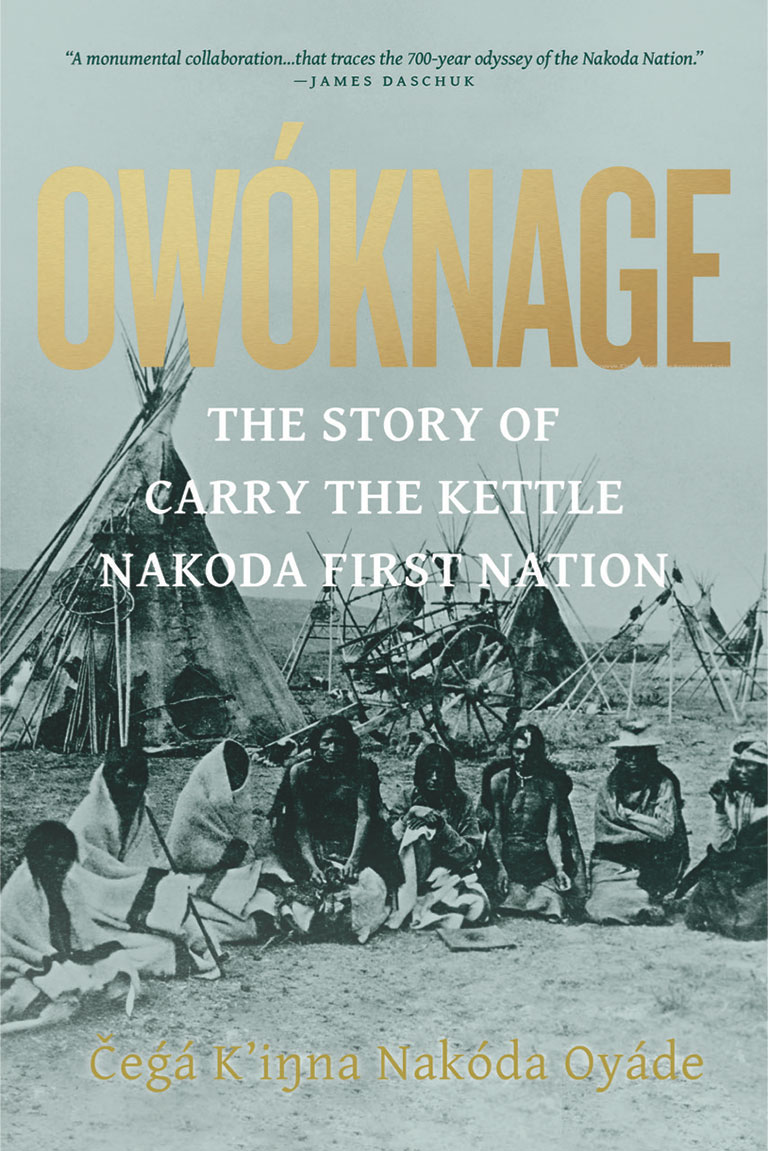 Owóknage: The Story of Carry the Kettle Nakoda First Nation
by Cega̔ K´iɳna Nakoda Oyáté (Carry the Kettle First Nation)
University of Regina Press
412 pages, $39.95
In the Nakoda language, Owóknage means "a telling of stories, news, stories of deeds, honourable stories." In the book Owóknage, interviews conducted in 1929 and in 2015, along with traditional knowledge and documentary sources such as letters from North West Mounted Police officers and government officials, create a powerful history that feels like a blueprint for a fuller, truer recounting of the past.
In clean prose accompanied by black-and-white illustrations, maps, and photographs Owóknage plainly sets out the horrific toll exacted by contact and settlement, particularly mass deaths from smallpox and cholera, as well as starvation resulting from "Canada's planned and systematic destruction of the bison."
Governments forced a previously self-sufficient people into a small area of the Cypress Hills (near the present-day borders of Saskatchewan, Alberta, and Montana). Many of the people slaughtered there by hunters and traders in the Cypress Hills Massacre of 1873 were ancestors of Carry the Kettle First Nation members. When misguided attempts at farming failed, they were marched hundreds of kilometres east in 1882 and 1883 to a new territory south of Fort Qu'Appelle in what is now Saskatchewan — an event described in the book as Canada's "Trail of Tears."
And yet, despite the imposition of international borders and a railway, despite residential schools, despite the environmental degradation of modern gravel pits and oil wells, the nation not only survives but is working to reclaim the language and culture that colonizers worked so hard to erase.
The book's conclusion states, "Without conquest, agreement, or valid legal rights, these settlers asserted sovereignty over the Nakoda Peoples, effectively confiscating their lands and livelihoods without compensation nor consideration." Owóknage is a chance both to learn about this dishonourable aspect of Canada's story and to tell stories of a vibrant culture that has not been defeated.

You could win a free book!
Sign up for any of our newsletters and be eligible to win one of many book prizes available.
Themes associated with this article