One Hundred Years of Struggle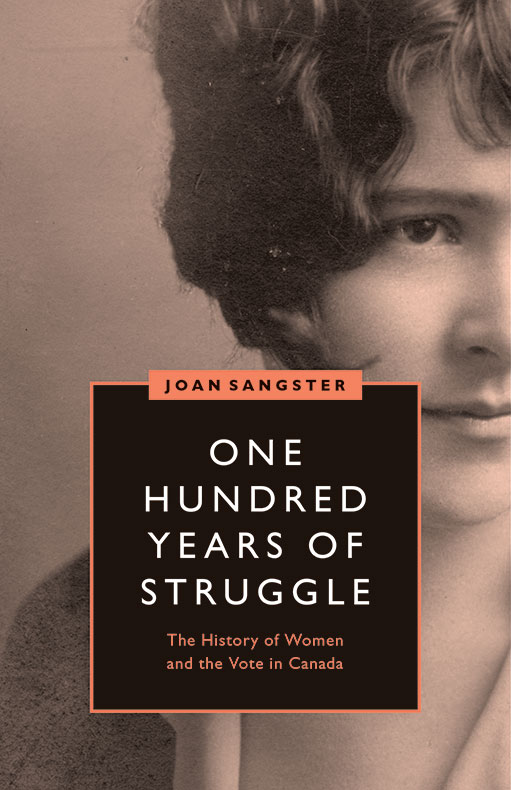 One Hundred Years of Struggle: The History of Women and the Vote in Canada
by Joan Sangster
UBC Press, 328 pages, $27.95
A few years ago, I sat in a nearly empty theatre watching the movie Suffragette and noticed that Canada wasn't included in the movie's epilogue naming countries where women had won the vote. I promptly forgot about this, until Joan Sangster mentioned it in passing towards the end of her book on Canadian women's suffrage.
Sangster offers one explanation for why Canada was ignored in this movie, as well as in almost every global study of women's suffrage: "Canada's highly regionalized, decentralized movement meant there was no single powerful national suffrage group, busily creating its own historical importance through record preservation and self-promotion."
Indeed, it's difficult to fix a milestone date for Canadian women's suffrage: Was it when mostly white Manitoba women began voting in provincial elections in 1916? Was it when Canadian women who were not Indigenous or Asian won the right to vote in federal elections in 1918? Was it when Quebec women gained provincial suffrage in 1940? Or was it when all Indigenous women — and men — were able to cast ballots federally in 1960?
In her engaging book One Hundred Years of Struggle, Sangster presents a complex and nuanced view of the efforts made by Canadian women to fully participate in democracy. She points out that while many women fought for suffrage their motivations were diverse: "The movement included socialists and conservatives, anti-alcohol temperance advocates and free lovers, imperialists and pacifists."
While certain white middle-class feminists, such as Nellie McClung, became well-known, others who did not fit into that mould were ignored. Only in recent years has the work of an African-Canadian teacher and newspaper publisher — Mary Ann Shadd Cary — come to light. Shadd Cary endorsed women's rights back in 1852, long before Canadian women's suffrage organizations were formed.
Although the book's title suggests a survey of one hundred years of suffragist history, it's not clear which hundred years serve as Sangster's focus. The book actually starts with a quirky incident that took place in 1809, when Rosalie Papineau voted for her son Louis-Joseph Papineau in a Lower Canada election.
The law then extended voting rights to "persons" with a certain amount of property; but it did not specifically exclude women, so some women voted. Barring women from the vote came later — in a bill supported by Louis-Joseph, no less.
We also read about a Toronto suffrage group that convinced Prime Minister John A. Macdonald to table a bill in the House of Commons in 1885 that would have extended the vote to widows and unmarried women with property. But there was so much resistance to this notion that the proposal was shelved.
Sangster pays particular attention to how some Indigenous women lost democratic power within their own communities due to colonialism. This was particularly true in the matriarchal Haudenosaunee (Iroquois) societies, where clan mothers selected hereditary chiefs. In 1898 at the Akwesasne reserve in Ontario, the Department of Indian Affairs sent police to impose Western-style democracy, imprisoning hereditary chiefs and killing one Indigenous protester.
Unlike some of their American counterparts, Canadian suffragists did not cite the ancient roles of powerful women in Indigenous societies to bolster their cause. Sangster suggests that this may be due in part to the fact that many of the white British-Canadian women who were leading the movement — especially those who were settling the country's West — benefitted from the dispossession of Indigenous land.
While women like McClung dominate the record of suffrage history in Canada, women who immigrated to Canada from Finland and Iceland, where suffrage movements were further advanced, also made an impact. Margret Benedictsson's Icelandic publication Freyja (Women) in Manitoba was the longest-running pro-suffrage women's paper in Canada. For her part, Benedictsson bristled at the superior airs of the English-speaking middle-class suffragists who refused to acknowledge the work of Icelandic feminists.
This is a thorough but lively book that will appeal to a general audience. It sheds light on unexplored aspects of suffrage history. There are no footnotes in the text, but a detailed chapter-by-chapter list of sources is included. It's also well-illustrated, with sidebars containing pullout quotes. In all, One Hundred Years of Struggle is an eye-opening read.
Help keep Canada's stories strong (and free)
We hope you will help us continue to share fascinating stories about Canada's past.
We highlight our nation's diverse past by telling stories that illuminate the people, places, and events that unite us as Canadians, and by making those stories accessible to everyone through our free online content.
Canada's History is a registered charity that depends on contributions from readers like you to share inspiring and informative stories with students and citizens of all ages — award-winning stories written by Canada's top historians, authors, journalists, and history enthusiasts.
Any amount helps, or better yet, start a monthly donation today. Your support makes all the difference. Thank you!
Themes associated with this article