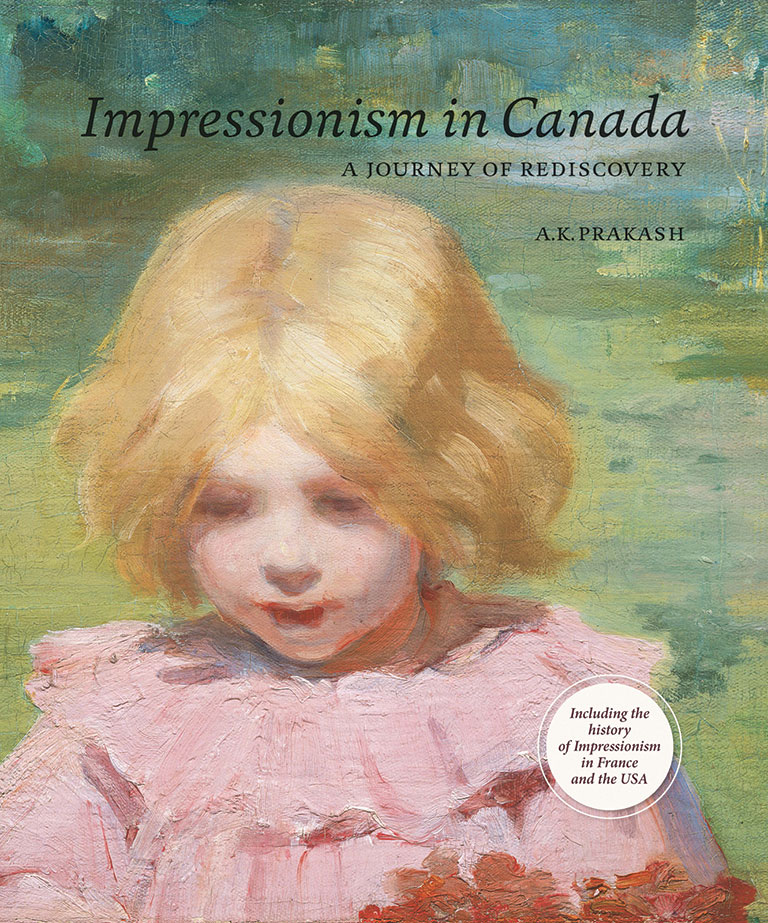 Impressionism in Canada: A Journey of Rediscovery
by A.K. Prakash
Arnoldsche Art Publishers
801 pages, $140
The Group of Seven persuaded Canadians to pay attention to Canadian art. Shrewd self-mythologizers, they made it seem as if their art had sprung spontaneously from the wilderness to become the first modern and authentically Canadian painting movement.
The group's overwhelming presence has tended to eclipse Canadian artists who worked around the turn of the twentieth century. A.K. Prakash's Impressionism in Canada: A Journey of Rediscovery is a muchneeded corrective. Copiously illustrated and exhaustively researched, the book offers a vivid, detailed picture of the achievements of Canadian Impressionists.
As well as being a beautifully produced coffee-table book, this hefty volume is a comprehensive introduction to Impressionism, starting with its development in nineteenth-century France. Prakash, an art dealer and advisor who has promoted historical Canadian art at home and abroad, doesn't break new theoretical ground. He sums up, in accessible, often entertaining prose, the ways in which artists such as Degas, Monet, Morisot, and Renoir attempted to convey the mutable, momentary impressions of their rapidly changing world, including the then recently transformed city of Paris and its surroundings, and the swirl of new bourgeois pleasures.
Prakash then moves to the movement's effect on American artists, partly through the influence of Mary Cassatt, the Pittsburgh-born painter who worked extensively with the French Impressionists.
Cassatt encouraged her wealthy childhood friend Louisine Havemeyer to become an early collector of the new French art. When Havemeyer was asked whether she would rather have a new pearl necklace or a new painting, she replied that she preferred "to have something made by a man than to have something made by an oyster."
The book culminates with a thorough examination of the Canadian scene. Realizing that artists can't "operate in a vacuum but [need] encouragement, stimulation, and sales," Prakash looks at exhibitors, dealers, collectors, and critics. He then highlights fourteen significant Canadian artists, including Maurice Cullen, J.W. Morrice, Clarence-Alphonse Gagnon, and Marc-Aurèle de Foy Suzor-Coté. Prakash also looks at Laura Muntz (later Lyall) and Helen MacNicoll, thoughtfully exploring the challenges faced by women artists at that time. The unmarried Muntz was called home from a triumphant year in Paris to look after an ailing relative.
Prakash meticulously tracks the artists' studies abroad, occasionally throwing in funny anecdotes. For instance, Morrice left the Académie Julian not from disdain at the conservative tutelage of William Bouguereau but because another student beaned him on the head with a baguette.
As the structure of the book suggests, Canadian Impressionism began under French influence; yet Prakash argues that Canadian Impressionism was not just a belated copy of the French original but something specific to Canada. Many artists explored scenes of rural labour and quiet Quebec villages. Others observed the unique qualities of winter light and the dramatic changes of northern seasons. The most iconic mark of Canadian Impressionism might be the glint of blue shadows in snow.
Prakash admits that his definition of Impressionism can be loose. Many of the younger Canadians were influenced not just by the Impressionists but also by Seurat's pointillism, Van Gogh's expressionism, and Matisse's Fauvism. Morrice, whose later works often relied on blocks of flat, unmodulated colour, might more accurately be termed a Post-Impressionist. Prakash also tends to emphasize style and technique, sometimes ignoring the social implications of content. He quotes painter William Clapp's declaration that all great art is founded upon the abstractions of "vision, light, colour, space, atmosphere, vibration, form." For Clapp, any subject matter was "accidental," a detail subordinate to the formalist whole. The fact that Clapp's "accidents" are often pertbreasted female nudes in forests might warrant a closer look, though.
Still, these are minor quibbles about a major achievement. With its rich and beautiful wealth of visual material, Impressionism in Canada offers a generous introduction to a general audience. Its extensive appendices, bibliography, and notes, and its sheer collation of research, references, and information, will also provide a crucial resource for specialized scholars who might want to take this material in more theoretical directions.
Themes associated with this article