Direct Action Gets the Goods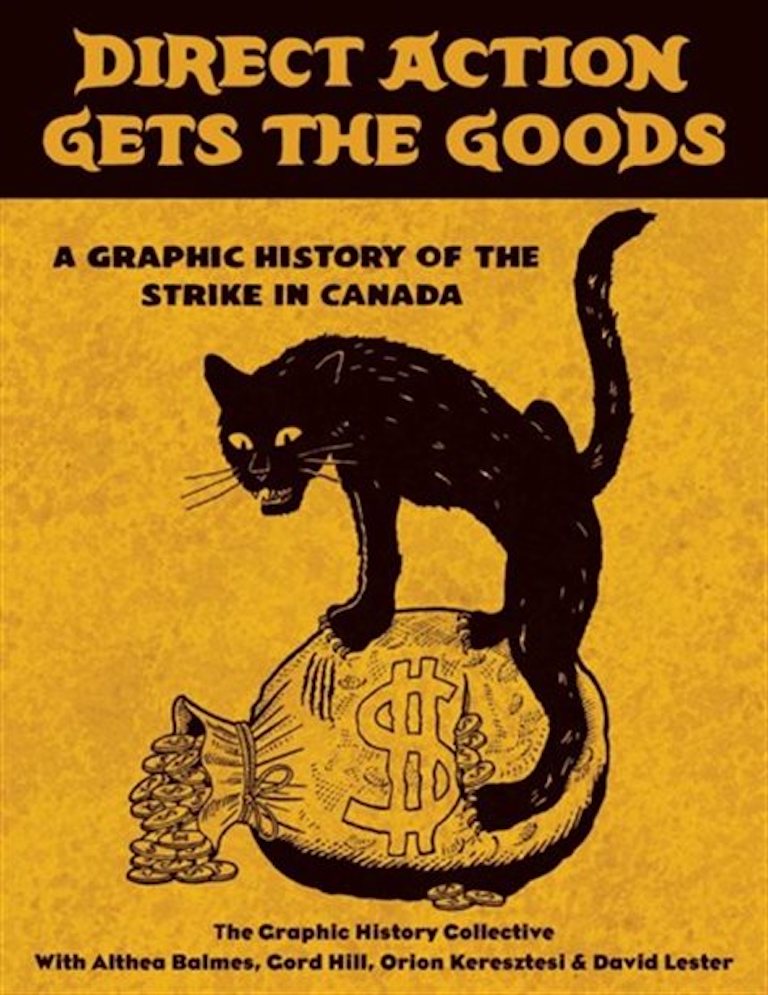 Direct Action Gets the Goods: A Graphic History of the Strike in Canada
by The Graphic History Collective
Between the Lines,
74 pages, $14.95
A double review with
1919: A Graphic History of the Winnipeg General Strike
by The Graphic History Collective and David Lester
Between the Lines,
125 pages, $19.19
"Art has always been an important part of the workers' movement," writes The Graphic History Collective in the opening pages of Direct Action Gets the Goods — a comic anthology of stories chronicling the history of the strike in Canada.
The book follows Sabo the cat, Ralph Chaplin's timeless symbol of direct action, through various events in Canadian working-class history that are seen through the vision of contributors Althea Balmes, Gord Hill, Orion Keresztesi, David Lester, Sean Carleton, and Kara Sievewright.
While each artist's style is visually distinctive, the presence of Sabo the cat helps to tie together their narratives. Their stories culminate with a historic timeline that uses spot illustrations from each artist to accentuate the important dates and moments of the Canadian labour movement.
Direct Action Gets the Goods is a concise book that helps readers gain an understanding of efforts Canadians undertook to combat unreasonable working hours, unsafe working environments, and inadequate pay. In the words of writer Noam Chomsky, "The Graphic History Collective shows us that art can inspire hope for radical social change."
Another book produced by the collective along with David Lester, 1919: A Graphic History of the Winnipeg General Strike, uses a clever combination of words and images to provide insights into one of the formative events of the Canadian labour movement. The book explores the aftermath of early conflicts in Manitoba between the Metis people and the Canadian government, the early industrialization of Winnipeg, and the six-week general strike that culminated in the infamous day known as Bloody Saturday.
1919 uses expressive linework to add a sense of excitement that complements the compelling story of working-class men and women standing together to demand a better life in the face of powerful capitalist businessmen and unsympathetic government officials.
The use of maps and newspaper clippings helps to give a solid sense of when and where events took place. Along with an impressively illustrated, minute-by-minute breakdown of the final bloody conflict between the strikers, the Royal North West Mounted Police, and the replacement-police "Specials," these elements produce a vivid sense of how the unified workers of Winnipeg stood in determined solidarity to try to gain a better standard of living.
Themes associated with this article