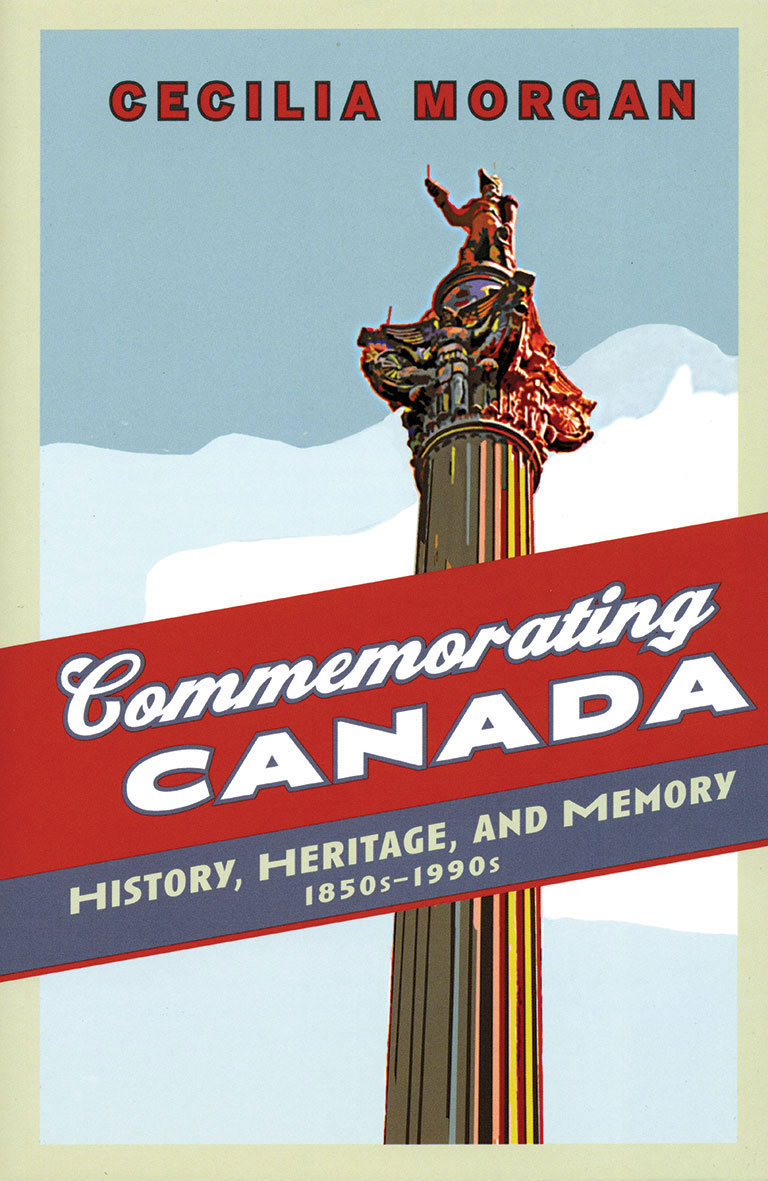 Commemorating Canada: History, Heritage, and Memory, 1850s–1990s
by Cecilia Morgan
University of Toronto Press
219 pages, $26.95
There are few master narratives in Canadian history, and historians rarely agree on how to interpret the past. Yet history is all around us, and it can be found in everything from novels to television shows, in local memorials or household heirlooms, and in events like Canada Day and Remembrance Day. We have a desire to make sense of the past, to commemorate events, deeds, and personalities, and to celebrate some of those who came before us.
Nonetheless, official commemoration without conflict is rare. The disagreement over how the Canadian Museum for Human Rights should display historical atrocities was an ugly affair. Other recent high-profile battles over history have included the refusing of statues of prime ministers on university campuses; the renaming of sites and places associated with colonial historical figures who are abhorrent to present sensibilities; and, of course, truth and reconciliation commissions. But struggling over how best to know ourselves is not unique to the twenty-first century.
Cecilia Morgan, a professor at the Ontario Institute for Studies in Education, recounts in Commemorating Canada how Canadians have always grappled with making meaning of their shared and divisive history. In this wide-ranging study, Morgan uses monuments, songs, textbooks, histories, parades, pageants, and material culture to explore how Canadians have marked and extolled their history and heritage over several centuries and across the country. In various chapters, she explores the role of history and memory in eighteenth- and nineteenth-century Canada, the many forms of public commemorations and pageantry, the ways of remembering war, historical preservation and the state, how tourism shapes remembrance, and the teaching of history.
Morgan exposes issues of power and authority, chronicling those individuals or groups who set out to shape interpretations. Explorers, military officers, and politicians were privileged for much of Canadian history, while the masses were forgotten. Morgan is particularly attentive to those who have been excluded from the traditional narrative — be it women, new Canadians, gays and lesbians, and First Nations — and she highlights the role that oral history can play in restoring their stories so as to be more inclusive.
The complex history of Louis Riel, and his trajectory from traitor, to hero, to founding father, makes for a compelling read. The book also untangles how local historical societies played key roles in curating stories about the War of 1812, Loyalists, and black Canadians. Historical sites — especially Louisbourg, with its layers of interpretation — are nicely unpacked, as are festivals ranging from St. Patrick's Day to Saint-Jean-Baptiste Day, Labour Day, and Empire Day. Some of these invented traditions have faded from observation over time, while others have taken on new meanings.
Many historical celebrations were local, such as Prince Edward Island's 1939 marking of the seventy-fifth anniversary of the Charlottetown Conference. Other commemorations were held across the country. The need for Canadians to come to grips with the terrible losses of the Great War resulted in the erection of thousands of community memorials, as well as national ones.
This is a book that should be widely read, even though, as Morgan moves rapidly through history, we often get a mouthful but not a meal. There are some tremendous gaps in the coverage, and while this reviewer is sympathetic to the author's ambitious project, how can there be no discussion of the enormous impact of J.L. Granatstein's book Who Killed Canadian History? in the chapter on teaching national history? The rise of national museums in the memory-making and commemorative process is all but ignored. Film, television, and photographs also receive scant attention. And there is no attempt to engage with the recent rebranding of Canada by the former government of Stephen Harper.
Commemorating Canada is aimed at the undergraduate university student, but I suspect that all who are interested in Canadian history will benefit from this wide-reaching study. Morgan has started a conversation. I hope others will join in and think about the ways that Canada's history has been shaped and presented over time, about how the controversies of the past play out in the present, and about how we can continue to identify those who have been forgotten in the commemorative process.
Themes associated with this article