The Maple Leaf Forever & Solveig's Song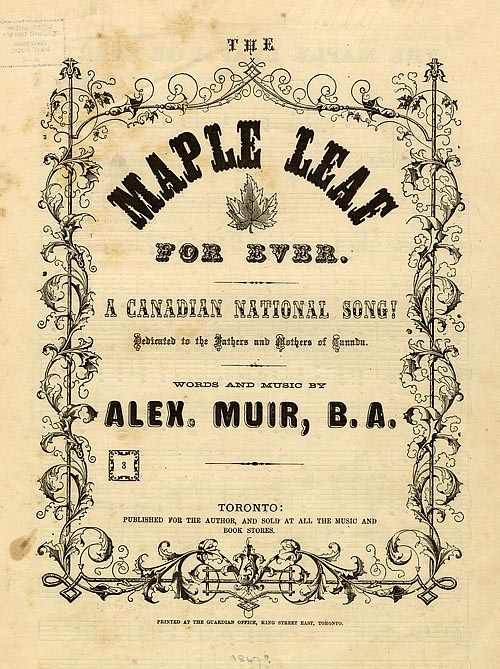 Nancy: It's 2017, and Canadians are getting ready to celebrate its 150th anniversary. The song we're exploring in this podcast, The Maple Leaf Forever was also written in 1867. Do we have the 150th anniversaries of each to thank for our exploration of this song?
Joseph: It's more of a happy coincidence, I think. In the previous round of podcasts, I talked about the French-Canadian folksong Vive la canadienne performed by the Alouette Quartet. In that podcast I made reference to a newspaper article from the Ottawa Citizen discussing reasonable substitutes for our national anthem, O Canada.
The main point of the article was that there were two songs that unofficially served our patriotic desires, and which were embraced by our two main linguistic communities. The author of the article suggested that Vive la canadienne was more popular amongst French Canadians, and that the Maple Leaf Forever was more popular amongst English Canadians. In fact, the song was so popular with English Canadians at the time that it served somewhat as an unofficial anthem.
What were the circumstances that led to the song's composition?
The lyrics and music were written by Alexander Muir, a schoolteacher, poet, songwriter and soldier. Muir was born in Scotland in 1830, but immigrated to Canada with his family in 1833, growing up in Scarborough Township just east of Toronto. He graduated from Queen's College in Kingston, ON in 1851 and upon graduation, embarked on a career as a teacher in Scarborough, Leslieville and Yorkville. He was Canadian, but also very proud of his British background, and this pride is definitely present in the lyrics of The Maple Leaf Forever.
The genesis of the initial poem came about during the time Muir was principal of a public school in Leslieville. Muir wanted to submit an entry into a patriotic poetry contest of the Caledonian Society of Montréal.
The story goes that Muir was out for a walk near his house in Leslieville with his friend George Leslie (after whom Leslieville is named), with the deadline for the poetry contest looming. A maple leaf became lodged in Leslie's coat sleeve, whereupon he suggested the idea that Muir's poem should be based on the maple leaf, the symbol of Canada.
"There Muir! There's your text! The maple leaf is the emblem of Canada! Build your text on that!"
Muir composed the text quickly and sent the poem off to Montreal within hours. Muir eventually won second prize in the contest and decided to publish the poem at the urging of his friends. Muir composed the music for the song himself, after no suitable melody could be found.
He published the song at his own expense, but failed to secure copyright and received no royalties from the song after it was published by the company of Abraham and Samuel Nordheimer. In all, Muir realized proceeds of four dollars after an initial outlay of thirty.
Why wasn't the song popular with French Canadian audiences?
Muir's lyrics have a decidedly pro-British bent to them. Early versions of the poem celebrate Canada as a place where "the Thistle, Shamrock and Rose entwine" and exclude the fleur-de-lis. Other lyrics in the song celebrate British military victories in Canada and refer to General Wolfe as a "dauntless hero."
In later versions of the poem, the first verse was rendered as "In days of yore, the hero Wolfe Britain's glory did maintain." Due to its pro-English-Canadian outlook, not to mention celebration of Wolfe's conquest of Quebec at the Battle of the Plains of Abraham, the song alienated many French Canadians.
In fact, no French translation of the poem has been found to exist. A poem by Octave Crémazie, Salut, o ma belle patrie!, was paired with Muir's melody in a 1914 publication, Choix de chansons. Furthermore, later versions of the poems sought to be more inclusive where the word "lily" was inserted to read "Lily, Thistle, Shamrock and Rose entwine."
Well, let's take a listen to the piece then. Here's a performance of The Maple Leaf Forever by the Kilties.
[music plays]
An interesting thing — that track was almost entirely instrumental, except for a choir singing the chorus every now and again.
Yes. I think it works brilliantly well as an instrumental piece and as a march. It also helped us dodge some of the more overtly pro-British lyrics in the text, even if they manage to stick in "God Save the Queen" at the end. The other thing I like about this performance, is that some of the words of the chorus seem almost unintelligible. It seems to lend a joyous and raucous quality to the performance.
Who were the Kilties?
The Belleville Kilties Band was organized in Toronto in 1902 to assume some of the touring commitments that the 48th Highlanders Band could not fulfill. The Kilties were one of the first Canadian bands to gain international recognition, and went on sixteen world tours between 1904 and 1930.
The group featured up to forty to fifty members at its peak, half of whom still belonged the 48th Highlanders Band. The band was supplemented by dancers and singers and performed in parks during the summer months and on the vaudeville circuit during the winter.
Notable performances of the band included the St Louis World's Fair in 1904 and two command performances for Edward VII in 1904 and 1905. One of its members, David Ferguson, also recorded pipe music solos for the Berliner record company. On the subject of recording, the labels of the Kilties' records all feature a delightful tartan pattern. The band ceased being a professional group in 1911 and ultimately disbanded in 1933.

You could win a free book!
Sign up for any of our newsletters and be eligible to win one of many book prizes available.
Part 2: Solveig's Song
Don't let the somber nature of this song fool you. Solveig's Song comes from one of the most entertaining orchestral suites based on incidental music to one of the most lively and entertaining plays ever produced in the 19th century.
Really? Could you give us a brief explanation of both the play and the music.
Absolutely, I think it'll help provide a bit of context for the music we'll hear. Solveig's Song is most usually heard as the last movement in the composer Edvard Grieg's Peer Gynt Suite No. 2. Grieg is Norway's best-known composer. He was requested by Henrik Ibsen, the author of the original play, to compose incidental music to accompany the play's production.
Incidental music for a play is similar to how we might think of how a film score accompanies a movie: adding atmosphere, enhancing the action of the plot. In a play, incidental music might even serve to accompany scene changes and include such musical pieces as an overture or musical interlude.
Grieg wrote the incidental music and created two orchestral suites from it. It is in the form of the orchestral suites that the music is most well-known and heard. In fact, it's from Grieg's incidental music that we get music like the Morning Mood and In the Hall of the Mountain King.
The variety of music that you hear in these suites like Morning Mood, In the Hall of the Mountain King and Solveig's Song gives you an indication of the fantastic nature and drama of the play, Peer Gynt, by Henrik Ibsen.
It was originally a dramatic poem converted into a play and follows the narrative and adventures of the title character as we follow him from the Norwegian mountains through to North Africa and back again.
Solveig is a character in the play and is one of the women with whom Peer falls in love throughout the course of the play. They first meet at a wedding in act 1, where Peer kidnaps the bride of another man. Solveig finds Peer again at his cabin in Act 3 and resolves to live with him; however, Peer leaves on other adventures and business schemes, one involving being the emperor of a madhouse in Cairo, only to return to find Solveig waiting for him in Act V.
Solveig's song in the incidental music appears in both Acts 3 and 5. One can interpret the music of being somewhat of sorrow and resignation, but also of the constancy of Solveig's love. She sings the following words:
The winter may go, and the spring disappear,

Next summer, too, may fade, and the whole long year,

But you will be returning, in truth, I know,

And I will wait for you as I promised long ago.

May God guide and keep you, wherever you may go,

Upon you His blessing and mercy bestow.

And here I will await you till you are here;

And if you are in Heaven, I'll meet you there.
We'll now hear Sarah Fischer sing Chanson de Solveig in a French translation of the words.
[music plays]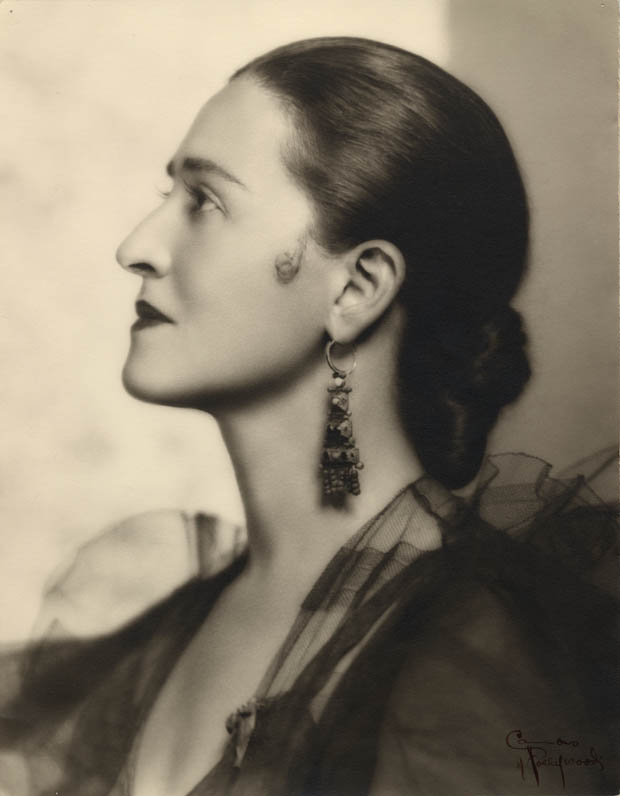 We've talked of the play and incidental music but haven't said anything about Sarah Fischer. Who was she?
Sarah Fischer was a prominent soprano, teacher and administrator who was celebrated in Canada, England and France in the first half of the twentieth century for her roles and singing before retiring to Canada to teach and be an advocate for emerging Canadian artists. She was born in Paris in 1896, but immigrated to Montreal with her mother in 1912 to join her father. He had come some time earlier.
Fischer worked as a telephone operator in Montreal, but studied voice and music with Jacques Goulet and Céline Marier, and eventually won the Strathcona Scholarship which gave her a three year scholarship to the Royal College of Music in London in 1917. Her departure to London was delayed because of World War I and didn't go until 1919. In the interim, Fischer made her stage debut in 1918 in Montreal as Micaela from Carmen, followed by other roles and performances in Montreal and Quebec City.
Was the recording we just heard made at this time as well?
It was. Fischer traveled to New York in 1919 and recorded eight pieces for the Pathé records on four double-sided records. These pieces also included arias from Carmen and Lakmé, roles with which she'd be associated throughout her performing career.
What happened after she arrived in London?
In London, she became Emma Albani's protégée, and became a member of the British National Opera Company in 1922 and sang the following roles at Covent Garden: Eva from Die Meistersinger by Wagner, Pamina from The Magic Flute by Mozart, the Countess in The Marriage of Figaro by Mozart and Marguerite in Faust by Gounod.
Fisher also participated in two notable events in the history of Opera: she took part in the first opera broadcast from Covent Garden, singing the role of Pamina in 1923, and in 1934, sang in the BBC's first opera telecast in excerpts from Bizet's Carmen, singing the title role. Fisher also performed in Paris, and her first performance with the Opéra-Comique took place in 1925 when she sang the role of Mélisand in Debussy's Pelléas et Melisande.
When did Ms. Fischer return to Canada?
She performed back in Montréal at various events throughout the 1930s, but settled permanently back in Canada in 1940 after the breakout of World War II and due to her father's illness. She opened a studio, and starting in 1941, presented the first of the Sarah Fischer Concerts 'for the benefit of Canadian artists' which was an annual series of four concerts that continued until her death in 1975.
In the course of the 175 concerts, many young Canadians received their debuts there included: Violet Archer, Maureen Forrester, André Prévost and Robert Silverman. Fisher gave her final concert in 1942 and devoted the rest of her life to teaching and musical organizations.
How many recordings did Fischer make over the course of her lifetime?
Not a lot. Fischer made the aforementioned recordings on the Pathé label, and recorded four Elizabethan love songs with a string quartet for HMV in the 1920s. These recordings can also be found on the Virtual Gramophone. She recorded six more songs in London in 1939, and these songs along with the Pathé and HMV recordings were reissued on a private LP in 1967. She is also included in the Great Voices of Canada series released by Analekta. Finally, Library and Archives Canada has a collection of Sarah Fischer's personal documents which were donated by Ms. Fischer herself.
Help keep Canada's stories strong (and free)
We hope you will help us continue to share fascinating stories about Canada's past.
We highlight our nation's diverse past by telling stories that illuminate the people, places, and events that unite us as Canadians, and by making those stories accessible to everyone through our free online content.
Canada's History is a registered charity that depends on contributions from readers like you to share inspiring and informative stories with students and citizens of all ages — award-winning stories written by Canada's top historians, authors, journalists, and history enthusiasts.
Any amount helps, or better yet, start a monthly donation today. Your support makes all the difference. Thank you!
Themes associated with this article
Related to Arts, Culture & Society