Reporting on the 2017 Red River Heritage Fair
On May 4, 2017, students from across Manitoba gathered to present at the Red River Heritage Fair. Nine students from Vincent Massey High School and Sister High School in Winnipeg took on the role as student reporters for the heritage fair. They were tasked with reporting on: "Why is the 2017 Red River Heritage Fair or the projects presented relevant to Canada 150?" Continue reading for their take on the heritage fair.
United by History
Canada's history is the backbone of our country.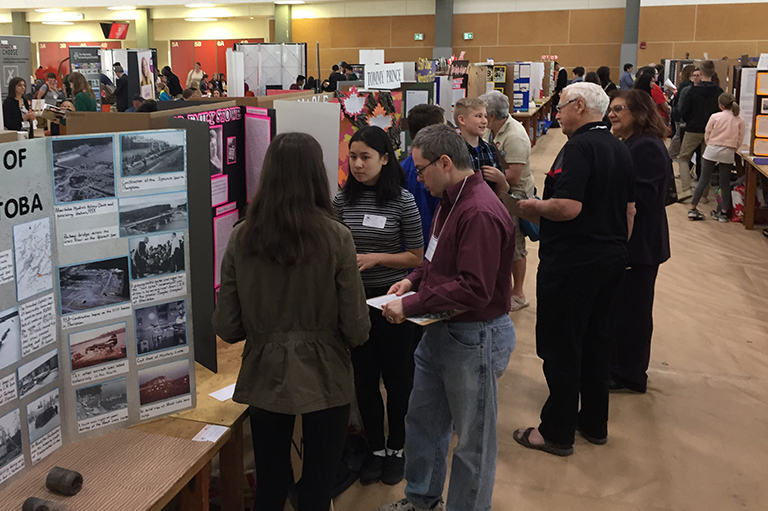 What do you think of when you hear the word "Canada"? Beavers? Maple syrup? Hockey? Not anymore. Now you'll see Canada through a true Canadian's eyes. We've had the pleasure to attend the Red River Heritage Fair at the University of Winnipeg. This fair is in honour of Canada 150. Students from Grade 4 to 11 that gathered have research and created projects to present at this fair. With Canada 150 just around the corner, we set out to find some individual's opinions on the importance of Canada's history in relation to Canada 150.
Doing a project on William Notman was Aiden, who is in Grade 9 at Immanuel Christian Junior High in Winnipeg, Manitoba. He voiced his opinion on Notman's work, "He took pictures of Canada with a different perspective, this was his way of telling the world about Canada's history and I think that's important for Canada 150."
Next, we went through some of the displays, when one caught our eye, The United Empire Loyalists Association of Canada is the history of the first refugees in Canada. "The first refugees of Canada played a huge part in Canada's history. They were the first large group of different cultures to come to Canada. They were multi-ethnic and knew how to stand up for themselves and what they believed in. It's important for people to know about Canada's first refugees and their impact on Canada's history. Since they're the foundation of our country." They explained.
Given this information, it's time for people to familiarize themselves with Canada's history, the diversity, and how we can develop as a country.
Written by Megan D. and Sydney D., Grade 10 students at Vincent Massey High School in Winnipeg, Manitoba.
---
150 Degrees of Canada's Development
Misconceptions of Canada's "Celebration"
Overall when people think Canada they often think inclusion, acceptance, and politeness – "Sorry." They don't realize Canada has a harsh history just like everyone else. In celebration and recognition of Canada's history, the Red River Heritage Fair is held every year in Winnipeg, Manitoba. This year we asked the question is Canada really positive?
We talked to a few presenters about the relevance and impact of their topic.
Stanlee A. from General Wolf did a project on Canada's Confederation. We asked, "Why do you think your topic is relevant?" He said, "I think it's relevant because every event that has happened lead up to where we are today. I think it is impactful because it shows us growing as a country, improving from a negative situation and trying for a positive outcome."
Overall, we think Stanlee made a lot of sense. Our government has had to develop and improve. As a country we've had to over come racism, sexism, corruption of government, and through these horrible situations we've developed equality and human rights.
Even now we have a long way to go, but we need to be thankful. History can be ugly, but we're lucky it's history and in the past.
We just need to do our part and make sure we keep improving.
Another person we talked to was Aela R. who is in Grade 9 at Grant Park High School. Aela answered the same question for us. Aela did her project on Viola Desmond, a female activist. Aela said, "Viola Desmond positively impacted Canada. She refused to be treated less because she was black."
Viola Desmond helped positively effect Canada through being an activist against racism and segregation. She did her part to positively impact Canada and we need to keep doing just that.
Canada 150 is a benchmark and we've come a long way, but we still have a long way to go as a country.
Written by Carrington A. & Leah M., Grade 10 students at Vincent Massey High School and Rushel S. Grade 11 student at Sister High School in Winnipeg, Manitoba.
---
Remembering Medicine
Two girls come together to remember the founders of insulin.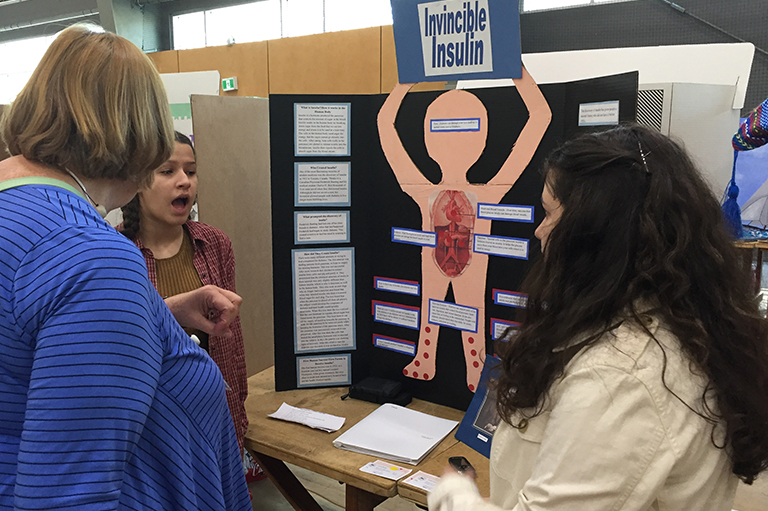 Have you ever considered who is responsible for saving 10-12 million of lives affected by diabetes? We had the privilege of attending the Red River Heritage Fair in Winnipeg, Manitoba, where we learned a lot about diabetes and its relationship to Canada, more specifically, the 150 years since its Confederation.
It was in 1921 that the diabetes dream team finally discovered something to help people suffering from the disease. Frederick Banting and his medical student, Charles Best, invented a vaccine, which does not cure diabetes, but rather makes the disease more manageable and easier for people to with.
We talked to two students, Lana and Lidia, from Grant Park High School. They did an awesome job covering diabetes on their "Invincible Insulin" project.
Lana told us that "Today over 11 million people in Canada are currently living with diabetes." To which, Lidia added "Diabetes used to be very deadly and one of the main causes of death at that time."
With that being said, Canada's population would be smaller by 11 million if insulin wasn't founded. This would make a big difference to Canada if it wasn't founded, let alone the whole world.
By listening to their presentation we also learned that every three minutes another Canadian is diagnosed with diabetes. Thanks to Banting and his student, diabetes is now treatable and only causes 1/10 deaths in Canadian adults.
150 years since Canada's Confederation is a big anniversary of many successes made by many people. Frederick Banting and Charles Best were definitely two of them. They invented one of the most powerful medicines that still impacts people's lives just like it did before.
Insulin is still very much used today in countless hospitals across the world.
Written by Selma and Rushal, Grade 10 students at Vincent Massey High School in Winnipeg, Manitoba.
---
The making of a country
Canada 150 is made up of positives and negatives.
On May 4, 2017 many students participated in the Red River Heritage Fair. The heritage fair's theme for this year is "Canada 150." In Canada 150, we are celebrating 150 years of being a country. Some may take it as a negative thing, yet most take it in a positive way.
We went booth to booth to interview students. Every student had done one thing different from the other, doing a lot of research on their own project. Here are two quotes from two people we interviewed.
Stanlee, Grade 9 student from General Wolfe did a well explained project on "Confederation." He said, "Confederation brings us together, without it we wouldn't be a free country."
Afterwards, we went around and asked Senior Paullay why this heritage fair is important. His reply was "Those who don't learn from history are doomed to repeat it."
There were many other project. They talked about peace, and important historic events in Canada. For many people this event is a great experience for expressing historical marks. Yet, to others it's 150 years of broken treaties.
This heritage fair is a fantastic way to learn about Canada's history.
Written by Emma and Kionna, Grade 10 students at Vincent Massey High School in Winnipeg, Manitoba.
Help keep Canada's stories strong (and free)
We hope you will help us continue to share fascinating stories about Canada's past.
We highlight our nation's diverse past by telling stories that illuminate the people, places, and events that unite us as Canadians, and by making those stories accessible to everyone through our free online content.
Canada's History is a registered charity that depends on contributions from readers like you to share inspiring and informative stories with students and citizens of all ages — award-winning stories written by Canada's top historians, authors, journalists, and history enthusiasts.
Any amount helps, or better yet, start a monthly donation today. Your support makes all the difference. Thank you!
Themes associated with this article

You could win a free book!
Sign up for any of our newsletters and be eligible to win one of many book prizes available.
Related to Arts, Culture & Society