Queen Elizabeth II: The Longest Reign
As of September 9th, 2015 at 12:30 PM EST Queen Elizabeth II is the longest reigning monarch in British history. On this day she officially opened the new £294m Scottish Borders Railway. Queen Elizabeth II surpasses the 63 years and 216 day reign of her great-great-grandmother, Queen Victoria (who reigned from 20 June 1837 to 22 January 1901). During Queen Elizabeth II's reign Canada has had eleven prime ministers.
Queen Elizabeth II celebrated her Diamond Jubilee in 2012, marking the sixty-year anniversary of her reign as Queen and Head of the Commonwealth. Elizabeth acceded to the throne on February 6, 1952 after the death of her father, King George VI.
After a suitable mourning period, her coronation took place over one year later on June 2, 1953. Over 8000 people attended the ceremony at Westminster Abbey and almost 3 million more lined the streets of London in celebration. Queen Elizabeth's coronation was the first ceremony to be televised, and was watched by another 20 million people all over the world.

You could win a free book!
Sign up for any of our newsletters and be eligible to win one of many book prizes available.
Queen Elizabeth II is the second monarch to celebrate her Diamond Jubilee; Queen Victoria was the first to do so in 1897. Elizabeth has lived longer than any other British monarch, and her reign is the longest in Commonwealth history, surpassing Queen Victoria's sixty-three year reign in September 2015.
The Queen first visited Canada as Princess Elizabeth in 1951. She made her first visit as Queen in 1957, when she and Prince Philip opened Canada's twenty-third Parliament. Two years later, the couple completed an extensive tour of Canada in which they visited every province and territory. She visited Canada in 1977 to celebrate her Silver Jubilee, and again in 2002 for her Golden Jubilee.
The Queen has been present for many momentous occasions in Canadian history. Such occasions include the opening of the St. Lawrence Seaway in 1959, Canada's Centennial celebrations in 1967, the 1976 Montreal Olympics, and the signing of Trudeau's Constitution Act in 1982. The Queen has made twenty-two official tours of Canada to date — more than any other Commonwealth nation.
Diamond Jubilee celebrations took place across Canada in 2012. As well, In honour of the Queen, Canada distributed sixty thousand Diamond Jubilee medals. Medals were awarded to Canadians who have demonstrated dedication in serving their fellow citizens, their community, and their country. Recipients also included those who made a significant contribution to Canada or to their community.
Help keep Canada's stories strong (and free)
We hope you will help us continue to share fascinating stories about Canada's past.
We highlight our nation's diverse past by telling stories that illuminate the people, places, and events that unite us as Canadians, and by making those stories accessible to everyone through our free online content.
Canada's History is a registered charity that depends on contributions from readers like you to share inspiring and informative stories with students and citizens of all ages — award-winning stories written by Canada's top historians, authors, journalists, and history enthusiasts.
Any amount helps, or better yet, start a monthly donation today. Your support makes all the difference. Thank you!
Themes associated with this article
You might also like...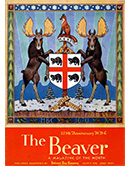 A Century of History in Your Pocket
Canada's History Archive, featuring The Beaver, is now available for your browsing and searching pleasure!
Related to Arts, Culture & Society